Many of us have cars we dream of owning, whether it's a wicked sports car or a big, comfy 4WD to transport the family. Buying yourself a brand new car, however, is a pretty costly exercise, which could explain an interesting trend found in Canstar Blue's latest wave of research.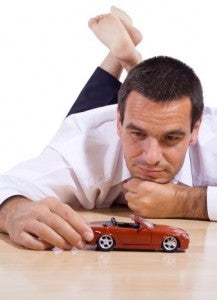 Our recent New Zealand car hire surveys found that 13% of Kiwis always hired the cars that they dreamed of owning – a smart way, it seems, of being able to take your dream car for a spin without the cost and hassles of ownership. It's probably not surprising that this percentage changed significantly with age: just 6% of baby boomers admitted to renting their dream cars (perhaps many of them already own theirs!), but this rose to nearly a quarter of Gen Y respondents (24%); no doubt the combination of lower earnings and a lack of family responsibilities are both contributors here!
Interestingly, just 5% more men than women stated that they always hired their dream car – 15% versus 10%. Either the stereotype of men loving fast cars isn't so true after all, or the men of New Zealand are just good at restraining themselves!
Furthermore, it seems where you live (or travel to) is also a big factor in how often you decide to rent out your dream ride: a significant 21% of Auckland residents hired their fantasy car, compared to 10% in Otago and just 3% in Waikato – maybe the air of wealth as you arrive in the city makes it that much more tempting to hire something more exotic?