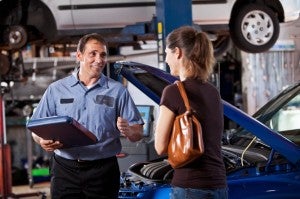 Almost four out of five (77%) New Zealand motorists are wary of being ripped off when they take their vehicle for a service.
That's one of the findings from a new Canstar Blue survey, which also found that 63% of Kiwis have paid for vehicle repairs or maintenance they were not expecting.
Female drivers (78%) were marginally more likely than males (76%) to fear service rip-offs and to have paid for repairs they were not expecting (65% vs. 60%).
"Motorists put their trust in the experts to do a good, honest job, but there is a perception that some can't be trusted," said Canstar Blue General Manager Jose George. "It only takes one or two negative reviews to create an air of distrust, even if the majority of consumers report only positive experiences.  And that suspicion seems to be hard to shake off, with drivers in their 60s just as wary of being ripped off as those in their 20s."
The survey, of more than 600 motorists who have had their car serviced by a vehicle servicing chain in the last two years, found 66% always take their car to the same place, while 49% shop around to find the best price.
"It's a matter of trust creating loyalty," added Mr George. "Even if it means paying more for a service than you might elsewhere, many people would rather stick with the mechanics they know. Reputation is everything."
The survey, conducted in August-September, found that the majority of motorists spent between $100 and $300 on their most recent service, but one in ten forked out more than $500.
Total cost of last service
Less than $100: 17%
$100-$199: 31%
$200-$299: 22%
$300-$399: 9%
$400-$499: 5%
$500 or more: 10%
Unsure: 6%
Respondents from the Bay of Plenty (16%) were the most likely to have been charged in excess of $500, while those in Wellington (5%) were least likely. Motorists from the Bay of Plenty were also the most fearful of being ripped off (87%) and most likely to have paid for repairs they weren't expecting (74%).
Women (13%) were more likely than men (8%) to have paid top dollar and young drivers were generally more likely than their elders.
"Most of the complaints we received related to the cost of servicing and repair parts," said Mr George. "Some people are convinced they've been ripped off, but most just begrudge having to spend money. The reality is most people experience no problems, but that won't stop some always fearing the worst.
"We found 41% of motorists are getting their car serviced less regularly to save money and 12% have ignored engine warning lights. That's despite the vast majority (87%) agreeing that regular servicing saves you money in the long-run. The fear of unexpected costs will no doubt be one of the reasons why.
"If you're confronted by a servicing bill you were not expecting and have doubts about it, get a second opinion. Find a mechanic that someone you trust, trusts."
Which servicing chain is rated highest?
Motorists who took part in the survey were asked to rate the servicing chain they most recently used across a range of categories, and for the third year in a row Oil Changers was the only one to score a five-star rating for overall customer satisfaction.
"Motorists are convinced that Oil Changers do a great job," said Mr George. "Scoring top marks for customer service and value for money is a fantastic achievement and a clear indicator that Oil Changers has earned the trust and loyalty of its customers."