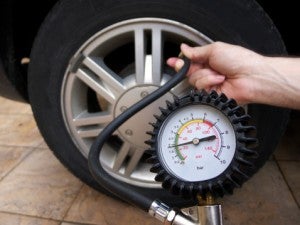 There are numerous reasons why your car tyres may develop leaks, ranging from wear issues to unsecured valves and, of course, the treaded puncture.
Whatever the case, a leaking tyre means potential danger on the roads, so here are three DIY ways to check your tyres for leaks, courtesy of David Basha from Kumho Tyres.
The pots and pans approach
This is handy in situations when you're at home (and in a hurry).
Mix any generic detergent in water until it's nice and frothy.
Pour a small amount of the soapy water onto the tyres in question.
If you see any bubbles arising from the one place, then it's time to grab the spare.
The balloon method
This is for the car doctors with all the gear ready to go, whether you keep it handy in the car or racked up in the garage.
Inflate the tyre. Portable air compressors will be best for this job.
If you hear a hissing sound, you might be a bit late for work.
Mark the hole with an X if you plan on doing a patch job as a temporary fix.
The floater technique
This is for those smaller leaks that may not show up in the previous methods, as long as you have a pool or bath tub nearby.
Fill up a spaced container of choice.
Remove the tyre in question from the car, safely.
Submerge the tyre fully, if any air bubbles appear then there is a leak.
Accidents can and will happen, so always ensure you have a suitable spare tyre, a car jack, a double ended wrench with a spry bar and socket fixture, and extension bars for lowering the spare tyre.
Other articles you might like