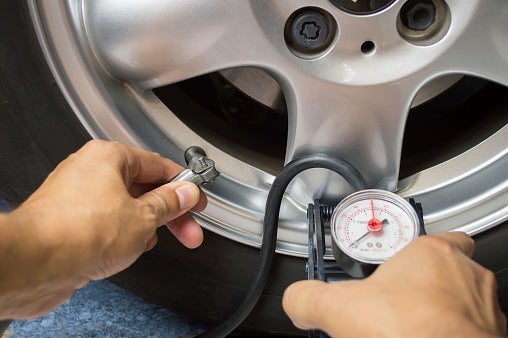 Nearly 1 in 3 (27%) New Zealanders we surveyed about car tyres in 2014 said they have purchased, cheap low quality tyres and regretted it. And 17% of Kiwis said they'd had to drive on their spare tyre because they couldn't afford a new one. Car tyres can be expensive, but if you keep them mean and clean, they'll last longer and you won't have to buy as many.
Don't pack a sad on the side of the road with a flat tyre – prevent the flat in the first place!
What to look for when you check your tyres
77% of Kiwis told us they check the condition of my tyres before a long road trip, but you should be checking them more often. Keeping your tyres mean and clean isn't actually too hard. There are a few things you can check quickly when you fill up for fuel:
Stones and other objects stuck in your tyre tread: This is especially important after heavy rains or a week's work on the farm, because mud and rain can disguise lots of things that can puncture your tyres.
Tread on your tyres not getting too worn: You can check this by looking at the tread-wear indicator marks on the side of your tyre.
Bulges or cuts in your tyre: Damage may be more serious than it appears at first glance. 56% of Kiwis we surveyed said they have scratched their wheel rims trying to parallel park – whoops!
Enough air pressure: Invest in a quality air gauge so you can check your tyre pressure at home before you get moving, while your vehicle's tyres are still cold. This is because driving on a tyre, or leaving a tyre in direct sunlight, increases its temperature and air pressure so you won't know if it's pumped up enough or not.
Just remember, at some point your tyres will eventually need replacing. A terrifying 28% of survey respondents said they know the risks of driving on incorrectly inflated or bald tyres but do it anyway. 36% said they have been afraid of having an accident or have been in an accident because of driving on old or worn tyres.
So don't take any risks. If you think your tyres need replacing, do it asap or find another way to get around. Kiwis rated Firestone and Hankook tyres highest for the life of the tyre.
You should also check out this video from the Automobile Association of New Zealand about how to change a tyre if you do get stuck at the side of the road with a flat:
Other articles you might be interested in
Tyre Recycling Looking To Take Off In New Zealand
A cuppa from the petrol station