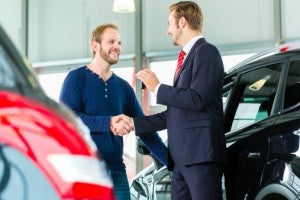 We love our cars, and for many people, buying a new car is one of the most significant purchases they will ever make, and according to the Motor Industry Association (MIA), we're buying more new cars than ever before. In fact the October just gone (2014) was the strongest October month since the MIA started collecting records in 1975. All up, Kiwis bought 106,582 new vehicles in the 12 months to 31st October.
But despite our love affair with cars, some of us walk away from our local dealership having paid far more than we should have for our new set of wheels. So what are some ways to get the best possible deal when buying a car? We've compiled some handy advice to help you out.
Know what you're after
The more you know about the car you're looking to buy, the better prepared you'll be to negotiate with a dealer and net yourself a bargain. First of all, decide how much money you're willing to spend, and what type of car you're looking for. Do you want a small car or a big, spacious one? One that's cheap and simple, or expensive and luxurious? Once you have a good idea of what you're after, do some research on the different models available in your chosen category. The Internet, your local newspaper and car dealers themselves are great resources for this.
Choose the right options
Once you have your heart set on a certain model of car, it's time to sort through the myriad of options available. If you're buying a new car, manufacturers usually offer a huge range of optional extras ranging from carpet protectors and mudflaps all the way to sunroofs and leather upholstery.
These extras are often very tempting, but keep in mind that the cost of one or two options can rapidly add up. Furthermore, it's generally not a good idea to fit third-party extras onto your car, unless you're completely confident that they are reliable and won't impair any of your car's functions. Most of the time, it's best to stick with the original manufacturer.
Background checks
If you're buying a used car, checking its history is a must. Ask the seller plenty of questions about the car, such as how long they've had it, how well it runs and if they still owe any money on it. It's also worth checking the government's Personal Property Securities Register to inspect the history of the car you're interested in, and you can also schedule an independent inspection by a qualified mechanic to make sure the car doesn't have any issues.
Test drive and inspect the vehicle
The test drive is when you decide whether or not you truly want to buy the car, and it gives you the perfect opportunity to check for any problems that may not have surfaced beforehand. Make sure you test out all the important features such as the steering, acceleration, braking, gear change and handbrake, and listen carefully for any unusual noises that might signal an issue. If the car passes all these tests with flying colours, you know you're on to a winner.
Negotiate
When it comes to buying, negotiating the price is expected, and there are several things you can do to reach a reasonable sum. When buying from a dealership, the best times to negotiate a deal are at the end of the month, quarter or financial year, as the staff will often be striving to meet their sales targets – and will be more willing to strike a bargain with customers.
Secondly, remember exactly what you want to buy and don't deviate from it. Dealers will usually try to sell you optional extras or warranties, which can drive the price up significantly. And lastly, don't be afraid to play hard ball; start off with a fairly low offer and work up to a reasonable price. It's amazing how willing salesmen can be to reduce prices by several thousand dollars simply because you're being assertive.
There are also some legal obligations that both buyers and sellers have in respect to transfer of a vehicle; you can check them out here.
Armed with this information, you'll hopefully be ready to make an informed purchase when it comes to cars.