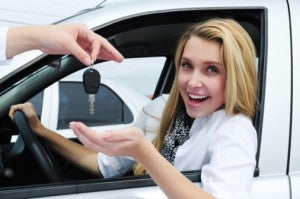 You have been looking for ages and finally you've found The One. The Perfect Car. All that's standing between you and your dream set of wheels is some money. And a contract. And a few safeguards…
Buying a used car comes with a few possible traps so it's important to do your homework carefully before handing over your hard-earned money. Some of the important things to do include:
Ideally, examine the car outdoors in broad daylight – it will help to show up any flaws that could be missed a night in dimmer lighting. The New Zealand Transport Agency has a great checklist if things to look for, which includes rust, a recent paint job, worn shock absorbers, balding tyres, alignment of all bodywork panels, leaks, a functioning dashboard and a clean engine. There are other things and more detail listed here.
Before you get behind the wheel though, does the car have insurance? You don't want to end up liable for any damage! When you test drive it, make sure you check all lights and switches, windscreen wipers, braking, handling and of course any strange noises! If you want, check out autotrader's 12-step test drive "how to" information .
Even if you think it all looks fabulous, make sure you get a professional opinion at your local (or another) garage. Also, make sure the vehicle has a current warrant of fitness and take a look at the service and repair history of the car.
The vast majority of cars are sold in good faith – but you still need to do the checks. After all, you don't want to buy a stolen or debt-encumbered car. You can check if a vehicle is listed as stolen here and check of the seller is the registered person here. Check if there is money owing on the car here.
Complete all the paperwork correctly.
As a buyer you'll need to compete a notice of acquisition – and the seller will need to complete a notice of disposal.  Make sure all paperwork is correctly competed before you hand over your money.
Motor vehicle insurance is vitally important – to financially protect both yourself and others. Find out more here.