Disposable Nappies – 2012 Ratings
Show Important Notes^*
Hide Important Notes^*
* Overall satisfaction is an individual rating and not a combined total of all ratings. Brands with equal overall satisfaction ratings are listed in alphabetical order.
Mother Nature comes second to mother's choice of nappies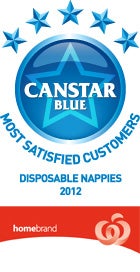 Nearly two thirds of respondents to our recent survey made the hard decision to pick convenience and price over environmental friendliness when selecting a nappy for their baby.
While 70% of respondents relied solely on disposable nappies, a significant portion admitted they felt guilty about using disposable diapers (37%). More mums than dads felt this guilt about their purchasing decision.
Many parents try to get the best of both worlds though, with a third of respondents using a combination of both disposable and cloth nappies for their bouncing baby's needs.
When we compared customer satisfaction with disposable nappy brands, Homebrand (from Woolworths) stood on the shoulders of the name brand products. They received our award for disposable nappies when rated alongside Huggies and Treasures.
While Homebrand was number one for customer satisfaction – winning five stars for overall satisfaction, value for money and baby comfort – Huggies were also highly rated with dual five star ratings for their ability to prevent leaks and the look and style of their nappy products.
We also saw a number of respondents from our survey search for ways to cut back on nappy spending. For example, some customers (15%) chose to buy nappies online and in bulk, while a far greater number (57%) only purchased nappies when they were on special.
Also, 28% of respondents declared they had switched to supermarket brand nappies in a concerted effort to save money.
Canstar Blue commissions Colmar Brunton Australia to survey 2,500 New Zealand consumers across a range of categories every few months to measure and track customer satisfaction. The outcomes reported are the results from disposable nappy customers within the survey group – in this case, 488 people. To qualify, the customer must have purchased or used disposable baby nappies in the last 6 months. Brands must receive at least 30 responses to be included.
Results are comparative and it should be noted that brands that received three stars have still achieved a satisfaction measure of at least six out of 10.
Overall satisfaction
Woolworths Homebrand nappies were the top pick for New Zealand parents, taking out our five star rating for overall customer satisfaction. Huggies achieved a four star rating for this criterion, while Treasures received three.
Value for money
Homebrand received five stars for their value for money in our results. Both Treasures and Huggies received three stars for this criterion.
Ability to prevent leaks
Parenting can be a messy business, but some products are better than others at 'keeping it clean'. Customers of Huggies nappies were most satisfied with their nappy's ability to prevent leaks. After the five star recipient came four star achievers Homebrand and Treasures.
Look and style
Huggies received five stars for the look and style of their disposable nappy products; ahead of four star recipients Homebrand and Treasures.
Baby comfort
The number one priority for most parents is giving their child the best of everything, including a comfortable nappy. Both Homebrand and Huggies excelled for this criterion, receiving five stars each while Treasures received four.