Spin Out Over Samsung's Washing Machines
The laundry is an essential room in every Kiwi family home, and integral to that space is a washing machine. Whether your choice is a top-loader, a front-loader or a washer-dryer combo – each machine is required to do the same job: clean clothes effectively and efficiently.
In most homes with children or teens, the washing machine is in constant use. This means that on top of functionality, a washing machine must also offer durability and value for money.
But given the choice of machines on offer, and the huge difference between features and price tags, which brand of washing machine delivers great customer satisfaction?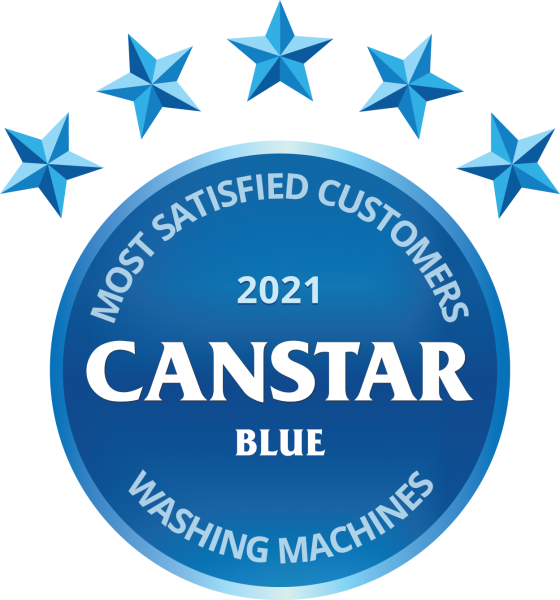 As part of our mission to inform consumers of the best NZ has to offer, Canstar Blue canvassed the opinions of 675 New Zealanders who had purchased a new washing machine in the past three years, across a range of categories, to measure and track their satisfaction.
To decide which washing machine brand offers the best level of customer satisfaction, each was rated across the following categories:
Overall Satisfaction
Design
Ease of Use
Performance and Reliability
Quietness while Operating
Value for Money
Coming out on top is Samsung. The washing machine brand has a clean sweep of top scores across all categories: spotless 5-Star ratings.

Also scoring highly across the board are Fisher and Paykel and Bosch – each is strong contender when it comes to washing machine satisfaction, delivering ratings comprising solely of 4 and 5 Stars.
What Kiwis Want from their Washing Machines
Washing machines only have one job to do: clean clothes. And Performance and Reliability are the main factors driving customer satisfaction for over a third (34%) of those in our survey. Value for Money is key for nearly a quarter of those questions (22%), placing just about Ease of Use (16%). Overall, the full drivers of satisfaction:
| | |
| --- | --- |
| Drivers of satisfaction | % |
| Performance and Reliability | 34% |
| Value for Money | 22% |
| Ease of Use | 16% |
| Quietness while Operating | 14% |
| Design | 14% |
Airing NZ's Dirty Laundry
Using a washing machine can consume a lot of electricity and water, which can push up utility bills. So it's no surprise to see that going green is important for many Kiwis on laundry day: 20% use their washing machines at off-peak times, to save electricity. And 30% make use of eco-wash settings to save water.

But while 30% use delicate cycles to avoid hand washing, it seems we're not so fussy about picking out colours from our whites. Just 43% run separate white and coloured washes.
However, whether you mind wearing pink-tinged whites or not. If you're considering buying a new washing machine, it pays to separate the best brands from the rest.
All you have to do is to refer to Canstar Blue's latest award and ratings revealing which washing machine manufacturer delivers the best levels of customer satisfaction. Thanks to a spotless tally of 5-Star scores, it's Samsung leaving its washing machine opposition hung out to dry.