German-engineered Bosch washing machine takes top spot with Most Satisfied Customers – 2019
One of the more ordinary, but no less necessary household items, a good washing machine can be the difference between time-saving and time-wasting when it comes to the laundry.
Following consumer feedback which compared eight of New Zealand's leading washing machine brands, Canstar Blue found German-engineered Bosch to be the ultimate winner of its 2019 Customer Satisfaction Award.
Achieving solid ratings in last year's survey, Bosch has improved its ratings across the board.
Bosch was the only brand to receive five 5-star ratings, with performance and reliability emerging as key drivers of customer satisfaction.
As a relatively large household purchase, Canstar Blue's research showed that 35% of Kiwis expect to purchase a new washing machine once every five-to-10 years, while 32% said that they would only purchase when their existing model had broken down.
Costing anywhere from $300 to $3,000 for a new machine, 43% of the survey respondents said they expected warranties to last up to five years, with 46% also saying they knew and understood entitlements under the Consumer Guarantees Act.
While we have a reasonable expectation of the life of our washing machines, choosing between a model and its features can be a little more confusing.
In the age of the online review where a wealth of information regarding a particular product and its performance is readily available, 46% of the New Zealanders surveyed said they would prefer to consult online reviews and ratings before purchasing.
Top-loader models proved popular with Kiwi owners, as 57% owned this type of machine. Energy ratings and eco-settings rated highly as desirable features, with more than half of the respondents (58%) said the energy rating of a machine was important to them, while 52% said they utilised the eco or low-temperature settings.
In the current environment where the impact of climate change and rising electricity prices are key concerns for consumers, it's interesting to note that 30% of the respondents said the main reason they use eco and low-temperature settings is that it saves money, while 17% use the features because they're 'better for the environment'.
As the only brand to achieve a rating of 5-stars overall, Bosch excelled in the performance and reliability, value for money, quietness while operating and design categories. However, it was pipped by Fisher and Paykel and Samsung when judged by 'ease of use' – earning three stars in that category.
Top or front loader?
Traditionally larger in capacity with shortened wash cycles, top loader washing machines are the most popular type of washer in New Zealand, though some of the more energy efficient front loader models are becoming more attractive.
Have a look below at how these features compare:
Top loaders
Front loaders
Pros

Larger capacity than front loaders of similar price
Faster spin times, typically 15-30 minutes
Generally, more energy efficient with cold water washes

More energy efficient for most washes (incl. warm water)
Use less water (as much as 50% less)
Quieter than top loaders
Dryer clothes at end of cycle due to high spin speeds

Cons

Require more detergent and water
Produce more lint due to friction
Less energy efficient on most washes
Louder than front loaders

Longer cycle times
Usually more expensive to purchase
Usually smaller capacity than top loaders
Cannot add clothes mid-cycle
Capacity
Buying the correct sized machine is very important.  Too small and you will be doing extra loads. Too large and you will unnecessarily add to your energy and water bill. As a rule of thumb, 6kg–8kg capacity machines are suitable for families of four people, while couples and singles should need a capacity no greater than 5kg.
Water and energy ratings
Another important consideration is the washing machine's efficiency star ratings. Generally speaking, machines with a lower rating tend to be cheaper upfront than more efficient models. The flip side is that the (usually more expensive) energy and water efficient washing machines can save money in the long term. Remember, the more stars it has, the more efficient it is.
Features
There's a myriad of features to look out for when purchasing a machine, some key considerations include:
Delayed timer: The delayed timer function that allows you to pre-set a start time for your washing machine. It can be used before bed to set the washing machine to operate during off-peak tariff periods.
Wash settings: Certain washing machines have access to a range of washing options. Useful wash features can include fast wash, anti-crease, and delicate wash.
Adjustable spin speeds: This function lets you change how fast your clothes are spun. Faster speeds result in dryer clothes at the end of the cycle, while lower speeds can be used to protect more delicate items.
Stainless steel barrels: Cheaper washing machines will use porcelain coated steel, which can chip over time. Stainless steel barrels will usually last well beyond the rest of the washing machine.
What washing machine cycles should you be using?
Many of us can admit to operating on auto-pilot when it comes to washing our clothes – chuck the items in with some detergent and presto! But, in actuality it's a little more complicated to keep your clothes looking great.
Different fabrics and colours require different levels of treatment, with the rule of thumb being; separate whites from colours and ensure colours are colourfast before washing in warm water.
More important information is available on the tags of your garment, which are sometimes in hard-to-decipher symbols. Here's a quick guide to keep you right: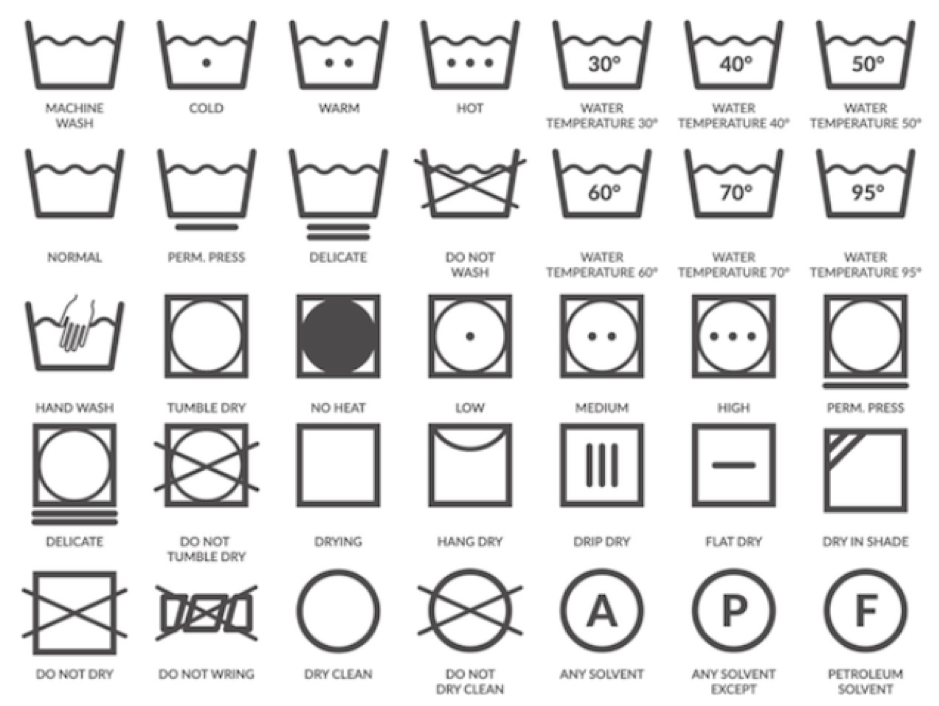 How to care for your washing machine
Regardless of whether you have a top loader, front loader or combination washer-dryer, if the machine is not level the barrel will spin at an angle, resulting in loud rattling or possibly the barrel dislodging.
While it may sound odd, even your washing machine requires a clean once in a while. Never fear, the process is relatively simple and all you need to do is add baking soda and vinegar in lieu of detergent to a full, empty cycle.
With damp areas some washing machines can also encourage the growth of mould or mildew. This is easily dealt with by cleaning the machine on a monthly basis, by ensuring wet clothes aren't left in the machine, and opening the door to allow circulation.