Berocca – our favourite multivitamins
As Berocca takes Canstar Blue's Most Satisfied Customers Award, the regular, and ongoing, debate around the need and effectiveness of vitamin supplements continues.  But, despite the views from what sometimes feels like an infinite number of professionals and experts, it seems people are still willing to make up their own mind.  Canstar Blue's recent survey of nearly 1500 New Zealanders found that 45% feel better when they regularly take multivitamins and 20% said taking multivitamins makes them feel better about having a poor diet.
Berroca snapped up most of the 5-stars given out – for ease of consumption, taste, availability, and overall satisfaction. It also came in with a 4-star for effectiveness. Healtheries was ranked second, scoring a 4-star for overall satisfaction, and 5-stars for availability. The only other two 5-stars given out were to Red Seal for value for money and Clinicians for effectiveness.
What does your body need?
Just as you need to keep your car topped up with the right kind of fuel, oil and water, we need to keep our bodies topped up with a number of vitamins, minerals and nutrients to keep us healthy and our immune systems strong.  According to Harvard University's The Nutrition Source, the diagram below is a typical example of what a healthy eating plate should look like.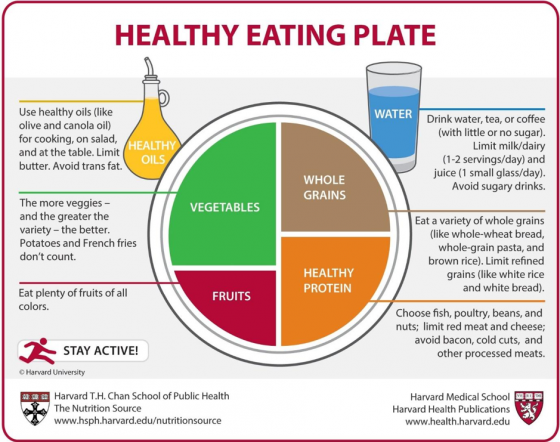 But what happens if we're not getting what we need?
A lack of certain vitamins can result in a range of symptoms, putting us off our daily A game and sometimes even making us ill. Here are the side effects of common deficiencies:
Vitamin B12 deficiency – Your body doesn't store vitamin B12 for long, so it's important you keep up your intake. Similar to an iron deficiency, when you have a vitamin B12 deficiency, you can become anaemic. The symptoms of anaemia include tiredness, heart palpitations, shortness of breath, constipation, gas, loss of appetite, diarrhoea, numbness or tingling and vision loss. You may even find yourself having behavioural changes with memory loss and signs of depression.
Vitamin C deficiency – Vitamin C isn't made or stored in the body, and it's therefore important to eat vitamin rich foods. Due to vitamin C being a crucial component in collagen production, a lack of vitamin C can cause rough or bumpy skin. Other effects include slow wound healing, bleeding gums, nosebleeds, bruises, weight gain, dry, wrinkled skin, fatigue, weak immunity and vision loss.
Magnesium deficiency – When you're lacking in magnesium, symptoms are vast and varied. You may experience fatigue and muscle weakness, tremors and palpitations, low calcium levels, migraines and if you do have insulation resistance, magnesium deficiency may worsen it.
Zinc deficiency – zinc is known as a great vitamin for the skin, and this can be due to the fact it helps around 100 molecules perform their designed chemical reactions in the correct manner.  Lack of zinc can result in a poor immune system, appetite loss and slower growth, with severe cases causing fatigue, slow wound healing, random weight loss and diarrhoea.
Folic Acid deficiency – Folic acid helps make red blood cells, so when you have a lack there of, it can result in anaemia. Symptoms can include fatigue, diarrhoea, loss of appetite, irritability and pale skin.
As well as advocating a healthy diet, Harvard is also one of the 'for' voices in the use of topping up your diet with additional multivitamins and in New Zealand, we have a good field of brands to choose from.
Canstar Blue's Most Satisfied Customers Award winner – Berocca – has vitamin B12, vitamin C, magnesium and zinc all within its multivitamins, amongst other vitamins.
So how do you know which will be best for you?
With so many products available, trying to find the one for you can be a daunting and time-consuming task, so that's why Canstar Blue has done some of the work for you.
Our survey is not meant to be a substitute for medical advice – it's always best to speak to a medical professional for that. What we want to do is give you a bit of insight into what people like about the multivitamins they use. When it comes to drivers of customer satisfaction, effectiveness came out on top, followed by value for money, ease of consumption, taste and finally – availability.
This information is not medical advice, and Canstar Blue is not making a recommendation or giving advice about medications or health related products. Always seek the advice of a doctor or pharmacist to find the right medication for you.