The Time for Great Broadband is NOW!
From the office to the lounge room, and all places in between, the internet is a digital driving force. It connects us remotely to the world of work and delivers limitless entertainment straight to our phones, devices and TVs.
And Canstar's latest research highlights just how reliant Kiwis have become on broadband providers for their entertainment needs.
Our latest research shows 75% of us are watching TV online, and nearly half (47%) subscribe to streaming services, such as Netflix and NEON. In total, nearly one third (28%) are using the internet for all their TV viewing!
And it seems that even when it comes to personal relationships, we still can't drag ourselves away from our screens. A quarter of Kiwis (24%) admit to spending more time socialising online than face-to-face!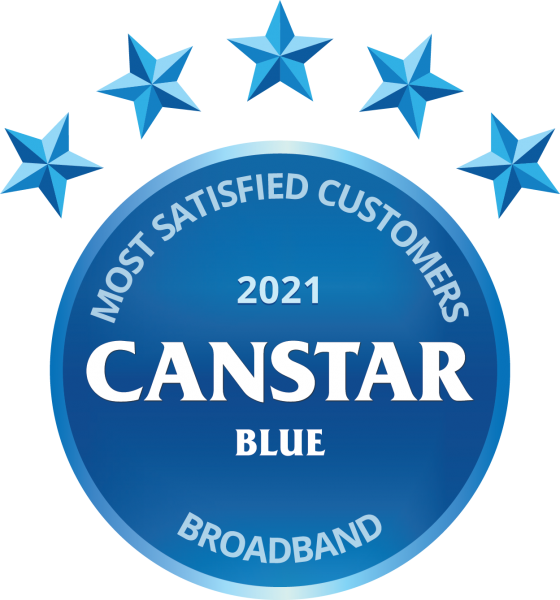 But while we're all increasingly living and working online, Canstar's research shows that the majority of New Zealanders are not happy with their internet providers: 56% say that they don't feel that they're getting the best value for money.
So as part of our mission to inform consumers of the best NZ has to offer, Canstar Blue canvassed the opinions of 3448 New Zealanders who have a broadband internet account, across a range of categories, to measure and track their satisfaction. We wanted to know what makes a great broadband provider, and which of the many internet companies out there delivers a great product, customer service and value for money.
To decide which internet provider offers the best level of customer satisfaction, each was rated across the following categories:
Bill Clarity
Clarity of Contract
Customer Service
Flexibility of Contract
Network Performance
Value for Money
Coming out on top for the second consecutive year is NOW. Again way ahead of the competition, NOW secured back-to-back wins with another impressive performance.
For two years, it's been the only broadband provider to earn our prestigious 5-Star rating for Overall Satisfaction. Across all measures of satisfaction, it has a total of five top ratings, plus two 4-Star ratings for Value for Money and Flexibility of Contract.
While five other providers can boast 4-Star Overall Satisfaction ratings, only one, Skinny, comes close to NOW's ratings, thanks to four 5-Star ratings, including for Value for Money.
What Kiwis Want From their Broadband
Cost, Performance, Service – for customer satisfaction, they're the holy trinity. And when it comes to broadband, they are especially relevant, as the always-on utility has become central to day-to-day life in Kiwi homes.
We need it to work and be reliable. And, if something goes wrong, we need expert help to get it fixed … and fast. These qualities are reflected in what those in our survey say is important to them. Overall, the main drivers of satisfaction:
| | |
| --- | --- |
| Drivers of satisfaction | % |
| Customer Service | 21% |
| Network Performance | 21% |
| Value for Money | 20% |
| Bill Clarity | 13% |
| Flexibility of Contract | 13% |
| Clarity of Contract | 11% |
NOW: Delivering Award-Winning Service
To win Canstar Blue's award for Most Satisfied Customers | Broadband is a big achievement. But to win it two years in a row is even bigger! It shows that in a market in which over half of consumers are unhappy with their broadband providers NOW is delivering great value for money and fantastic customer service.
And NOW is rightly proud of its customer support. As part of its competitively priced packages, NOW offers dedicated broadband support. Whatever your gremlins – from slow devices and computer viruses, to backing up files on-line and home security – NOW's top tech team is there to help. They can even visit your home, if required.
So if you're after a broadband provider that you can rely upon – one that constantly delivers award-winning value and customer satisfaction, year after year – look no further than the winner of Canstar Blue's 2021 award for Most Satisfied Customers | Broadband – for the future of your broadband is NOW!