Turners Cars Driving Satisfied Kiwis
While there's nothing like the smell of a new car, not everybody is lucky enough to be able to afford a new set of wheels. And, in fact, not all of us want to own a new automobile. Canstar Blue's latest research reveals that 48% of Kiwis wouldn't buy a new car even if they could afford one.
While new cars come with clean histories, they are notoriously bad investments. Not only do you pay a premium of 15% GST, the moment you drive off the car lot its value starts to deteriorate further.
No wonder that cash-conscious Kiwis prefer quality used cars. Historically, used-car registrations outnumber new-car registrations 10-1. And if bought from a reputable dealer, a used car comes with all the consumer guarantees associated with buying a new car.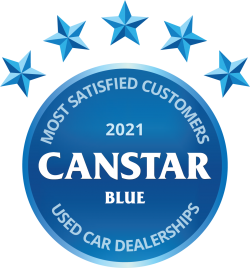 But, as we all know, tales of unscrupulous dealers and people being stuck with lemons abound. So how can you guarantee the reputation of a used car dealer? That's where Canstar Blue comes in.
As part of our mission to inform consumers of the best NZ has to offer, this year Canstar Blue canvassed the opinions of 712 New Zealanders who had bought a car from a used car dealer, across a range of categories, to measure and track their satisfaction.
To decide which used car dealer in NZ offers the best level of customer satisfaction, each was rated across the following categories:
Overall Satisfaction
After Sale Service
Customer Service/Advice
Finance Options
Premises
Range of Vehicles
Value for Money


Coming out on top is Turners Cars, the clear winner of Canstar Blue's award for Most Satisfied Customers | Used Car Dealerships.
Turners is the only dealer in our ratings to score an overall top 5-Star score for customer satisfaction. It earns this on the back of further 5-Star awards for Customer Service, Range of Vehicles, Finance Options and Value of Money.
Toyota's used car business also performs strongly, with three 5-Star ratings, for: Customer Service, Value for Money and Premises. And an admirable 4-Star award for Overall Satisfaction.
What Kiwis Want From Their Used Car Dealers
While Value for Money is an important factor in any purchase, it's interesting to discover that when it comes to used cars, it's not the most important driver of customer satisfaction.
In our survey, far more Kiwis claim that Customer Service and Advice is the most important part of their used-car purchase. After Sale Service is also a major factor, with Value for Money third overall.
Although, if you've ever bought a used car, this is understandable. Unless you've a trained mechanic in the family, buying a used car can be daunting. Cars are expensive purchases, and there are myriad things that can go wrong with them. So you need to feel secure in the knowledge that you can thoroughly trust your used car dealer and their advice. Also, that their after-care service will be there for you should anything go wrong once you drive your purchase off their forecourt.
Overall, the main drivers of satisfaction are:
Turners Cars: Leading the Used Car Market
Home-grown company Turners Cars has a long, proud history in NZ. Originally a fruit and vegetable business, it started auctioning used cars over 50 years ago. Since then it has grown and expanded to encompass a business that employs over 500 people and sells thousands of cars, trucks and motorbikes annually.
How to Buy and Sell with Turners
Turners offers four ways to buy a used car and three ways to sell your used car.
To Buy:
1) BuyNow: purchase, in person, at a Turner's branch
2) Online auctions: either on the Turners website, or in partnership with Trade Me
3) Live auction: either in person, or online
4) Buy Safe: 100% contactless, process that makes the BuyNow experience a virtual one
To Sell:
1) CashNow: one-the-spot offer and cash in your bank account within 48 hours
2) Trade-in: use the value of your old car to put towards your next car
3) Auction: Turners puts your car on the market for you
Whether buying or selling a used car, Turners is there for you; they can even organise your finance and insurance. So, if you're in the market for a new used car that comes with customer service and satisfaction guaranteed, turn to Turners, the winner of Canstar Blue's Most Satisfied Customers | Used Car Dealerships.