Mitsubishi Electric – NZ's Best Dehumidifiers
Winter is not just about keeping our homes warm, it's about keeping them dry. New Zealand winters are notoriously damp, and even well-insulated homes can suffer from high humidity levels. Indeed, keeping warm air trapped inside a dwelling can even acerbate problems caused by moisture build-up if poor ventilation is also a factor.
As a result, mould can start to appear in cupboards and on walls and soft furnishings, and condensation can build-up on windows, dripping and pooling on sills. And while opening windows to allow adequate airflow can help, it's of little use if humidity levels outside are also high.

While heat pumps' dehumidifying settings can help, they often don't have the reach to help in the spaces that need dry air the most, in bedrooms and cupboards away from main living areas. But that's where a dehumidifier can help, as a portable and affordable way to combat the problems associated with high humidity.
However, given the range of different dehumidifiers on the market and their different price points, it can be hard to work out which brand offers the best consumer satisfaction and value for money. But that's where Canstar Blue can help.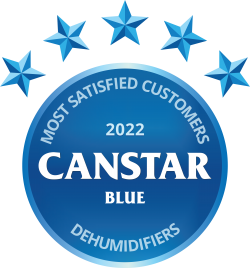 As part of our mission to inform consumers of the best NZ has to offer, each year Canstar Blue canvasses the opinions of New Zealanders who have bought a dehumidifier within the past two years, across a range of categories, to measure and track their satisfaction.
To decide which dehumidifier offers the best level of customer satisfaction, each is rated across the following categories:
Overall Satisfaction
Appearance and Design
Effectiveness
Functionality
Performance and Reliability
Quietness
Value for Money


Coming out on top for the second year in a row is Mitsubishi Electric. The Japanese brand is the clear winner in this year's award, as the only brand to earn our top 5-Star rating for Overall Satisfaction. Across the board, it earns similar top ratings for Performance and Reliability and Effectiveness, plus admirable 4-Star ratings in all other categories.
Three brands earn 4-Star Overall Satisfaction ratings: Goldair, DeLonghi and Panasonic. Although Goldair is the only other brand other than Mitsubishi Electric to earn multiple 5-Star ratings, for Performance and Reliability, Value for Money, Functionality and Effectiveness.
It's worth noting that all brands except our winner are regarded as somewhat noisy, only scoring 3-Stars in that category. It's interesting because nearly a quarter of our survey respondents (23%) say that they find the noise of their dehumidifier off-putting!
What Kiwis Want From Their Dehumidifiers
Unlike many other appliances in the home, a dehumidifier is pretty much a workhorse that you switch on and leave until the job is done. And this practical functionality is reflected in the key driver of satisfaction for dehumidifier owners. Performance and Reliability is quoted as the most important factor for almost half in our survey (43%).
Value for Money is most important for 18%, and Functionality for 14%. Despite the 23% who claim to be annoyed by the noise of their dehumidifier, surprisingly only 8% cite Quietness of Operation as the most important factor in their satisfaction with the choice of machine.
Overall, the main drivers of satisfaction are:

Mitsubishi Electric: NZ's Most Popular Dehumidifiers
Mitsubishi Electric New Zealand is a partnership between Kiwi owned and operated Black Diamond Technologies Limited and Mitsubishi Electric.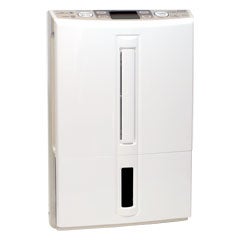 Since 1981, Black Diamond Technologies has been the exclusive partner and distributor of Mitsubishi Electric products in New Zealand.
Mitsubishi Electric Oasis Classic 16L dehumidifier
The Oasis is the only range of dehumidifiers Mitsubishi Electric offers. But since it earns such positive feedback, it's the only range it needs.
The Oasis Classic is available in two different moisture removal capacity sizes (16L or 22L per day), while the Oasis Pure model can remove 38L per day.
Specially designed for the New Zealand market, the Oasis Classic range of dehumidifiers has features that include:
Ability to operate in temperatures as low as 1°C
High humidity indicator notifies you when humidity is above 75%, even when off
Constantly monitors temperature, simply select the optimal humidity level and it adjusts operation to match
Mildew guard mode automatically lowers humidity levels to a low 40 to 50% once a day for between two to four hours. At this level, new mildew spores are unable to be produced
Since 2005, Mitsubishi Electric's Oasis Classic has been the country's No.1 selling dehumidifier. And for the past two year, the brand has topped our Customer Satisfaction awards, too.
So if you're looking to buy a new dehumidifier this winter to help keep your home warm and dry, why look any further than the winner of our 2022 award for Most Satisfied Customers | Dehumidifiers: Mitsubishi Electric – NZ's top brand that's guaranteed to deliver customer satisfaction.