Which power company is best for you?
Electricity tends to be something we take for granted, that is, until the bill arrives. More than one-third (36%) of the New Zealanders Canstar Blue surveyed said they worry about the cost of their power bill, yet many of us aren't taking any action. Fewer than half (41%) of the respondents we spoke to claimed to have compared power companies in the last 12 months, while only 13% made the switch. However, putting in the effort to compare companies and potentially switch could easily pay off.
The NZ electricity market is extremely competitive, with more than 30 power suppliers for customers to choose from. Unfortunately, many of us aren't taking advantage of this, meaning households are paying more for power than they need to – something Canstar Blue hopes to help with in this 2017 review.
Each year, Canstar Blue asks thousands of electricity customers to rate their provider on key criteria, including customer service, bill and cost clarity, value for money and overall satisfaction. This year 12 different power companies received a sufficient response to feature in our results.
Electric Kiwi has taken the top spot in this year's ratings, receiving a maximum five stars in all but one area. This is a particularly impressive feat in light of the fact that this category has been dominated by Powershop for the past five years running. With a new winner crowned and three brands in hot-pursuit scoring four-stars for overall satisfaction, it seems that power companies have really stepped up their game of late.
While this is all great news for the customer, this increasing closeness of competition means we have to be more vigilant about regularly shopping around to find the best deal on energy. To get you started, this report will work you through the basics of navigating the New Zealand electricity market and then provide some details about the power companies operating in NZ to help you find a better deal.
Understanding your power bill
Your power bill has two components – fixed charges and variable charges. It will also include any additional fees, discounts, rebates and taxes.
Daily fixed charge: This is a fixed charge anywhere from 30 cents to $2 per day for standard users. This covers the cost of metering and network maintenance and applies regardless of whether or not you use any electricity that day.
Variable rate charge: This is a charge for the electricity you actually use, measured in kilowatt hours (kWh). There are different types of variable rate charges to choose from depending on the type of meter you have.
Anytime: The same variable rate is charged on electricity usage at all times
Time-of-use (TOU): Different rates apply at different times of day. Electricity is most expensive during peak demand times and cheapest during low-demand periods. The times and rates vary across distribution networks, with TOU only available to households with smart meters
Controlled: Appliances fixed to a separate meter circuit are charged a lower rate on electricity, but are only supplied during off-peak hours. This can be used in conjunction with a day/night, anytime or TOU agreement
Day/Night: Similar to a time-of use agreement, a high variable rate applies between 7am and 11pm (day), while a low variable rate applies between 11pm and 7am
Night only: Nominated appliances are only supplied electricity for eight hours per day between the hours of 11pm and 7am. Similar to a controlled setup, while supply availability is limited, a lower rate applies. Some retailers offer 'Night booster' if you needafew more hours of supply.
Standard User vs Low User Plans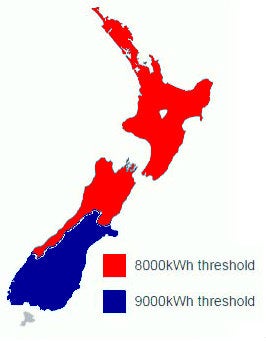 There are two types of electricity contracts in NZ – Standard User and Low User. Some power companies may refer to these types by different names, but they are all principally the same.
Low User Plan: Customers will receive a high variable rate on electricity usage – around 25 to 40 cents per kWh, and a low daily fixed charge – usually no more than about 30 cents a day. Households in the lower half of South Island are considered Low Users if they consume 9,000kWh of electricity per annum, but a lower threshold of 8,000kWh per year applies elsewhere in New Zealand (pictured)
Standard plan: This is the most common type of energy contract. It has a high daily charge, but low variable charge of around 20 to 30 cents per kWh depending on its type
Electricity discounts
Electricity retailers like to reward customers who make their life easier with discounts, which can be a great way to reduce your overall costs. There are four types of discount you're likely to encounter with NZ power companies:
Prompt payment discount: This is a discount of around 10% to 20% for customers who pay their power bills in full and on time
Direct debit: While less common, some NZ retailers offer a small discount of a few percent to customers who pay their bill via direct debit
Email correspondence: A small discount of about 1% to 2% may be offered to customers who receive their bills and correspondence via email
Dual fuel discount: Energy providers who supply both electricity and gas sometimes provide a bonus discount to customers who have dual accounts with them
List of power companies in New Zealand
There are currently 35 power companies operating across New Zealand:
Black Box Power
Bosco
Contact Energy
Ecotricity
Electra Energy
Electric Kiwi
Energy Online
Flick Electric
Genesis Energy
Giving Energy
GLOBUG
Grey Power Electricity
Hopsta
Just Energy
King Country energy
MAD Power
megaEnergy
Mercury Energy
Merdian Energy
Mighty River Power
Nova Energy
P2
Payless Energy
Powershop
Prime Energy
Property Power
Puaua to the People
Pulse Energy
Simply Energy
Switch Utilities
Tiny Mighty Power
Trust Power
Trustpower
Utilise
Wise Prepay Energy
The power companies we compared
In order for an energy company to appear in our ratings, it must have received a survey response of 30 or more. This year, we had 12 leading power companies make it into our customer satisfaction ratings. Here's what they offer:
Electric Kiwi
With no sign up fees, no break fees and no contracts, this independent New Zealand digital enterprise promises to bring you savings by using the latest technology. As well as offering lower power prices, added incentives from Electric Kiwi include a free hour of off peak power usage every day, and it even guarantees to save you money in your first year as a customer. As with all of the other companies we surveyed, Electric Kiwi offers both a low and standard user plan.
Key takeouts:
No contracts or break fees
Uses digital innovation to bring customers lower prices
Winner of 2017 Canstar Blue award for electricity providers in NZ
Flick Electric Co
With a strong emphasis on the environmental impact of the power we use, Flick scored a maximum five stars for its focus on environmental sustainability. As well as three energy pricing options, uncontrolled, inclusive and smart plan option, Flick also offers customers the 'Choice' app. Unique to Flick, Choice gives customers the ability to not only check the volume and costs of their power consumption, it also shares details on where that power is coming from (i.e. the percentage of fossil fuels being used). With this additional insight, customers can pick and choose when to use more or less power.
Key takeouts:
Big focus on the environment
Good customer education tools
Powershop
Although Powershop gives you the option to pay for power in the more traditional way, it also gives you the opportunity to pre-purchase electricity in advance at lower rates. Through a range of 'Powerpacks', available via Powershop's online store, you can buy your power ahead of time, or as you go, often at cheaper rates. This can help you take advantage of promotional offers and, in some cases, make it easier to budget. Customers can log into their online account through the Powershop website or app, and those with smart meters can closely monitor their usage in almost real-time, helping to improve awareness of power use and potentially reduce costs.
Key takeouts:
Mobile and desktop applications to help manage energy usage
Saving of $150 in the first year or Powershop will give you a credit
Winner of Canstar Blue's electricity provider award from 2011 to 2016
Energy Online
As the name suggests, Energy Online is an online provider of electricity and gas. It promises customers great value and offers an additional 20% prompt payment discount. New customers also qualify for $50 off their first bill and an additional $50 off a gas bill if opting for dual fuel. With a simple two-tier pricing structure, there are no contracts so no termination or break fees, giving the benefit of flexibility.
Key takeouts:
No break fees
$50 off your first electricity bill
Simple pricing structure and a generous prompt payment discount available
Mercury
Like many providers, Mercury offers both fixed and flexible pricing options. All options include prompt payments discounts of 10% and an extra 2% per year discount if you receive bills via email and pay by direct debit. All customers can also claim a 'free day of energy' and new customers are usually offered $100 credit off their first bill and the 'day of free energy'. In addition, Mercury has partnered with AirPoints and selected e-bike retailers to offer customers optional additional benefits.
Key takeouts:
Exit fees apply to fixed term plans
Ability to compare your bill with 'similar' local homes
Additional incentives and discounts available through partnerships
Nova Energy
Nova Energy has two electricity plans on offer – the Home Advantage Plan and the Home Freedom Plan. The 'Home Advantage' plan fixes your rates until March 2019 and offers $100 credit on your first bill.   This plan is e-billing only and a termination fee may apply if you leave the plan early. The 'Home Freedom' plan is Nova's variable rate contract. It is more flexible than the Home Advantage as there are no contract terms or exit fees. All customers can take advantage of a 15% prompt payment discount when they pay their bills on time and in full.
Key takeouts:
$100 sign up credit with Home Advantage Plan
15% prompt payment discount available to all customers
Trustpower
Trustpower is your all-in-one utility provider, offering electricity, gas, internet and phone services. Its power deals are pretty straightforward with few incentives or other gimmicks – just competitive and transparent rates and discounts.
Key takeouts:
Easy to understand prices
Prompt payment discount available
Let's you bundle your energy and telco services
Contact
Contact has eight residential energy plans, offering a range of discounts and added perks. According to its website, the three most popular plans are Freedom, Fuel Rewards and Saver Plus. All plans come with small discounts for paying by direct debit and receiving e-communications. In addition, paying your bills on time will earn you an additional 20% prompt payment discount.
Key takeouts:
Careful of the exit fees attached to some plans
Fixed and variable rate contracts to suit your situation
Offers a large range of plans that include discounts and one-off deductions on bills
Genesis Energy
Genesis Energy offers both fixed and flexible bill options plan. All options can include prompt payments discounts of 10% and flexible plans offer an additional 2% discount for dual fuel customers. If you chose to switch to Genesis Energy and opt for a 12 month fixed plan, you will also be eligible to receive your first month of power free, up to the value of $250. There's also a Genesis app that enables customers to monitor their energy usage, obtain an estimate on what their bill will be and pay the bill when it does arrive. Recommend a friend to join an applicable Genesis plan and you could both earn an extra $50 each off your bills.
Key takeouts:
Additional discounts available
Exit fees apply to fixed term plans
Handy mobile app to help you keep on top of their usage and billing
Meridian Energy
Meridian offers both fixed and variable rate plans – both coming with 11% prompt payment discounts and a $200 introductory credit if you are a new customer. Online tools include bill shock and energy binge alerts that send you emails if your bill or energy usage looks unusually high.
Key takeouts:
Comprehensive online accounts and tools
$200 off your first bill with the $200 Welcome Credit offer
Qualify for discounts with partner organisations such as Ecostore and the Al Brown Company
Pulse
Pulse offers various plans together with a structure payment option that helps you spread the cost of your bills across the year. It also promises to protect the price of your power for three years, although this shouldn't be confused with the cost of delivering power to your property.  Providing a customer gives Pulse 30 days' notice, no exit fees will be charged.
Key takeouts:
No lengthy contracts
Varity of payment options available
Globug
Globug is an online service that let you buy your power as you need it. It offers a single variable rate pricing plan, although you need to specify whether you are a low or standard user. As with all providers, costs depend on the region you live in. If you go into debt on your account, a percentage of your next top-up payment is used to reduce that debt over time. No additional fees or interest is charged on your debt.
Key takeouts:
One-stop-online-shop
Ability to manage debt
Simple pricing 'no frills' structure
Who is the cheapest power company in New Zealand?
The cheapest power company for your home will depend on your location, tariff type and energy consumption habits. Despite what some retailers claim, there is simply not one energy company that will be the cheapest in every case. When considering electricity prices, it's important to look past the headline discounts and sign-up incentives, and carefully assess the rates and any terms such as added fees.  Keep in mind this checklist:
The type of contract – standard or low user
How much you pay in variable and daily fixed charges
Whether your variable rate will change
What percentage discount you receive on your bill
Whether you have a single rate or time of use tariff
Whether you have a controlled load for water heating
Also, don't overlook the little guys. While the larger power companies can claim their market power allows them to offer the best value, many smaller power companies have produced some innovative approaches to energy that may help your dollar go further. P2, for example, is New Zealand's only peer to peer solar trade platform, while Giving Energy lets customers donate to organisations simply by paying their bills.
Electricity Distributors in New Zealand
Energy distributors are responsible for maintaining the infrastructure that transports electricity from generators to your home. There are dozens of distribution companies that combine to form the energy grid. These are:
Top Energy
NorthPower
Vector
Counties Power
WEL Networks
Waipa Networks
Powerco
The Lines Company
Horizon Energy
Eastland Network
Unison Networks
Centralines
Scanpower
Electra
Wellington electricity
Nelson Electricity
Network Tasman
Marlborough Lines
Mainpower
Buller Electricity
Westpower
Orion
Electricity Ashburton
Alpine Energy
Network Waitaki
Aurora Energy
OtagoNet
Aurora Energy
The Power Company
Electricity Invercargill
A large portion of the rates you're charged for electricity are attributed to distributor costs, meaning the price you pay will vary across different distribution networks. Perhaps factor in potential price of energy if you're considering moving to an area that straddles multiple networks.
How to get the best deal on electricity
Anyone can find a great deal on energy, so long as they've educated themselves about their options and done some research. New Zealanders have plenty of power companies to choose from, so it's important to regularly canvass the market to see if you can find a better price. Canstar Blue's customer satisfaction ratings give a direct insight into what other energy customers think about a particular brand, making it a great place to start comparing. Good luck!