Health Insurance – 2013 Ratings
Show Important Notes^*
Hide Important Notes^*
* Overall satisfaction is an individual rating and not a combined total of all ratings
N.B. Closed funds (i.e. not open to the entire general public) have not been included in the ratings.
Health insurance 'too important to cut' for two in three New Zealanders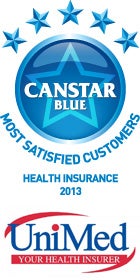 It appears you can't put a price on a clean bill of health, as two thirds of respondents to our recent survey state they will sacrifice spending in other areas before they relinquish their health insurance policy. Perhaps lending weight to its importance, two in five respondents took out their healthcare policy for their children.
While it's apparent that New Zealanders recognise the value of health insurance, they won't necessarily pay top dollar if they can avoid it. A substantial 29% of respondents reduced or changed their cover as premiums rose, and 22% compared premiums online to find a better deal.
A little more than half of our respondents have a pre-existing medical condition, and a similar percentage made more than one claim on their insurance in the last twelve months. With so many New Zealanders either in need of – or already capitalising on – their policies, there's never been a better time to compare health insurance to find a better deal.
Our latest customer satisfaction ratings looked at four different health funds, with UniMed achieving our Most Satisfied Customers – Health Insurance award for 2013. Congratulations to UniMed for this achievement, and also for receiving five stars for ease of claim, speed of response, quality of service and communication.
Also achieving five stars was Southern Cross Healthcare for claims processing, speed of response, quality of service, and communication. NIB (including Tower Insurance) and Sovereign were also rated in this survey.
Canstar Blue commissions Research Now to survey 2,500 New Zealand consumers to measure and track customer satisfaction on a range of different consumer goods and services. The outcomes reported are the results from customers within the survey group who have a health insurance policy which they pay for, and have made a claim within the last year – in this case, 921 people. Brands must receive at least 30 responses to be included.
Results are comparative and it should be noted that brands that received three stars have still achieved a satisfaction measure of at least six out of 10.
Overall customer satisfaction
When taking out a health insurance policy, make sure your fund ticks all the boxes. UniMed received five stars for overall customer satisfaction in this category, Southern Cross received four, and NIB and Sovereign received three.
Value for money
Many health insurance policies cover a wide range of medical expenses, and this breadth of cover can represent terrific value for New Zealanders. UniMed and Southern Cross policy holders were most satisfied with the value for money of their insurance policies. Both funds received four stars, and NIB and Sovereign each received three.
Ease of claim (i.e. how easy it was to lodge a claim)
Claiming on your health insurance policy can sometimes come at stressful, traumatic times. Therefore, it can be a more positive experience for policy holders if the process is as simple as possible. UniMed received five stars for the ease of which customers could make an insurance claim. Southern Cross and NIB both followed with four stars each; Sovereign finished with three.
Claims process
How satisfied were policy holders with the initial claim? Customers of Southern Cross were most satisfied with their health fund's claims processing. UniMed and NIB came next with four stars apiece, and Sovereign achieved three.
Speed of response
UniMed and Southern Cross received five star ratings for the speed of their fund's responses in answering customer enquiries and completing claims processing. NIB and Sovereign each received four stars in this area.
Quality of service
Customers of both UniMed and Southern Cross were most satisfied with the quality of the customer service they received from their health fund. Each fund achieved five stars, NIB secured four, and Sovereign received three.
Communication
While it's important to know exactly what you're signing up for when taking out health insurance, a good health fund will make sure you understand all the facts before and after you put pen to paper. Both UniMed and Southern Cross received five stars for their communication with New Zealanders. These funds were followed by our four star recipients: NIB and Sovereign.