Dishwasher Detergents – 2013 Ratings
Show Important Notes^*
Hide Important Notes^*
* Overall satisfaction is an individual rating and not a combined total of all ratings. Brands with equal overall satisfaction ratings are listed in alphabetical order.

Canstar Blue research finalised August 2015 and published September 2015.
Scrape, don't rinse: four in five wash their dishes inefficiently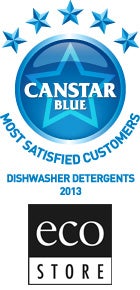 New Zealand respondents to our recent survey have proven themselves diligent in handling dirty dishes, but at the expense of wasting water.
Four in five rinse their dishes before putting them into the dishwasher, a common practise to ensure they come out clean. However, a number of experts recommend dishwasher users only need to scrape their plates before loading them into the dishwasher, advising that pre-rinsing dishes is a waste of water.
While our respondents report they care about the environment, nearly two thirds stated they aren't prepared to pay for eco-friendly cleaning products if they cost more than standard products. That said, one in five will only purchase environmentally friendly cleaning products for their home.
ecostore achieve second Canstar Blue customer satisfaction award for 2013
Given that nearly three quarters of respondents consider dishwashers to be a "must have" appliance for their home, it stands to reason that New Zealanders also need detergent for their machine.
Following a previous win in the category of laundry detergents, ecostore has received our Most Satisfied Customers Award – Dishwasher Detergent for 2013. ecostore triumphed with five star ratings for effectiveness, environmental friendliness, smell and overall satisfaction.
Several other detergent brands distinguished themselves in this category:
Earthwise received five stars for effectiveness and smell,
Active received five stars for value for money and effectiveness, and
Finish secured a five star rating for effectiveness.
Countdown brands were also rated in this survey.
Canstar Blue commissioned Research Now to survey 2,500 New Zealand consumers to measure and track customer satisfaction. The outcomes reported are the results from customers within the survey group who have bought and used detergent (tablets, gel or powder) for their dishwasher in the last six months – in this case, 1,552 people. Brands must receive at least 30 responses to be included.
Results are comparative and it should be noted that brands that received three stars have still achieved a satisfaction measure of at least six out of 10.
Overall customer satisfaction
Doing the dishes doesn't have to be a chore when you're using a product that delivers five star results. ecostore collected our top star rating for overall customer satisfaction in this category, and was followed by four star recipients Earthwise, Active and Finish. Countdown brands received three stars in this category.
Value for money
Customers of Active were most satisfied with the value for money of their dishwasher detergent brand. Following the five star achiever were four star recipients Earthwise and Countdown brands, then three star recipients ecostore and Finish.
Effectiveness
If you need to take care of a tower of dishes after dinner, or some particularly stubborn marks on your favourite plates, try one of our five star brands for cleaning effectiveness: Earthwise, ecostore, Active or Finish. Countdown brands followed with a four star rating in this area.
Environmental friendliness
Having a range of environmentally friendly products to choose from is important to many New Zealand consumers. ecostore achieved a five star rating for its environmental friendliness –after receiving a similar result in our laundry detergents category. Earthwise received four stars for customer satisfaction with environmental friendliness, and Active, Finish and Countdown brands achieved three.
Smell
If you're looking for a detergent brand with five star smell, Earthwise and ecostore each received top ratings in this area. Active and Finish followed with four stars, and Countdown brands received with three.