Service Stations – 2013 Ratings
Show Important Notes^*
Hide Important Notes^*
* Overall satisfaction is an individual rating and not a combined total of all ratings
Fuel prices take their toll on 1 in 3 New Zealanders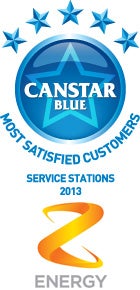 The results of our recent survey of service station customers have revealed a concerning statistic: two in three feel the rising cost of fuel is impacting their quality of life. This seems to be a long-standing problem for New Zealand drivers, as we saw a similar statistic emerge in last year's results.
As a result, drivers have found different ways to combat petrol prices:
Three in five avoided fast acceleration when driving to get better fuel economy.
One in two reduced their use of their vehicle's air conditioner, and
One in five has considered the more drastic approach of buying an entirely different model car – or even a motorbike or scooter – to save money at the pump.
Another popular method of cutting costs was the use of fuel vouchers or discount dockets. In fact, more than three quarters of drivers reported they visit particular stations to take advantage of these schemes.
A similar sentiment was held by just under two thirds (63%) of respondents who considered petrol price to be 'more important' than convenience.
Z gets the last word on service station customer satisfaction
For anyone on the hunt for a great service station experience, start your engines and head for this year's recipient of our Most Satisfied Customers Award for Service Stations: Z Energy.
Z Energy customers have proven to be the most satisfied for the second year in a row, with the brand also received our award in 2012.
Also rated this year were Challenge, Gull, Caltex, Mobil, BP and PAK'nSAVE.
Canstar Blue commissioned Research Now to survey 2,500 New Zealand consumers to measure and track customer satisfaction. The outcomes reported are the results from customers within the survey group who have refuelled a vehicle at a service station in the last month – in this case, 2,209 people. Brands must receive at least 30 responses to be included.
Results are comparative and it should be noted that brands that received three stars have still achieved a satisfaction measure of at least six out of 10.
Overall customer satisfaction
Z Energy received five stars for overall customer satisfaction in this category, staying in front of four star recipients Challenge, Gull and Caltex. BP, Mobil and PAK'nSAVE received three stars each for overall satisfaction.
Price of petrol
Getting a reasonable price at the pump can make a big difference in keeping up with the running costs of your car. Gull customers were most satisfied with the price they paid for petrol at their service station. Following Gull's five star rating was four star recipient PAK'nSAVE, three star achiever Challenge, and two star recipients Z Energy, Caltex, Mobil and BP.
Service
Great customer service can mean getting back on the road faster. Both Challenge and Z Energy achieved five star ratings for customer service, and were followed by four star recipient Caltex. Gull, Mobil and BP each received three stars for their service; PAK'nSAVE achieved two.
Range of other items for sale (e.g. gas bottles, firewood, grocery items)
Service stations usually offer a wide range of products for sale, making them a convenient option for those who only want to make one stop on their way home. Customers of both Z Energy and Caltex were most satisfied with their service station's range of items for sale. Each brand received a five star rating, BP received four, Mobile and Challenge earned three, and Gull achieved two. PAK'nSAVE received one star for its range.
Appearance and cleanliness of station
Z Energy received five stars for the cleanliness and appearance of its service stations, edging out four star recipients Caltex and BP. All other rated brands – Challenge, Gull, Mobil and PAK'nSAVE – received three stars for service station appearance.
Facilities
Cars need quite a bit of maintenance, and having access to facilities like car washes, air pumps and windscreen cleaners can help drivers stay on track. Z Energy customers were most satisfied with the facilities at their service station, earning Z a five star rating. Caltex, Mobil and BP followed with four star ratings in this area, Challenge achieved three, Gull received two, and PAK'nSAVE earned one star.