Vacuum Cleaners – 2014 Ratings
Posted by Canstar Blue June 10th 2014
Show Important Notes^*
Hide Important Notes^*
*Overall satisfaction is an individual rating and not a combined total of all ratings. Brands with equal overall satisfaction ratings are listed in alphabetical order.
Canstar Blue research finalised in June 2016, published in July 2016.
Shark vacuum cleaners are 'top of the food chain' for customer satisfaction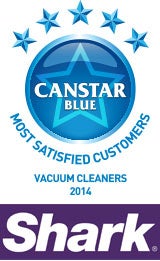 Three quarters of New Zealanders who responded to our survey bought a good vacuum cleaner that has lasted them many years, while 28% buy a cheaper model and simply replace it whenever it finally breaks.
There is clearly a place for all kinds of vacuum cleaners in the homes of consumers, but how do you know which one is best suited for your floors? We endeavoured to find out, by looking at customer satisfaction with well-known vacuum cleaner brands.
We compared eight big names in all, and found that customers of Shark were most satisfied with their choice in cleaning appliance. While many of the rated brands have received Canstar Blue awards in the past, Shark shot past them all with top ratings for value for money, ease of use, cleaning effectiveness, and noise.
Dyson, Bosch, Miele, Nilfisk, Electrolux, Hoover, and Kambrook were also compared in these results. Miele in particular was a close contender for the top prize, having received five stars for value for money, ease of use, noise, and size.
Check out the full results below.
Overall customer satisfaction
Shark achieved our top rating for overall customer satisfaction in the category of vacuum cleaners. This brand received five stars, was followed by Miele with four, and Dyson, Bosch, Nilfisk, Electrolux, Hoover, Kambrook with three.
Value for money
Most people buy a vacuum cleaner with the view of keeping it for the long term, so which model will give you the greatest return on investment? Owners of Miele and Shark vacuum cleaners were most satisfied with the value for money of their appliance purchase, which earned each brand a five star rating. Nilfisk and Bosch achieved four stars each in this area, and Dyson, Electrolux, Hoover, and Kambrook all finished with three.
Ease of use
Vacuuming your home can be a simple task, provided you have a model that is particular easy to manoeuvre, clean, power etc. Shark and Miele both achieved five stars for vacuum cleaner ease of use, and were followed by Dyson and Bosch with four. Next in line were three star recipients Electrolux, Hoover, Nilfisk, and Kambrook.
Noise
Vacuuming doesn't have to be as noisy as a Boeing 747 taking off. Both Miele and Shark both achieved five stars for their appliance noise levels. Electrolux and Bosch followed with four stars apiece, as did three star achievers Dyson, Nilfisk, Hoover, and Kambrook.
Effectiveness of clean
How effectively does your vacuum cleaner eliminate mess in your home? Shark received five stars in for cleaning effectiveness, ahead of Miele and Dyson with four apiece. Bosch, Electrolux, Nilfisk, Hoover, and Kambrook all finished with three stars.
Size
Portability is surprisingly important when it comes to vacuum cleaners. For one, you don't want to hurt your back by dragging a heavy vacuum cleaner around the house. Ideally, you also want a model that is easily stored away – out of sight until you need it. Miele customers were most satisfied with the size and weight of their vacuum cleaner. Just behind our five star achiever were Shark and Bosch with four stars in this category's final criterion, and closing with three stars each were Dyson, Electrolux, Hoover, Nilfisk, and Kambrook.
–
How we rated vacuum cleaner brands
Canstar Blue commissions Colmar Brunton using the SSI panel to regularly survey 2,500 New Zealand consumers across a range of categories to measure and track customer satisfaction. The outcomes reported are the results from customers within the survey group who have purchased a vacuum cleaner in the last three years – in this case, 1,103 New Zealanders.
Brands must have received at least 30 responses to be included. Results are comparative and it should be noted that brands receiving three stars have still achieved a satisfaction measure of at least six out of 10.