Car Tyres – 2014 Ratings
Posted by Canstar Blue April 3rd 2014
Show Important Notes^*
Hide Important Notes^*
* Overall satisfaction is an individual rating and not a combined total of all ratings. Brands with equal overall satisfaction ratings are listed in alphabetical order.

Hollow star ratings are awarded where brands do not receive the minimum number of responses for that criteria, however achieve at least the minimum sample required for all other criteria.
Happy Goodyear: well-established car tyre manufacturer wins award for 2014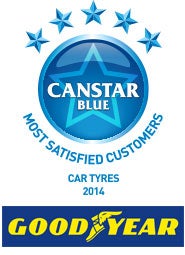 Who should you ask for advice when you need to outfit your vehicle with the best tyres available? Your best bet is to seek the opinions of other New Zealanders, which is why we surveyed more than a thousand drivers to see which wheels they're most satisfied with.
In our inaugural rating of car tyre brands, Goodyear has received our Most Satisfied Customers Award – 2014. They did so when rated against some of the most prominent brands in the country: Bridgestone, Firestone, Yokohama, Dunlop, Hankook, and Kumho.
While Yokohama also tallied five star ratings in this survey for noise and tyre quality, no one could match Goodyear for its array of top ratings for overall satisfaction, value for money, warranty, tyre life, handling, and tyre quality. Congratulations to Goodyear for its award-win.
One in two New Zealanders fall flat with car tyre safety
Our results also reveal that close to half our survey respondents only replace their tyres when they fail a warrant of fitness. Alarmingly, a more significant 62% of Generation Y drivers admit to doing this.
This echoes the sentiments recorded in a previous survey, where we found that nearly half of queried drivers save cash by having their vehicle serviced at less regular intervals.
That said, nearly four in five opt for quality over cash when investing in new tyres, saying, "Safety is more important than price."
It would also appear that New Zealand women are slightly less knowledgeable about tyres than men. Women are:
less likely to know how to change a tyre (91% of men versus 71% of women),
more than twice as likely to not know the correct air pressure of their tyres (15% off men versus 36% of women), and
nearly twice as likely to not know when they needed new tyres (11% of men versus 20% of women).
TyreSafe.org explains that you can find the tyre pressure for your car's (factory) wheels in the manufacturer's handbook, inside the fuel filler cap, or inside the driver door's sill.
Vehicle Testing New Zealand Limited (or VTNZ) also outlines the minimum legal depth for a car tyre:
"1.5mm depth within all the principal grooves that contain moulded tread depth indicators around the whole circumference of the tyre."