Cars – 2014 Ratings
Posted by Canstar Blue May 20th 2014
Show Important Notes^*
Hide Important Notes^*
*Overall satisfaction is an individual rating and not a combined total of all ratings. Brands with equal overall satisfaction ratings are listed in alphabetical order.
Canstar Blue research finalised in June 2016, published in June 2016.
Suzuki swiftly rise to the top in our 2014 car awards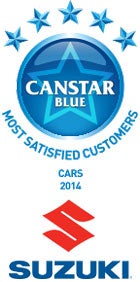 Is it time you upgraded to a hotter set of wheels? When buying a new car, drivers who responded to our recent survey went about the shopping process in different ways.
27% don't seek advice from anyone in regards to which make or model they should purchase,
55% get advice from their family and / or friends, and
71% use internet reviews and ratings for advice.
Once you return from asking your friends for their advice, we can help you with the next step of the car shopping research process.
We surveyed New Zealand drivers to see which car brand had the greatest proportion of satisfied customers. This year, Suzuki surged ahead of the competition.
Because of its' outstanding performance in these results, Suzuki achieved our Most Satisfied Customers Award – Cars, 2014. The Japanese car manufacturer finished with five star ratings in all our ratings criteria.
Whether you're looking to buy something small and simple (such as the Alto or Swift) or something larger and more family friendly (like the S-Cross, Kizashi, or Vitara), Suzuki cover the market with a great range of vehicles.
Also rated in this survey were Kia, Mazda, Ford, Toyota, Mitsubishi, Honda, Holden, and Nissan. Let's take a closer look at this year's motorist satisfaction ratings.
Overall customer satisfaction
Our award-winner received a five star rating for overall customer satisfaction, staying just ahead of four star recipients Kia, Mazda, and Ford. Toyota, Mitsubishi, Honda, Holden, and Nissan all followed with three stars apiece.
Value for money
A car can be a significant investment to the average New Zealander, so make sure you find a model that is truly the whole package. Suzuki finished with five stars for value for money, followed closely by four star recipient Kia. Ford, Mazda, Toyota, Honda, Nissan, Mitsubishi, and Holden all finished with three stars in this crucial area.
Point of sale service (i.e. from the dealership)
You may have a lot of questions about your new car purchase. No problem – most dealerships are happy to walk you through such concerns or queries.
Once again, Suzuki emerged just ahead of our other rated brands. They achieved a five star rating for point of sale service, with Kia and Honda both following with four stars each. Holden, Mitsubishi, Ford, Nissan, Mazda, and Toyota all followed with three stars.
After sale service (i.e. from the dealership / manufacturer)
Anything can happen to your new car on the roads. Lucky for you, manufacturers and dealerships are well equipped to help if / when you have a problem. Suzuki drivers were most satisfied with the after sale service of their dealership or manufacturer. This brand finished with five stars, was followed by four star achievers Kia and Honda, and three star recipients Mitsubishi, Holden, Ford, Nissan, Mazda, and Toyota.
Reliability of the vehicle you purchased
Does your car reliably tackle driving duties? Suzuki received five stars for the reliability of its vehicles, and was closely followed by four star recipients Kia, Ford, Mitsubishi, Toyota, Mazda, Nissan, and Honda. Holden finished with three stars for vehicle reliability.
Performance of the vehicle you purchased
New Zealand offers some fantastic opportunities for scenic driving. However, you need a car that can handle both the highs and lows of this breathtaking land. Our award-winner, Suzuki, earned a final five star rating for vehicle performance, and was followed by a wealth of worthy four star achievers: Mazda, Kia, Ford, Mitsubishi, Holden, Honda, and Toyota. Next with three stars was Japanese manufacturer Nissan.
How we rated new car brands
Canstar Blue commissions Colmar Brunton using the SSI panel to regularly survey 2,500 New Zealand consumers across a range of categories to measure and track customer satisfaction. The outcomes reported are the results from customers within the survey group who have bought a brand new car from a dealership in the last three years – in this case, 593 New Zealanders.
Brands must have received at least 30 responses to be included. Results are comparative and it should be noted that brands receiving three stars have still achieved a satisfaction measure of at least six out of 10.