Service Stations – 2014 Ratings
Posted by Canstar Blue July 1st 2014
Show Important Notes^*
Hide Important Notes^*
* Overall satisfaction is an individual rating and not a combined total of all ratings
Up for the Challenge: Service Station brand achieves our 2014 award
According to the results of our recent survey of petrol station customers, New Zealanders are going to great lengths to save money on petrol.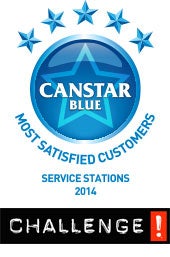 Some, like four in five of these respondents, do so by visiting particular petrol stations to take advantage of fuel discount dockets or price promotions. Additionally, a quarter of respondents are considering the even more drastic option of buying a different model car, or even switching to a motorbike or scooter to save.
However, it's only enticed a little less than one in five to use public transport more than they had one year prior.
One other popular way to save money on fuel is to use less of it, with two thirds of our survey respondents choosing to avoid fast/aggressive acceleration to this end.
But perhaps all you need to do to save is find a service station that offers terrific value to New Zealanders everywhere. We've been on the lookout for you, asking everyday drivers in these results how satisfied they were with their petrol station.
Challenge achieved our Most Satisfied Customers Award – Service Stations for 2014, ahead of BP, Z Energy, PAK'nSAVE, Mobil, Shell, Gull, and Caltex. Notably, Challenge led the pack in the area of overall customer satisfaction, as well as customer service.
However, our other rated brands also impressed many drivers across the country:
Gull received five stars for its petrol prices,
Z Energy received five stars for customer service, the range of other items it had for sale, service station appearance/cleanliness, and facilities,
BP earned five stars for its product range, and
Shell received five for its facilities.
The full results can be found below.