Canstar Blue's latest survey of more than 2,300 New Zealand banking customers found that despite the relatively strong economy, money troubles continue to cause worry and stress for more than one-third of respondents, with Gen Y significantly more stressed than their parents.
"I think dealing with money is stressful and overwhelming" agreement:
47% Gen Y
40% Gen X
24% Baby Boomers
This stress may be related to the fact that a higher percentage of the younger generation admitted living payday to payday, with exactly half of Gen Y respondents (50%) living pay to pay compared to 45% of Gen X and 33% of Baby Boomers. While the percentage of Boomers living pay to pay is lower, it is still very concerning that one-third are doing this, particularly as they are that much closer to retirement.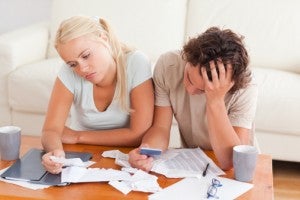 Women, at 46% are more likely to be living payday to payday compared to men, at 33%. Women are also significantly more likely, at 40%, to find dealing with money stressful and overwhelming, although more than one quarter (26%) of men admitted to these feelings.
Budgeting tips to help you save
If your household budget is feeling the pinch, her are a few quick budgeting tips to kickstart a savings plan:
1. Do a written budget.
It's important to know where your money is going – a written budget can help you work that out. Try this online budgeting tool to get you started
2. Cut your food bill.
It's one of our biggest costs, so making a big effort to save money on food can save your hundreds. Write a weekly meal menu to reduce wastage, cook and freeze double portions to eliminate takeaway and pull out those old recipe books and try cost effective curries, casseroles and soups. Also take your lunch to work to avoid buying it.
3. Buy a coffee machine.
Easy!
4. Wash your own car (and dog)
Rather than outsourcing it.
5. Pay your bills on time and avoid late fees
They can really add up significantly.
6. check what interest rate you are paying
If you owe money on your credit card. Only 58% of Canstar Blue's survey respondent that had a credit card paid it off in full each month.
7. Shop around for all your insurance products
The cost of insurance products can vary significantly from provider to provider, even with similar levels of cover.
8. Sell pre-loved items
To help fund new purchases. Alternatively, spring clean your home and have a garage sale.
9. Update your phone and technology contracts.
There are so many different plans available – make sure that you're on one that suits your needs. Check out our telecommunications survey results for more information.
10. Reduce your vices.
Do you smoke? Drink? Have an addiction to coffee? Whatever your vice, make a conscious effort to cut back. Healthy and wealthy – a double benefit!
Canstar Blue has surveyed the banking habits and preferences of more than 2,300 New Zealanders. Check our survey results here.