Sticking around New Zealand this autumn and need some local inspiration? It's a great season for a road trip. You can avoid the crowds but still enjoy the sunshine and mellow fruitfulness of the cooling autumnal days.
The rush and crowds that come with summer have subsided, the air is crisp and the leaves are falling from deciduous trees like confetti. The still days of autumn lend themselves to the outdoors; it's a perfect time to cruise coastal roads and explore parks and trails. Accommodation along your route is likely to be cheaper, too, compared to peak summer rates. 
Autumn roadies: Auckland to Cape Reinga 
A road trip to the tip top of New Zealand brings you the sheer beauty of our northern coastline. Cruise to the gateway of the Bay of Islands, Paihia, past green countryside and blue waters. Stop on your way for a look at the Whangarei Falls, or walk AH Reed Memorial Kauri Park's canopy walkway. 
Explore Paihia and take a ferry trip out to the largest island of the Bay of Islands, Urupukapuka Island from the Paihia Wharf. It's got a vast network of walking tracks that lead to great viewpoints, ideal on a clear autumn day. Continue your road trip up to the end of the road in the North Island, Cape Reinga. There's a turn off to a scenic spot called Tapotupotu Bay 5km before the Cape that makes a beautiful lunch stop, too. And on your way back , it's worth the detour to savour the gastronomic delights of waterside fish and chips at the "world famous" Mangonui Fish Shop.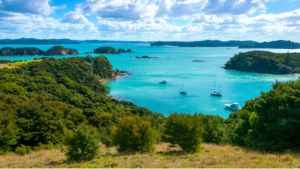 The Forgotten World Highway: Taumarunui to Stratford via SH43
State Highway 43, also known as the Forgotten World Highway, is an iconic (if not a little windy) drive. The remote highway is built on colonial bridle paths formed in the late 19th century and hugs the contours of the land. 
You'll pass Lauren's Lavender Farm about 15km outside of Taumarunui, a peaceful stop where you can wander through fragrant fields. Further south, stop at quirky Whangamomona, where you can get your passport stamped (and learn how they became a republic). Along the route, you'll drive across four saddles; each offers stunning views, in particular the Strathmore Saddle, where you can see both Mt Taranaki and the Central Plateau.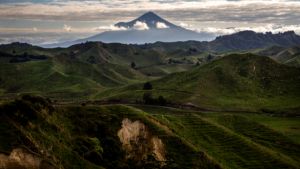 Napier to Blenheim 
If you're a wine fan, this one's for you. Nothing beats a crisp autumn stroll through a vineyard. Road trip the New Zealand Wine Trail starting in Hawke's Bay, one of our leading producers of reds and chardonnays. Admire the Art Deco architecture and drive past some of the most ruggedly beautiful coastlines in the country, with a stop out at Cape Kidnappers.
Martinborough boasts over 20 wineries, all close to the village square. Some of our best pinot noir comes from their boutique vineyards. Drive over the Rimutaka Range, which offers spectacular views in every direction. There's plenty of art and culture to enjoy in Wellington before you drive on the ferry and head to Picton. Cruise through the Marlborough region's vineyards and sample some of the best sauvignon blanc in the country. If you have time, the Queen Charlotte Track will be uncrowded and parts of it can be done as a day hike.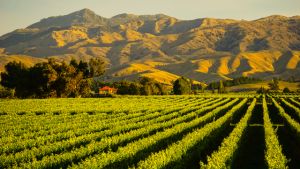 Wanaka to Queenstown via the Cardrona Pass
The South Island's colours really turn on in autumn. Wanaka's red and orange trees are unreal reflected on the lake. There's plenty of stunning vistas to appreciate on the route from Wanaka to Queenstown. Stop at the most photographed pub in the country, the Cardrona Hotel, and take in the foothills of the Alps, Lake Wakatipu and the Remarkables Mountain Range in Queenstown. And it wouldn't be an autumn road trip story without giving Arrowtown a mention. The reds and yellows of the trees are dazzling and there's even the Akarua Arrowtown Autumn Festival, which commences on April 16 this year. There's market stalls, delicious food, a parade and musicians set among the tree-lined main street.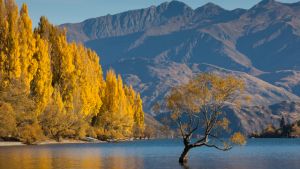 Queenstown to Dunedin: The Southern Scenic Route
From Queenstown, head to Te Anau and take in its pristine lake and surrounding mountains. From the town centre you can walk around the lakefront and onto the scenic Kepler track. Tramp in the alpine tussock grasslands; the full track is 60km but there's a number of day walks you can do that are also child-friendly (make sure to do this walk early autumn, in March, though before conditions get snowy).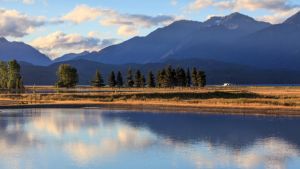 Drive further south to Invercargill and from there make your way to The Caitlins, which its impressive surf beaches, rugged coastal walks and forest. About 20 minutes east of The Caitlins is Curio Bay, where there's camping spots if it's not too chilly. On a clear autumn night, you should also get a good view of the stars. You can walk among visible remnants of a 180 million-year-old petrified forest and, if you're lucky, spot yellow-eyed penguins. Keep going towards Nugget Point, and check out Purakaunui Falls. Past Kaka Point, you're on the road to Dunedin.
Before you go, are you prepared?
Road accidents and breakdowns are unpredictable and happen to the best of us. So before you embark on your roadie, make sure you check your car insurance. You can compare providers of car insurance free with Canstar:
Compare car insurance providers for free with Canstar!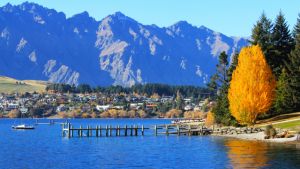 Make sure your car is in working order, too. A personal loan could be an option if you need any urgent repairs or maintenance done beforehand, just make sure to consider your finances carefully before you go ahead with borrowing any funds. 
Compare personal loans with Canstar
Sign up to receive more tips like this straight to your inbox.
By subscribing you agree to the Canstar Privacy Policy