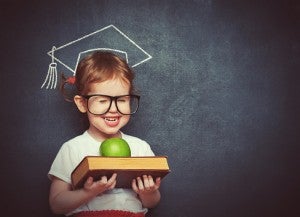 Do you want your child to show boundless enthusiasm in learning? Then it should start from you, the parents, writes Kenny Wong.
You can motivate your child to show great interest in learning, only when you involve yourself. Your child develops his or her intellectual and social skills in school, however, they also need your help to enjoy discovering new things everyday that will transfer to their schoolwork and homework. So ultimately, it's you who can improve your son or daughter's academic achievements! Here's how to do it.
Fill your child's world with books and reading
You child needs to know that you give great importance to reading. So the very first step is to fill your home with books, newspapers and magazines. Then you can take turns reading for each other, or plan family reading time when everyone reads their own book.
Encourage your child to express their opinions
You can start by giving your child small responsibilities in making decisions for the family, like picking out a side dish to go with dinner or selecting his or her own extracurricular activities. You can also ask for your child's opinion when choosing things. You can let them talk about how he or she feels about a certain thing or person.
Show interest in what your child likes
Every person has the ability to excel in things that are close to their heart. So take the right step in showing enthusiasm in your child's interests and help him or her to achieve great success.
Talk to your child about school every day
You shouldn't always be enquiring about the grades and test scores. Instead you should ask about what your child is learning in school. This way you'll prove you are interested in knowing about his or her learning process, and putting the lesson into their own words will help them retain what they have learned in class.
Help your child with their homework
This will help your child to stop feeling pressured and stay in control of their work. You should check in with him or her regularly to make sure they are not feeling overloaded.
Celebrate achievements, however small
Congratulate your child when he or she completes their assignments on time, or is on track with homework and lessons. You can also offer small presents or have a small family party every week to inspire your child to keep up the good work.
Focus on your child's strengths
If your child shows great skills in English and is lacking the necessary skills in math, don't worry. Focus on their talents and also help him or her to understand that it's important to develop skills in math. You can also talk about getting after school academic help for the subject.
Turn everyday events into learning opportunities for your child. You don't always have to be in a classroom to learn math or language. You can learn math when cutting vegetables and learn language when singing a song. There are lots of ideas available on the web. Just look for some and explore the new learning curves with your child.