Mitsubishi is the best fridge brand in Canstar Blue's 2021 award for Most Satisfied Customers | Refrigerators.
To a lot of us fridge-owners, a fridge is just a fridge. We've probably had the same one for the best part of a decade and it's nothing more than the big white (or silver) box that keeps our food cold. But a fridge is an expensive appliance. So if you're looking for a new one, it's a good idea to know what other Kiwis are thinking about the best fridge brands.


We all use a refrigerator in our households, but what makes one brand stand out from the next? Is it the bells and whistles, value for money, design or functionality? To find out, Canstar Blue canvassed the opinions of New Zealanders across a range of categories, to measure and track their satisfaction. To decide which refrigerator brand offers the best level of customer satisfaction, each was rated across the following categories:
Overall Satisfaction
Value for Money
Internal Layout
Reliability
Quality of Fittings and Fixtures
Food Features
Freshness
Style/External Design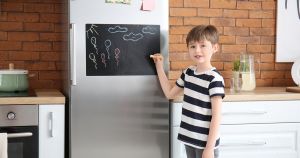 Winning top spot and taking home Canstar Blue's award for Most Satisfied Customers | Refrigerators is Mitsubishi, thanks to 5 Stars in each category, except for Internal Layout, for which it scores a healthy 4 Stars. LG also scores highly across the board, pulling in 5-Star ratings for Internal Layout and Food Freshness.
What Kiwis want in a fridge
Driving Kiwis' satisfaction with their refrigerator purchases is Value For Money (18%). This makes sense, as a fridge is a sizeable investment. Reliability and Quality of Fittings and Fixtures follow at 15%. Fair enough, too, as no one wants to find wilted greens in their vegetable drawer, or find a broken door fitting after a few months of use.
New Zealanders don't like food waste
Of those in Canstar Blue's survey, 59% say they try to ensure they use all the fresh food they buy. A further 26% say they always have a stock of prepared meals in their fridge/freezer that they can whip out when needed. Mindfulness of the environment is at the forefront of consumers' minds for 20%, who say environmental concerns guide their choice of refrigerator.
Types of refrigerators: top freezer
This is the model that most of us will instantly visualise if someone says the word fridge to us. It's a single column refrigerator, with the top third (approximately) dedicated to a separate freezer compartment. This type of fridge is the most common, meaning it's also generally the cheapest, and has the widest range on offer.
The downside of this is that top freezer models are generally rather low on features, and less thought is given to their appearance. However, if you don't care about features and don't mind how your fridge looks, this fridge is a good option.
Also definitely worth noting is that this is usually the most energy-efficient type of fridge. It's about 10-25% more efficient than fridges with bottom or side-mounted freezers. So if electricity bills are a concern, this could be the fridge for you! So, in summary, top-mount fridges:
Generally cheap but no-frills
Have an easy-access top-mounted freezer
Often more economical to run than other types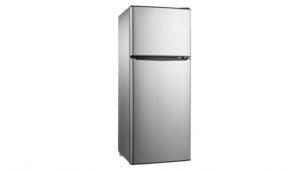 Types of refrigerators: bottom freezer
As the name suggests, a bottom-mount fridge is just like a top-mount fridge, with the obvious exception that the freezer compartment is at the bottom. That's all there is to it. Generally speaking these models are less common, which means less variety/range and, as mentioned earlier, they tend to be less efficient or more expensive than a top freezer model, meaning they could cost you more to run in the long term. Though, that's not to suggest that all models are bunk. Bottom-mount fridges:
Can be more expensive but you pay for energy-efficiency
Less variety and range than the top-mount types
Freezer on bottom for easier access to fridge section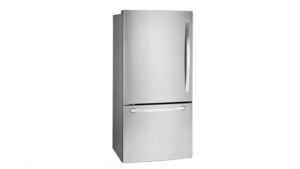 Types of refrigerators: side-by-side
These fridges are essentially wider-than-usual fridges split in half, with one half being the fridge side and the other being the freezer side. For those who tend to freeze leftovers in high volume, or exist on freezer food, this type of fridge may be ideal. Some side-by-side fridges allocate slightly more room for the fridge section, however the freezer will still be larger than that of any top or bottom freezer model. The doors open from the centre rather than the side, meaning less spatial clearance is required to swing the fridge door(s) open.
Also worth noting is that side-by-side models often come with features such as water, ice dispensers, and external user interface panels, which some may view as desirable features. In summary, side-by-fridges are:
Handy with easy-access to fridge and freezer
Usually larger but more energy-consuming
Boast features such as ice makers but can be more expensive to buy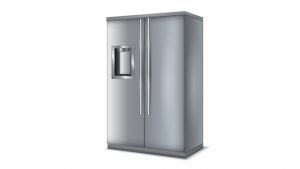 Types of refrigerators: French door
Possibly the most versatile (and most expensive) type of fridge, French door fridges are similar in width to side-by-side models, and have the entire bottom third devoted to freezer space, just like a bottom freezer model. As with side-by-side fridges, the fridge door is split into two, opening from the centre for the fridge section.
Some French door fridges have a single door for the freezer section. But some split the freezer section the same way as the fridge section, making for a grand total of four doors on your fridge.
The main advantage to this slightly elaborate door configuration is that opening one of the half doors lets less cold air out than if you swing open both. The other advantage is that, as with a side-by-side model, the split doors mean less clearance is required between the fridge and your bench/other kitchen installations. In summary, French door fridges are:
Feature-packed and a pleasure to use
Usually more expensive than simpler units
Usually more power-hungry, but their bigger size lends itself to this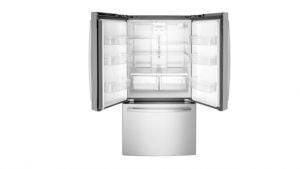 Which type of fridge is best?
What fridge you'll end up going with will generally depend on a few factors. If you:
Want a cheap fridge, a top-mount, bottom-mount or bar fridge for drinks could work
Have a larger family, a French door fridge
Want energy-efficiency, a top- or bottom-mount fridge
Want great features, a side-by-side or French door fridge
You want great usability, a side-by-side fridge
There are no real disadvantages to high-end fridges that would dissuade you from buying them, save the price, which is why many of us tend to go with the classic top or bottom freezer models. But if you've got the cash and fancy a high-end fridge with more space and some flashy features, a side-by-side or French door fridge may fit the bill. When buying a new fridge, you're likely to stick with it for a while, so look at a lot of different fridge types to determine which one is right for you.
Read the full results of Canstar Blue's survey by hitting the button below, and if you're in the market for a new refrigerator, know that Mitsubishi ticks all the boxes!
Compare refrigerators for free with Canstar!
Enjoy reading this article?
You can like us on Facebook and get social, or sign up to receive more news like this straight to your inbox.
By subscribing you agree to the Canstar Privacy Policy