Security cameras are arriving to market with an ever-evolving range of features, allowing householders to keep an eye on what is happening both inside and outside of their residence, with the capacity to both record footage and also allow for remote, real-time viewing.
Wi-Fi connectivity is a key security camera feature, with cameras typically designed to connect to a home wireless network, which in turn enables a range of smart features, including remote viewing via a smart device, such as a smartphone or tablet.
Security cameras can be used for a variety of purposes, and range from simple standalone cameras, designed to sit on a flat surface such as a bookshelf, to expandable systems that incorporate multiple cameras, designed to provide an encompassing indoor and outdoor overview of a residence.
Of course, the right configuration for your household will depend upon your individual requirements, and there are a number of factors that householders should keep in mind when shopping for a security camera or system.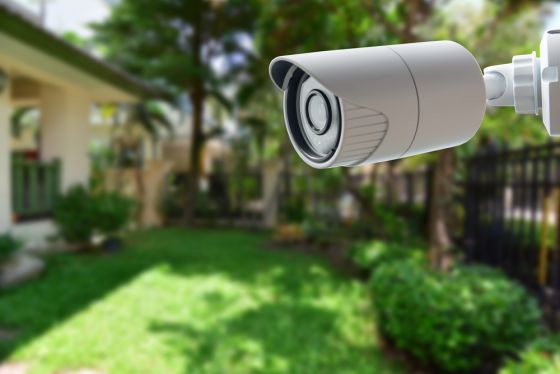 What to consider before purchasing a security camera
Before purchasing a security camera or system, it is important to carefully consider what you will require, taking into account your specific household circumstances, and assessing these circumstances in the context of the type of features on offer from different cameras and systems.
Cameras and systems can vary considerably in price, and the types of features on offer and the price tags associated with these features will need to be considered in the context of your household budget.
Prior to purchase, it is also important to ensure that your broadband is up to the task, taking into account the data and bandwidth requirements of cameras and systems, along with the cumulative requirements of the range of other smart devices on your home network.
If connecting via Wi-Fi, you will need to ensure that your router will be able to accommodate all of the devices on your network, and you will also need to determine that Wi-Fi range will not be an issue (for instance, this may present issues with outdoor cameras).
Many security cameras and systems are designed for DIY installation, and being able to set up a system in short time is an attractive feature – however, for householders in doubt, it is certainly worthwhile consulting security camera professionals.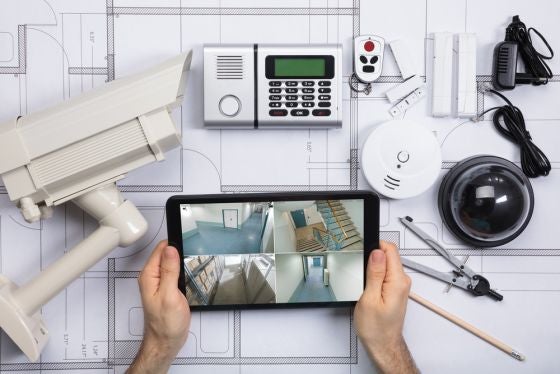 Security camera features
Consumers considering purchasing a security camera or system will at a very fundamental level need to determine the number of cameras they require, and whether they will be for indoor or outdoor use.
The following are some of the features that consumers should keep in mind when shopping for a security camera or system:
Camera – what sort of picture quality does the camera provide? Security cameras are available with a range of resolutions – it is also worthwhile considering if a zoom function is provided and what sort of viewing angle is on offer.
Remote viewing – does a camera provide for remote, real-time viewing via a smart device?
Motion/sound detection – does a camera come with motion and sound detection capabilities, and is it capable of being configured to send alerts to a smart device or to set off an alarm?
Two-way audio – is a camera equipped with two-way audio, allowing for remote talking and listening?
Smart device compatibility – what sort of smart device compatibility is provided? For instance, is a camera compatible with Android and iOS smartphones and tablets?
Smart home compatibility – is a camera compatible with other smart home technologies, such as Amazon Alexa and Google Assistant?
Cloud capabilities – many companies offer complementary plans, allowing for storage of video footage. What sort of storage options are provided and at what cost?
Battery/power requirements – does a camera require plug-in power or is it battery powered? If battery powered, what sort of battery life does it have and how is it charged?
Storage – is microSD storage capacity provided, or are you able to store video footage on a hard drive?
Weather resistance – what sort of weather resistance do outdoor cameras provide and will this be suitable for your purposes?
Warranty – what sort of warranty is provided?
Security cameras
It is certainly worthwhile shopping around and considering your range of options before making a security camera or system purchase.
The following are some of the options currently available (it is worthwhile visiting manufacturer and retailer websites to confirm prices).
D-Link DCS-8300LH – D-Link's Wi-Fi DCS-8300LH is plug-in powered and suitable for indoor use, with D-Link advising that it provides for easy setup.
The DCS-8300LH is equipped with 1080p full-HD resolution, a 137-degree viewing angle, two-way audio, built-in infrared LEDs to capture video in up to 5 m of complete darkness, has the capacity to zoom in, and features motion and sound detection.
D-Link advises that it works with mydlink SmartHome devices, Amazon Alexa, Google Assistant and IFTTT, with the mydlink app allowing users to remotely view, receive notifications, and save snapshots and video clips to their mobile device, while a microSD card slot provides for back-up of video and images.
The D-Link website lists the DCS-8300LH as priced at $279.99 RRP. D-Link also offers a number of annual and monthly mydlink Cloud Recording plans.
Arlo Pro 3 – Arlo advises that the Pro 3 is suitable for indoor and outdoor use, allows users to view video directly from their smartphone, works with the Apple Watch, Google Home Hub and Amazon's Alexa, and can be installed in minutes with a wire-free setup.
The Pro 3 sports 2K resolution with HDR, has the capacity to zoom in, comes with an integrated spotlight (which can be activated manually, or automatically with motion), and features colour night vision and a 160-degree viewing angle.
Arlo advises that the Pro 3 is equipped with two-way audio and a built-in smart siren, with it sporting a weather-resistant design, built to withstand heat, cold, rain and sun, and coming with a magnetic mount and magnetic battery charging cable that snaps into place.
Arlo additionally advises that the Pro 3 is available in two-camera, three-camera and four-camera systems, and as an add-on camera (with a Pro 3 smart hub required).
The Arlo website links to a number of local retailers, with prices for the two-camera system in the range of $950 upwards. Arlo additionally offers a range of monthly Arlo Smart plans, providing a range of features, including audio and video recording cloud storage.
Ring Stick Up Cam – Ring's Stick Up Cam is suitable for indoor and outdoor use, and is available in wired, battery and solar (including a solar panel) models.
All models connect to the internet via Wi-Fi, while the wired model can also connect via Ethernet and can be plug-in powered or by Power over Ethernet (with an adaptor sold separately).
The Stick Up Cam is equipped with 1080p HD video, two-way talk, motion-activated notifications and night vision, with it providing users with real-time mobile notifications and live HD video, and is capable of being combined with select Alexa devices.
Ring advises that the Stick Up Cam can be placed on a flat surface, or mounted if required, with it capable of being set up in minutes.
The Ring website lists the wired and battery Stick Up Cam as priced at $369 and the solar model at $455. Ring also offers monthly and annual Ring Protect plans, providing a number of additional services.
Image credits: RedPixel.PL/Shutterstock.com, Photographicss/Shutterstock.com, Andrey_Popov/Shutterstock.com