Gyms Reviewed in 2015
Posted by Canstar Blue September 26th 2015
You are viewing the archived 2015 ratings for Gyms. For the latest results have a look at the current gym ratings.
If health and fitness are a priority to you, compare gyms with our customer satisfaction ratings.
Gym junkies are social animals, survey shows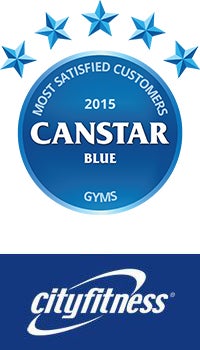 Going to the gym is obviously a great place to get healthy, but Canstar Blue's most recent survey reveals that New Zealanders also heavily value the social aspect of going to gym, with 42% of respondents believing it's is important to their social life.
In fact, our research shows that the social atmosphere of a gym is the second largest driver of gym member satisfaction, just behind value for money.
New Zealanders are also (understandably) quite committed to working out, with well over half of respondents claiming they exercise 3 to 5 times per week. Three quarters agree that being a member of a gym has helped them achieve their fitness goals, while two thirds feel guilty if they miss a single session.
Why isn't everybody hitting the gym?
While physical fitness is high on many New Zealander's priorities, for others, it's a trifling commitment. Our survey shows that the 59% of New Zealanders believe a lack of free time is the largest barrier stopping them from going to the gym. Furthermore, 28% of respondents admit that they attempt a New Year exercise program, but unfortunately fail.
Canstar Blue has also discovered that many gym-goers are quite self-conscious when it comes to working out, particularly younger respondents. Thirteen percent of gym members say they don't like exercising in front of others, and feel intimidated by other members; however the response to these statements increased to 19% and 20% respectively when we asked respondents under 30 years of age.
Additionally 1 in 3 gym-goers are intimidated by toned bodies, and again this increased to 1 in 2 when we asked individuals under the age of 30.
Whether you're an occasional exerciser or a complete gym-junkie, finding the right gym is important in helping you reach your fitness goals. We've surveyed everyday New Zealanders to find out what they think about their gym. Canstar Blue is pleased to announce that the award for Most Satisfied Customers – Gyms, 2015 has been awarded to Cityfitness.
Cityfitness also received a 5 star rating for value for money, range of offers, and staff availability.
Cityfitness
As mentioned above, Cityfitness was awarded 5 stars in 3 of our survey criteria. Cityfitness also received a solid rating of 4 stars for access, equipment & facilities, flexibility of membership, group fitness and social atmosphere.
Jetts
Jett's is certainly in league with the big gym names in New Zealand, despite being a relatively young brand. Jett's received 4 stars in overall satisfaction, value for money, equipment, flexibility of membership, range of offers, staff availability and social atmosphere. Jetts also received a 5 star rating for accessibility.
Les Mills
Les Mills was Canstar Blue's 2014 gyms award winner. In 2015, Les Mills shows that they're still going strong, with an overall satisfaction rating of four stars. They also received a rating of 5 stars in 4 criteria: equipment, group fitness, staff availability and social atmosphere.
Snap Fitness
Snap fitness received an admirable overall satisfaction score of 3 stars in 2015, as well as a 5 star rating for accessibility, and flexibility.
YMCA
YMCA scored well across the board, with a rating of 3 stars in most criteria. They received a strong 4 stars for both group fitness and staff availability.
Frequently Asked Questions
Canstar Blue commissions Colmar Brunton using the SSI panel to regularly survey 2,500 New Zealand consumers across a range of categories to measure and track customer satisfaction. The outcomes reported are the results from customers within the survey group who regularly visits a commercial gym that is part of a chain (i.e. has gyms in multiple locations), where they pay a membership/attendance fee – in this case, 398 New Zealanders.
Brands must have received at least 30 responses to be included. Results are comparative and it should be noted that brands receiving three stars have still achieved a satisfaction measure of at least six out of 10. Not all gym brands available in the market were compared in this survey.