Mobile payment technology has been evolving at pace in recent years in conjunction with the release of increasingly sophisticated, multi-purpose smartphones, and some technology heavyweights are looking to make their presence felt in the New Zealand market with digital wallet offerings.
It is no longer a matter of cash or card, with smartphone payment technology having the potential to supersede more traditional methods of payment, not only allowing for consumers to make online purchases but also extending to in-store payments.
Given the high rate of smartphone ownership and an increasing reliance on mobile technology, the market for mobile digital wallets is growing, and the convenience of consolidating various payment functions in one device is, of course, a lure for consumers.
Research released by Mastercard in May this year found that over two-thirds of New Zealanders do not carry cash, with 44 per cent believing that "New Zealand is on track to handle an exclusively card and digital wallet economy".
Mastercard's survey of over 1,000 New Zealanders found that one in 10 respondents had used a digital or cloud-based wallet when shopping online, while 59 per cent of those surveyed thought that mobile payments will be the next technology to take off.
With this in mind, what exactly is a digital wallet, what technology do consumers need to make in-store payments via smartphone, and what are some of the mobile digital wallet options currently available?
What is a digital wallet?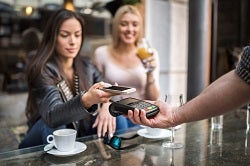 Digital wallet payment technologies exist across a variety of computing platforms – from desktop PCs to smartphones – with the movement to mobile digital payments in line with the ongoing evolution of smartphone technology.
Information technology research and advisory company Gartner provides the following definition of a digital wallet:
"A digital wallet is a storage place of secure information necessary to authenticate a user and initiate an authorisation process to make a transaction to purchase goods and services."
The convenience of a digital wallet is that it consolidates and streamlines payment functions, with it designed to provide in-built security, across online, in-app and in-store transactions.
Online and in-app it is a simple process of following the prompts when making a purchase, while in-store contactless payments can be made by holding a smartphone to a compatible reader.
There are a number of providers currently staking out territory in the emerging market, and it is notable that technology heavyweights Google and Apple are at the forefront of mobile digital wallet providers seeking to occupy a place on Kiwi smartphones.
What mobile digital wallet services are being offered by banks?
The following is a rundown of some of the mobile digital wallet services currently being offered by banks, and the smartphones that consumers will need to use them.
Android Pay
Android Pay, Google's digital wallet offering for smartphones running its Android operating system, launched in New Zealand towards the end of last year, with BNZ partnering with Google to bring it to customers with an Android smartphone and a BNZ Flexi Debit Visa account.
BNZ customers will need an NFC-enabled Android device, running the Android 4.4 KitKat operating system or higher, to use Android Pay to make payments in-store.
"They simply need to install the Android Pay app on their phone and add their BNZ Visa Flexi Debit card by taking a photo of it," BNZ states. "They also need to have the BNZ mobile app loaded on their phone to verify their details."
BNZ advises that:
Android Pay can be used anywhere contactless payments can be made
Customers can't use the app to withdraw cash with purchases, or from ATMs
Screens will need to be lit to make a payment
Phones will beep or vibrate when a payment is made, and customers will receive a notification
Customers will be prompted to enter their PIN for purchases over $80
BNZ states that card details are never stored on the customer's phone or shared with merchants, while if three consecutive payments are made without unlocking a phone, the customer will be prompted to unlock their phone before they can make another.
Apple Pay
Apple's digital wallet Apple Pay works in conjunction with a range of Apple devices from the iPhone to the Apple Watch, with it having launched in New Zealand towards the end of last year with ANZ.
ANZ has made the service available to customers with an ANZ Visa Debit or ANZ personal Visa credit card, with customers able to set up Apple Pay via the ANZ goMoney app.
ANZ advises that Apple Pay can be used anywhere that customers can tap and pay in New Zealand, including: BP, The Warehouse, Warehouse Stationery, Noel Leeming, Torpedo7, McDonald's,  Domino's Pizza and Burger King.
ANZ states that customers can make in-store payments by holding their iPhone over the contactless terminal and using Touch ID to make the payment, while for purchases over $80 they will need to enter their card PIN at the terminal.
ANZ states that customers' card numbers are never shared with the retailer or saved on their device, with payments authorised by using Touch ID or the device passcode.
A list of compatible iPhone models can be found via the ANZ Apple Pay website.
ANZ goMoney Wallet
ANZ launched its goMoney Wallet digital wallet towards the end of 2015, with it compatible with ANZ Visa Debit and ANZ personal Visa credit cards, with it built within the ANZ goMoney app.
ANZ's goMoney Wallet works with compatible Android smartphones running Android 4.4 KitKat or above that have NFC enabled, with consumers able to check if their smartphone is compatible via ANZ's goMoney website.
To use goMoney Wallet to make an in-store payment, customers will need to "wake" their phone screen and hold it over the terminal, then wait for it to vibrate or beep before checking the terminal to confirm payment, with no PIN required for payments of $80 or less.
ANZ states that no personal, account or card information is saved on the customer's phone or SIM card, with it using the same payment network as chip card transactions.
ASB Virtual
ASB states that its ASB Virtual digital wallet service, launched last year, "is a digital version of your existing ASB Visa card", with it loaded in the ASB Mobile app, and available with all ASB Visa credit cards and ASB Visa debit cards.
ASB Virtual can be run on Android smartphones with Android 4.4 KitKat and above that have NFC enabled, with customers able to use it in-store wherever payWave is accepted.
ASB advises that the phone screen will need to be lit to make payment in-store, with customers then holding it over the terminal, with the phone vibrating when it has connected, and the terminal showing when payment has been completed.
Customers will be prompted to enter their PIN for transactions over $80, with their ASB Virtual PIN the same as their physical card PIN.