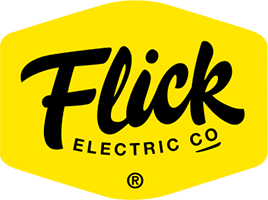 Flick Electric Co Review
Flick Electric Co describes itself as "a little company dragging an old-school industry, kicking and screaming into the future".
Flick is an independent electricity retailer, started by six Wellingtonians in 2014, that is all about giving Kiwis power over their power. The company says it combines the best smart tools out there with values of fairness and choice, to give its customers access and control when it comes to the way they use and pay for their power.
What's on offer from Flick Electric?
From starting out breaking ground by offering wholesale prices directly to New Zealanders, Flick now offers a range of power plans and tools to suit all customer lifestyles.
All Flick's products are built on the values of fairness and control, with no fixed-term contracts or exit fees and access to a suite of super useful tools compatible with all of the plans.
Flick has two power plans: Freestyle and FIXIE, as well as a suite of tools.
Freestyle
Freestyle by Flick provides customers access to the spot price, which is the same price power companies pay. Spot prices change every 30 minutes, meaning the price you pay for power will increase and decrease throughout the day. Spot prices are generally the lowest when demand for power is low, such as early morning or late at night. Spot prices are usually the highest during peak times, around the afternoon and early evening. Freestyle customers have access to the Flick mobile app, so they can monitor the price and adjust energy usage to make the most of low spot prices. If you give Freestyle a try and it's not for you, then you can leave at any time without exit fees.
FIXIE
FIXIE is for those who want certainty over their bills. With FIXIE you can set and forget, with a steady, fixed generation price for six months at a time.
Volt
Volt provides customers with predictable billing. You pay a regular amount to Flick each week to build up a stash of funds from which your power bills are deducted. This helps smooth out your bills year-round and means you're not slugged a massive bill at the end of a billing period.
Choice
Flick's world-first app, available on Android and iOS devices, gives Kiwis live updates about the carbon impact of NZ's electricity use, and sends alerts so you know when to switch things on and off. Flick customers get personalised carbon footprint data, measured in goats, so they can see how much carbon their power use contributes.
How does Flick make its money?
Flick Electricity sells you power at the same price it costs them, so how does the company make money? Well Flick adds an additional service charge, or Flick fee. The retailer's website provides a detailed breakdown of costs for each pricing plan.
Customer service
Flick provides information on its services and pricing on its website, addressing different topics on its questions page. Consumers can get in touch with Flick via phone and email, while a chat facility is also available through its website; there is also the option of submitting a contact form via the website.
Flick is also active on social media platforms Facebook, Instagram, LinkedIn and Twitter.
Control of your account
Flick customers can log in to their online account through the Flick website and can access a statement showing a breakdown of their electricity usage, costs and any other fees and charges, along with their invoices. Customers can also view bill amounts in the Flick app.
Flick offers flexible billing so you can choose whether to be billed weekly, fortnightly or monthly. Customers can pay bills via direct debit, either from a bank account or credit card.