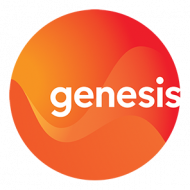 Genesis review
Genesis is New Zealand's largest electricity and gas retailer, providing services for residential and business customers across the country.
Genesis is publicly listed on the NZX and the ASX, with a 51% cornerstone shareholding by the New Zealand government. The company was founded in 1999, following the split of the Electricity Corporation of New Zealand.
Genesis provides electricity, natural gas and bottled gas (LPG) to New Zealand households and businesses, and also generates electricity, natural gas and LPG.
Genesis states that it is "actively transforming the business by putting the customer at the centre of what we do. Our vision is 'to be customers' first choice for energy management'."
In October 2017, Genesis relaunched its brand. "Our new 'With You. For You.' positioning focuses on putting customers first. We're doing this by rewarding the loyalty of our existing customers through Power Shouts and Fly Buys and engaging these customers around their home's energy use through Energy IQ, our energy management app." Genesis states. "Using best-of-breed technology, unique algorithms and data to deliver customers a truly tailored experience, Genesis has created Energy IQ. It's an unprecedented web and mobile insights tool that unlocks customers' personal energy use, giving them the ability to understand and act on it."
What's on offer from Genesis?
Genesis offers two residential energy plans, with consumers able to check plan rates via its website and sign up online.
Energy Plus plan:
A choice between fixed prices for 12 months and a 3% discount off each bill (with a $150 exit fee if you leave within 12 months), or staying flexible with no exit fees.
Bill discounts for things like paying your bill by direct debit or credit card, or receiving it by email.
Rewards like Power Shouts and Fly Buys.
Energy Basic plan:
Fixed prices for 12 months (with a $150 exit fee if you leave within 12 months)
For customers with both electricity and gas together, Genesis provides an additional 5% discount off each bill.
Power Shouts
Genesis customers on an eligible plan* regularly enjoy a period of free electricity that Genesis calls a Power Shout. Customers get to choose when they get their Power Shout so they can make the most of it.
Fly Buys
Genesis is the only electricity and gas provider in New Zealand that offers customers on an eligible plan* Fly Buys points on the energy they use every day – this includes electricity, natural gas and bottled gas.
Energy User Profile Check
Genesis also provides its customers with an annual Energy User Profile Check service (designed to make sure that they are on the most suitable user profile for their energy needs), with notifications sent to customers between October and December each year.
"Each year we'll let you know how much electricity you've used in the previous 12 months and what our energy user profile options are – so you can decide if you're still on the most economical profile for your home," the company says.
Solar
Genesis also offers a range of solar packages for consumers in selected areas, with eligible consumers able to request an estimate or book a home visit via the Genesis website.
The Genesis HomeGen offer, meanwhile, is for residential customers who generate their own electricity (such as by solar), with less than 10 kW output, who wish to sell the electricity they don't use back to the grid.
Customer service
Genesis provides a range of information via its website's FAQs section, catalogued under different topics, with consumers also able to search the Genesis website for specific topics.
Consumers can contact Genesis by phone and email, and they also have the option of submitting a message or engaging in live chat via the Genesis website. Genesis is also active on social media website Facebook.
"At Genesis we believe we have a responsibility to our customers to ensure that we meet their energy requirements, as well as provide them with first-class customer service," the company says.
* Energy Basic plans are not eligible for Fly Buys or Power Shouts.
Account management and energy services
Genesis provides customers with a range of account management and monitoring tools via its website and the Energy IQ app.
With Energy IQ customers can:
Pay bills by credit or debit card and set up recurring card payments
Add properties and energy types (electricity, natural or bottled gas)
Organise moving house or premises
View and graph their past hourly, daily and monthly electricity usage
Enter a meter read to get an updated bill
Energy IQ also provides some cutting-edge features like:
Home Comparison, that lets customers compare their power use to other homes just like theirs, so they can see if they use more, or less than them.
Electricity Forecast, that lets customers predict how much energy they'll be using up to a week ahead, so they can stay on top of your energy use.
Usage Breakdown, that gives customers an estimate of how much energy they're using in their home, on things like heating, hot water and lighting.
Genesis also has two Energy IQ Premium services available in selected areas:
Electricity Monitoring, that provides real time updates on exactly how much electricity customers are using and where.
Bottled Gas Monitoring, that lets customers know how much gas they have left and when to order a refill. Customers can also order bottles directly from the Energy IQ app.
Genesis Energy's invoice payment options comprise:
Energy IQ on the Genesis website, by credit card or automatic payment
The Energy IQ mobile app, by credit card
Control-a-bill, allowing customers to spread their energy payments out evenly, paying by direct debit weekly, fortnightly or monthly
Internet banking
Automatic payment, paying a fixed amount weekly, fortnightly or monthly
Phone, by Visa or MasterCard
In person at an NZ Post shop