Moving home, starting a new chapter? You'll want to make sure you've booked a trustworthy removal service. That's where Canstar Blue can help.
Knowing your belongings are in safe hands is key if you're moving home, as it's a stressful enough process as it is. No one wants missing boxes, chipped furniture, or late removalists. The ideal move is smooth sailing, with your belongings entrusted to safe hands and arriving at your new home in the same condition as which they were packed.
Whether you're upsizing or downsizing, ultimately moving house is all about the planning, if you want it to be stress free. If you wait until the last minute to organise your move, you'll probably overwhelm yourself. Make sure you organise your moving company, if you're using one, early on.
But how to pick one? That's where Canstar Blue steps in. As part of our mission to inform consumers of the best NZ has to offer, Canstar Blue canvassed the opinions of New Zealanders who have used a removal service across a range of categories, to measure and track their satisfaction. To decide which removal service offers the best level of customer satisfaction, each was rated across the following categories:
Overall Satisfaction

Value for Money

Care taken by Staff During Move

Customer Service (including from office staff and drivers)

Price 

Availability of Service
Coming out on top and winning Canstar's Blue's prestigious award for Most Satisfied Customers | Removal Services is New Zealand Movers. They score four impressive 5-Star Ratings, with a healthy 4 Stars for Value for Money and Customer Service.
Conroy Removals also scores well with Kiwis, pulling in 5 Stars for Value for Money, Customer Service and Availability of Service.
What makes a good removal company?
According to Kiwis surveyed by Canstar Blue, Value for Money is key (24%), followed closely by Care Taken by Staff During Move, which is understandable, for, as we mention above, no one wants grandma's precious vases cracked in transit!
How many people use removal services?
Of those surveyed, 26% say they try to do all their home moves themselves, leaving 74% of Kiwis to hire the professionals!
Also, 37% say they've learned the value of paying for a good removal service. This makes sense, as a further 27% say they've had something lost or broken during a move.
Another 55% say they find moving stressful. So why put up with all that stress and bother? Let Canstar smooth your move by recommending New Zealand Movers to get the job done well. They've got the backing of Kiwis consumers and Canstar Blue. Click below to compare removal companies for free:
Compare removal services for free with Canstar
Why would you use a moving company?
It's a mammoth task to move all of your worldly possessions to a new location. So unless you've a large enough vehicle and trailer, and plenty of willing friends whom you can pay in pizza and beer, then a good option is to hire a removal service. Removalist companies specialise in packing your things, transporting them and unloading them as quickly and as safely as possible, providing a thoroughly professional solution for a day that can otherwise cause myriad headaches.
Top 4 money mistakes to avoid moving homes
1. Waiting too long to book a moving company
The chances are if you're using a removalist service and you wait too long to book them, it'll cost you more than expected. Typically, moving companies will charge more during their busiest times. So, give them a call at least a month in advance, and try to schedule your move for a weekday, when you might get a better rate than at a weekend.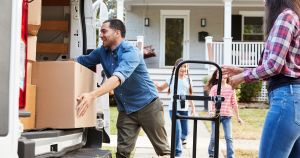 2. Failing to spring clean your belongings
When you begin to pack, you may realise just how much stuff you have! Think about whether you need to organise a skip bin to dispose of rubbish and/or a garage sale for any unwanted items. Donate what you can to charity shops. Then when you're packing what you do want to keep, clearly mark the room the box is intended for. As this will speed up the unpacking process at the other end.
3. Not having an insurance policy
When you're buying or renting a new place, before you move in, you'll need to organise home and contents insurance to protect your possessions. Also, make sure you ask your provider about transit cover, which is usually an extra cost, just in case anything doesn't survive the journey. 
4. Not checking all your boxes have arrived
Moving day is often exhausting. And by the time the movers have finally finished, all you want to do is to sign off that everything has been delivered and send them on their way. But before you sign, check to make sure that every item on your inventory list has been delivered. If something is missing and you've already signed for it, getting it back could be tricky.
Compare removal services for free with Canstar
Enjoy reading this article?
Sign up to receive more news like this straight to your inbox.
By subscribing you agree to the Canstar Privacy Policy