If your home is going under the hammer, or you're looking to fill your property with renters, you want to be sure you're in good hands. Canstar Blue's 2021 Real Estate Agents Award rates major agents across the country to discover Kiwis' top picks.
Despite most Kiwis enjoying a summer break in January, the housing market didn't slow down. According to the Real Estate Institute of New Zealand (REINZ), the market was busier than we would usually see at this time of the year.
Median house prices across New Zealand increased by 19.3% from $612,000 in January 2020 to $730,300 in January 2021. And Auckland continues to be on the up and up. The city's median house price increased by 14.9%, from $870,000 at the same time last year to $1m.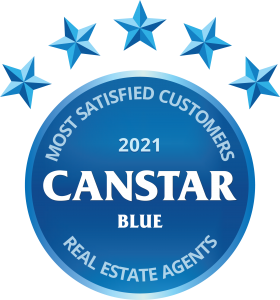 If you're considering putting your home on the market, you might be hunting for a real estate agent to take on the sale. There's a long list of real estate agents in NZ, so who to trust with your home?
As part of our mission to inform consumers of the best NZ has to offer, Canstar Blue canvassed the opinions of New Zealanders who had used a real estate agent recently to decide which real estate agent offers the best level of customer satisfaction, each was rated across the following categories:
Overall Satisfaction

Value for Money

Communication & Advice 

Contract Handling (e.g, sales contract or tenancy agreement)

Problem Resolution

Marketing (accuracy and effectiveness)

Financial Paperwork (e.g. reporting, receipts, statements)


This year, two real estate companies share top place. Both First National and Tall Poppy have earned our prestigious 5-Star award for Overall Satisfaction.
Against strong competition, and some of the biggest names in the business, they were the only two real estate agencies to earn 5 Stars in any category.
First National earned top marks for: Communication & Advice, Contract Handling, Problem Resolution and Financial Paperwork.
Tall Poppy earned top marks for: Value for Money, Contract Handling, Marketing and Financial Paperwork.
Picking a real estate agent: What Kiwis look for
Whether we're selling or leasing out a property, our survey shows that Kiwis want easy communication with their real estate agent, and to get true value for money.
In our survey, 21% of respondents cited both Value For Money and Communication & Advice as the essentials they place most value on in their relationship with realtors. And no-one likes the paperwork process to be any more complicated than necessary, so it makes sense that Contract Handling was the third-most important factor (19%).

How to choose a real estate agent
Canstar Blue's research shows the majority of Kiwis are happy with the real estate agent they last worked with (56.4%). Only 13.4% say they feel real estate agents charged too much for what they do.
Agents often have multiple specialities in NZ – such as specific housing types and particular suburbs – so don't be afraid to ask agents where their expertise lies. You want someone who specialises in the type of house you're selling, and the area in which you're selling.
And make sure you choose a real estate agent who is working full-time. You need someone who is readily available to liaise with potential buyers and show them around your home. Communication is key!
Ask others for recommendations, particularly those in your area. Of those surveyed by Canstar Blue, 24.7% say they feel they receive better service and more attention from a smaller real estate agency. 
Private sales vs auctions
There are three main styles of property sales in New Zealand:
Private treaty (or private sale): interested parties make an offer and negotiate a price and purchase conditions with the seller

Auction: interested parties bid against each other 

Tender and expressions of interest – offers are submitted individually. Prospective buyers don't know the other offers, and the home goes to the highest price. 
There are a number of pros and cons to each method, and we break them down in our story, Home Auctions vs Private Treaty Sales: The Pros and Cons.
Of those surveyed by Canstar Blue, when it comes to selling their next home, 31.5% say they are going to attempt the selling process themselves. But most people (49%) are going to rely on the tried and tested expertise of a real estate agent.
So if you're in the market for a property market professional, check out Canstar Blue's full 2021 report on real estate agents in NZ to find one to suit you and your housing needs, just hit the button below!
Enjoy reading this article?
You can like us on Facebook and get social, or sign up to receive more news like this straight to your inbox.
By subscribing you agree to the Canstar Privacy Policy