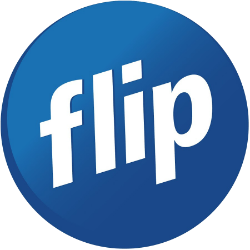 Flip Broadband Plans Review
If you're looking for an alternative internet provider instead of the big guys, you may find yourself flipping out for Flip. While Flip NZ may be small, it uses the same network as every other Kiwi internet provider (Chorus). This means – as Flip states – that you get the same coverage across the country as you would with the biggest telcos. However, Flip also claims to have invested millions in its very own infrastructure, which ensures that customers are getting a quality product, with faster home internet cores and international links.
What's more is that Flip offers many no contract plans, meaning you can leave at the end of the month with no penalty. So let's see what's on offer from Flip and how it stacks up against other NZ broadband providers.
Flip Broadband Internet Plans
As it stands, Flip mainly provides ADSL internet but to select locations also provides VDSL internet, which can afford faster speeds. Flip's arsenal of plans is dead simple:
100GB for $54.95 a month
Unlimited data for $69 a month
Unlimited VDSL data for $74.95 a month at select locations
It should be noted that Flip's naked internet plans are cheaper than its homeline plans. This is a huge bonus, especially when you consider that most of us have mobile phones these days with unlimited calls and texts, rendering the home phone next to useless for many of us. However, while you pay extra with the Homeline plans you do get some great call inclusions:
Unlimited national calling, while calls to mobiles are an extra add-on.
International calls from $10

Countries include Australia, US landlines and mobiles, Canadian landlines and mobiles and the UK among many other destinations

For an extra $5 you also get voicemail, call diversion, call waiting and caller ID on your landline
If these plans sound like a good idea, Flip also gives you the opportunity to purchase one of its wireless routers, or bring your own compatible device. You also get to keep your current phone number, and all plans come with a cheap installation fee of $25.
Phone support is from 10am to 7pm every day. Beyond that, there is also an easy-to-use online portal to manage your account, order extra stuff and top-up your account
How does Flip NZ compare to the other providers?
We know that Flip offers cheap internet plans, but how do they compare to similar offers from other NZ broadband providers?
Provider

(ADSL or VDSL connections only – naked or homeline)

Price Per Month From

(Unlimited data)

Flip
$69
Skinny
$73
Slingshot
$84.95
Spark
$94.99
Vodafone
#79.99
Orcon
$84.95
2 Degrees
$85
Source: Respective telco websites
As you can see, Flip stacks up very well against the main competition. However you will have to see if a provider can offer a better connection than ADSL at your place:
While Flip is among the cheapest, you will have to consider if it's worth coughing up extra for a high-speed fibre provider.
Flip does provide cheaper setup costs than a lot of the competition.
That's another bonus of Flip – no contracts and no gimmicky first-year offers. With Flip you are – for the most part – free to leave at the end of the month and you are not tied into a long contract. While these plans are for unlimited data on ADSL connections, you'll find it's much the same story across both data-capped plans and VDSL connections. Flip frequently streaks ahead of the big providers. However, it may also be worth keeping an eye out for smaller providers:
MyRepublic offers unlimited VDSL data for around $75 for the first six months, and a few other smaller providers tend to offer unlimited data around this price point.
Is it time to Flip your internet?
Flip is one of the cheapest providers out there, and also benefits from largely shying away from lengthy contracts or expensive setup fees. With Flip, it's a case of what you see is what you get, and the cheap installation and call rates are just the icing on the cake. As a solid no-bull provider, Flip NZ represents a choice alternative to the big players.