As we battle the spread of COVID-19, it's time to social distance. But fear not, we can still have a (virtual) social life and keep in touch with friends and family thanks to video calling. There's plenty of ways to do it, as Canstar explores.
At times of crisis, it's important to stay social, check in with pals and keep everybody's spirits high. And we're lucky to live in a time that allows us to connect with friends and family through video calling with the touch of a button. 
Around the country, Kiwis are jumping on devices and connecting with each other right now, whether that be to work from home or chat with friends and family. Spark has even been asking people to use internet apps, such as Facetime, to contact each other, as overloading continues to plague traditional phone systems. Recently, the company was experiencing the highest volume of calls beyond any level of calling in New Zealand to date.
Rest homes have been ramping up calls between residents and their loved ones; others are having Facetime birthday parties; and plenty of businesses across New Zealand are now operating morning meetings from kitchen tables and home offices. Whatever type of video call you require, there's an app or service to bring you face-to-face with the people that matter most.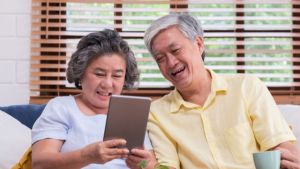 Group video calling options: how to hang out virtually
Ideal for big groups:
Skype
Skype has been around for a while and works well for group calls especially. With the Skype video chat app, group video calling for up to 50 people is available for free on just about any mobile device, tablet or computer. With group screen sharing, you can present PowerPoint slides, video recordings and images to an entire team. 
Zoom
Zoom Meetings can sync with your calendar system and offers video conferencing from most desktop and mobile devices. It has support for up to 1000 video participants and 49 videos on a screen. You can also record your meetings locally or to the cloud, with searchable transcripts. It costs about US$15 for a monthly subscription. There is a 40-minute limit on group meetings before you need to hang up and start again.
Ideal for friends and family:
Facetime
FaceTime is Apple's built-in video calling app that comes preloaded on iPhones. You can start a Group FaceTime from the FaceTime app or from a group conversation in the Messages app — and you can add up to 32 people. The tile of the person speaking gets larger automatically, so you don't lose track of the conversation, which is handy. If your Apple software is up-to-date, you can use Animoji and Memoji in your FaceTime calls, which will result in some laughs.
Facebook Messenger
You will need a Facebook account to use Messenger and its video calling, but it works great to chat with groups of friends. It supports up to eight people in free video calls with no duration limit. There's also games you can play and filters to apply within the app. (The writer of this article has been sharing lunch breaks with friends also working from home on Messenger, which has made them a lot more fun than eating leftovers solo.)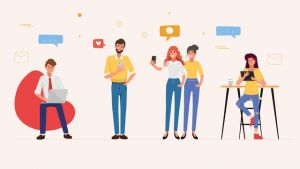 WhatsApp Messenger
WhatsApp is like Messenger's slightly less good-looking cousin. It's straightforward, easy to use, no fluff. Video calls aren't its main feature (it's predominantly used for texting/voice messaging/calling) but they work well enough and you can have up to four people in a video call.
Ideal for work: Google Hangouts
Google Hangouts plugs into your existing Google contacts and accounts and lets you do straightforward, unlimited video calls. Video calls can include up to 10 people in the basic app, or 25 people using their Business and Education editions. It works well for meetings with small groups of staff working from home.
Video calling etiquette
Like any social situation, there are some general (unspoken) rules that you should probably follow when you're on a video call.
Check with whoever else might be in the room first, and check with the person/people you want to call. While it might be great to surprise your friend or significant other with a video call, you might be just a bit too impromptu. Not every situation is great for a phone call, so not every situation is great for a video call, either.

Privacy needs to be respected always, so just shoot through a quick text to check you're all good before you turn on the camera.

Preferably don't take your phone into the bathroom/toilet while you are video chatting.

Just like in a regular conversation, it can be rude to text or check your Facebook when your attention should be on whoever is speaking, so turn off the pings and concentrate on the person who has taken the time to speak to you.

Don't chat and drive! Don't FaceTime and drive. Don't Facebook and drive. Don't Skype and drive. You know the deal, just put the phone down.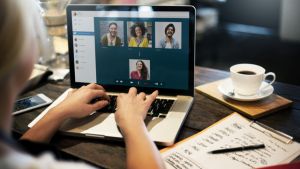 Get creative, stay social other ways
Host a Netflix watching party. That's right, you can still watch your favourite flicks with friends and discuss the show as you watch. Netflix Party is an extension you can add to your browser for watching Netflix remotely with friends. It synchronises video playback and adds a group chat.

Play a classic board game with a friend online like Scrabble, Monopoly or Uno, all available on the App Store to download.

Have a

virtual paint night

Take a

virtual yoga class

Why not have a virtual dance party like

this crew

did?
However you decide to spend your next few weeks social distancing, stay in touch with the people you care about, stay connected, and make sure you've got plenty of broadband to keep you going. Compare plans for free with Canstar by hitting the button below:
Enjoy reading this article?
Sign up to receive more news like this straight to your inbox.
By subscribing you agree to the Canstar Privacy Policy.