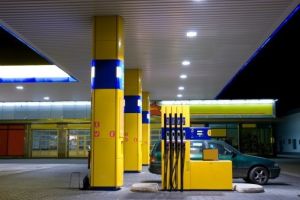 How many service stations do you have near you? 50% of Kiwis surveyed by Canstar Blue said they would drive up to 5km for cheap fuel. While you'd probably expect the numbers to be higher in Auckland – which they were at 53% – an astonishing 71% of Bay of Plenty residents were prepared to drive the distance in order to knock a few cents off the price of fuel
To be fair, it could be worth the journey as New Zealanders are currently paying in the region of $2.20 per litre for 91 octane and $2.35 for 96 octane, and if you fill up in Auckland you'll fork out an extra 11.5cents per litre on top of that. So how do you cut the cost of you fuel without cutting down on your journeys?
Discount coupons
When you do your shopping don't throw away your receipt as there could be a fuel discount attached. FuelUp, the partnership between Foodstuffs New World and Pak'nSave stores, tends to offer discounts of 6 cents per litre at participating Mobil service stations but it can go up to as much as 40 cents per litre during promotional periods.
Loyalty Cards
There are a few different types of cards that help you earn discounts on your fuel but the main one is AA Smartfuel.
AA SmartFuel partners, amongst others, Countdown, Contact Energy, and Bridgestone tyres and offers varying levels of discount depending on how much you spend with the various participating brands. For a full list of partners and the Ts and Cs, visit their website.
If you fill up at Z, scan your FlyBuys card at the pump or when you pay and get 6 cents discount per litre, even more on special promotional days.
Mobil Smiles is another one to look out for. Not surprisingly, it's the Mobil loyalty scheme and you earn smile points every time you fill up or buy goods at a mobil service stations, collect the points, then convert to discount at the pump.
Get the Gaspy app
Although this doesn't offer discounts, this great little app is basically a list of prices from most of the service stations across the country. It's kept up to date by drivers just like you uploading prices from their local service stations. This helps keep all the information current and helps you find the cheapest deal in your area. Simply type in your location, how far you are prepared to travel, and the app will do the rest.
Who operates in New Zealand?
In a recent survey, Canstar Blue looked at some of the main service station brands operating in New Zealand.
Challenge
Winner of the 2018 Canstar Blue Customer Satisfaction Award, Challenge have service stations running the full length of New Zealand. Holders of a Grey Power membership cards, Farmlands or Farmlands Fuel Starcards can also get a discount when they fill up at Challenge. Checkout where your nearest station is online.
BP
There are over 200 BP stations in New Zealand. Find your nearest BP station online. As we said earlier, discounts at BP are available with your AA SmartFuel card. In addition, if you download the BP app to your phone, you could unlock further discounts, free coffee offers and even pay for your fuel via your phone so on those wet and windy days, you don't even have to leave the car once the attendant has filled the tank for you.
Caltex
There are over 220 Caltex stations in New Zealand. Find your nearest Caltex online. They also have a Facebook store locator app.
As if that wasn't enough, they have a smartphone store locator app available from the website or on the Apple app store, Android market, Blackberry App World, Nokia ovi store, and Windows Phone. So anytime you're in the car with your smartphone, you can find your closest Caltex. Phew!
Gull
Gull have 86 service stations scattered across New Zealand's North Island and you can visit their website to find a one near you. Discount are periodically offered via 'discount days', details of which can be found in their newsletter.
Mobil
With around 150 locations across New Zealand, mobil offers discounts and offers through its Mobil Smiles programme. Find your local station on the Mobil website.
PAK'nSAVE
A number of PAKnSAVE stores throughout New Zealand have onsite fuel pumps and you can find where you can fill up on their website. If you shop at a participating store, you can earn discount coupons that can then be redeemed on the forecourt outside.
Z
Z have stations located up and down the North and South Island and you can find your local Z station on their website. As well as discounts via FlyBuys, further offers are made available via the Z app. You can also use the app to sign up to "fastlane' a service offering dedicated lanes at Z service stations where you pull up, fuel up and go without ever having to leave your car.