Do you miss the good old days when you used to spend about half an hour at the sink after every meal, repeatedly plunging your hands into dirty grey water while scrubbing every single plate, cup and fork? Of course you don't! Thanks to dishwashers, most of us no longer have to worry about this, and our lives have become considerably easier as a result.
However, due to the importance they hold in our lives now, buying a dishwasher is becoming a lot harder every day, as more and more companies churn out different models with different strengths and weaknesses. How many kinds of dishwashers are out there? Which one is the right choice for you? If you're buying a new one or replacing an old one, our dishwasher buying guide can help pick out the best dishwasher for you.
The six key things you need to consider before buying are as follows:
The dishwasher capacity
The size of the dishwasher
The different types of dishwashers
The different dishwasher features
Who and where to buy from
How to install your dishwasher
Dishwasher capacity
The first thing you must get right when selecting a dishwasher is the capacity. When quoting a dishwasher's capacity, most manufacturers will describe it in terms of the number of place settings a dishwasher can a hold. In many countries (New Zealand included), a place setting refers to the standard amount of crockery and cutlery a person will use during a three-course meal. This generally includes one bowl, one plate, a knife/fork/spoon combination and a cup.
Dishwashers are measured in this manner because it is much easier than measuring in terms of individual items, although an approximate item capacity may also be listed depending on the model and the manufacturer. Therefore we recommend that you consider how many people in your home eat during a standard meal.
| | |
| --- | --- |
| Size of household (people) | Place settings required |
| 1-2 | 6-9 |
| 2-4 | 9-12 |
| 4+ | 12+ |
Once you've figured out what capacity dishwasher you need, the next step is to determine which dishwasher can actually fit in your house.
The size of your dishwasher
Like the majority of kitchen appliances, you need to make sure that your new dishwasher will fit your kitchen. It will be a huge waste of time and money if you pick out a dishwasher, only to bring it home and find out it doesn't fit anywhere. Therefore, you will need a get out an old fashioned measuring type to get the right dimensions of your dishwasher space.
Dishwashers come in various sizes. The smallest ones are in the 'slimline' category, which are around 450mm in length (45 cm) to standard sized, which are about 600mm in length (60cm). So really, dishwashers don't take up that much room at all, but it is still crucial to measure the correct size, as 1mm can be the difference between fitting snugly, and having to buy a different one.
How well do you maintain your dishwasher?
Types of dishwashers
Now that you know the size range for dishwashers, you should know about the most common types and the sizes that each usually tends to be. In total, there are 4 main types of dishwashers:
Built-in standard dishwashers
Compact dishwashers
Drawer dishwashers
Portable/countertop dishwashers
 

Standard dishwashers

If you aren't familiar with the different types of dishwashers, then chances are the standard dishwasher is the one you usually picture. They are the most common model, and have the greatest capacity of any domestic dishwasher type, fitting about 14 place settings. They are also the most water and energy efficient on the market, at the cost of being more expensive.

These dishwashers are ideal for people who have 4 or more mouths in their household, usually families or share houses. If you are someone who moves around a lot, then maybe you should consider some of these other options.

 

Compact dishwashers

Compact dishwashers are considerably cheaper than full-size models and take up far less space. Ideal for singles or couples with a limited amount of dishes and a small kitchen where space is at a premium, these models are about half the height of a standard dishwasher, standing at about 410mm tall on average. They have the same fold-out door as the larger models, but their small size means that they are easier to install and can load about 6 place settings for a cheap price.

 

 

Drawer dishwashers

A variation of the traditional built-in model, the drawer dishwasher is a form of compact dishwasher that slides open like a drawer, rather than swinging open, to allow for more ergonomic loading. While they are of a similar height to other models, they often consist of two-drawers. This clever innovation by Fisher & Paykel gives the dishwasher more versatility, allowing you to turn one small load one at a time while filling the other drawer.

These models are perfect for people with little kitchen space and businesses.

 

 

Portable dishwashers

Portable dishwashers, as the name suggests, are able to be moved around and placed wherever you like, so long as you can hook it up to a source of hot water. They have wheels attached to the bottom, meaning they are easy to move around, and can be brought with you if you move, meaning you don't have to commit to a more expensive permanent dishwasher.

Portable dishwashers can also come in various sizes, with the smallest being about 450mm wide, and the biggest being the same dimensions as a standard dishwasher.
Features to consider when choosing a dishwasher
Hopefully by now you know which type of dishwasher you want, but there is a lot more to it than just picking out any random dishwasher and hoping for the best. To find one that best suits your needs, take into consideration the following features:
Energy and water efficiency:
In our clothes dryer buying guide, we mention the importance of finding an energy efficient appliance in order to save money on your electricity bill over the years. Well the same applies to dishwashers, and most kitchen appliances for that matter. Every dishwasher in New Zealand and Australia carries the same star rating in terms of energy efficiency, which you can see below. The more stars a product has, the less energy or water it uses. To learn more about energy efficiency, visit https://www.eeca.govt.nz/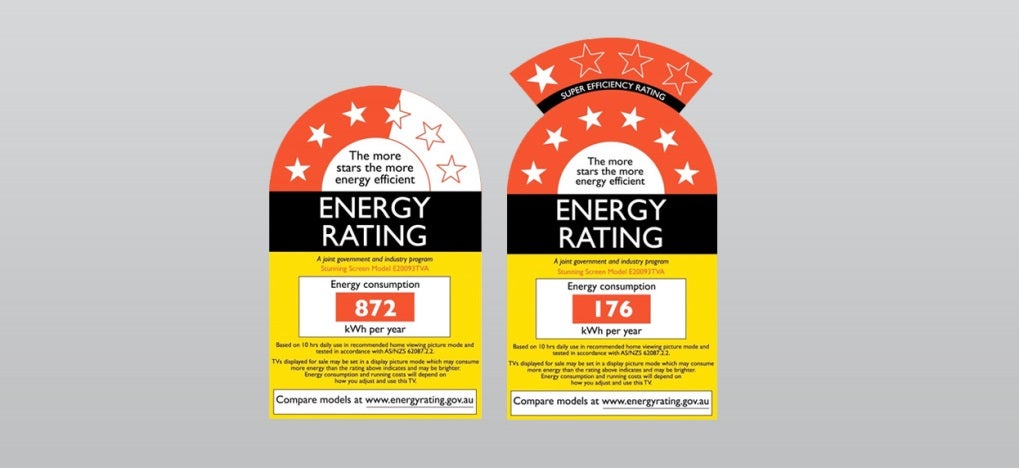 The energy star ratings label
Flexible shelves and baskets:
If you have different sized pieces of crockery, or have infrequent eating habits, then chances are your dishwasher sometimes might not have enough room to hold every single piece of crockery you want to wash at once. If this is the case, then you should look into dishwashers that have removable shelving and different layout options, to help free up some of that unused space.
Half-load, eco-mode and other wash cycles:
Most non-basic dishwashers nowadays come with multiple different wash cycles, depending on how heavy your load is, the time of day and whether you're looking to save on your energy bill. The two-most common cycles are eco-mode and half-load cycles. There are more advanced ones, like the drying cycle, which dries your dishes before the load finishes, which can be found in higher-end models. A lot of people tend to end up using just one or two of the different cycles on offer, so don't make the mistake of thinking more wash cycles = better for you. Find ones that you think you'll end up using a lot.
A lot of appliances now also come with a delayed start option, which as you might imagine, allows you to set a time for your dishwasher to begin its cycle. A lot of people tend to set their start time to the middle of the night when electricity rates are cheaper, or while they're at work so they don't get irritated by the noise, which leads us into the final feature you should be wary of.
This one is self-explanatory: nobody likes the noises that kitchen appliances make, so you should always check the noise levels of your chosen dishwasher before buying it. Most models will have information on their noise levels available somewhere, be it on the dishwasher itself or on their web site. If they don't, check out some customer feedback to make sure your dishwasher won't keep you awake in the night!
Installing your new dishwasher
So by now you've done your research, and you know exactly what kind of dishwasher you need to get. Once you've purchased it, you need to install in your kitchen or wherever else you've decided to put it. In addition to making sure that you have the necessary space, there are 3 different connections you need to make sure you have:
A power supply
A water supply
Waste water drainage
If you have a counter-top or portable dishwasher, then this process is relatively simple: you just need to plug it into the wall and connect it to your kitchen tap so it can drain into your sink. However if you're installing a built-in dishwasher, then you have two options; install it yourself, or get a professional to do it for you.
If you're already knowledgeable about the installation process and are confident in your abilities, then by all means do it yourself – if you know what you're doing, then you can save on the installation fee. If not, then it is best to leave it to a professional. Most plumbers offer dishwasher installation services and while paying someone to install your appliance can be a little pricey, it also ensures the job is done quickly and without any hassle.
There are currently 4 different types of dishwasher installations, depending on the units and your wants and needs:
Free standing dishwashers are able to be moved around as you see fit, so long as you have the 3 necessary connections outlined above. These units are easier to move, which is ideal if you are likely to move, but they are not ideal for most homes since a kitchen's plumbing is usually confined to a single location.
These are the most commonly installed dishwashers. They are installed in a specifically designed place (usually under a kitchen bench) and cannot be moved due to being permanently being connected to the plumbing and power supply.
A semi-integrated dishwasher displays the control panels at the top of the dishwasher, while the body of the dishwasher blends in with the rest of the kitchen. They are mainly used for aesthetic reasons, and as a result, are also more difficult and costly to install.
Fully integrated dishwashers have their front doors completely covered by a kitchen panel so as to appear just like another cupboard, and there is also no visual access to the controls, unlike semi-integrated models. They are the costliest models to install.
This should cover everything you need to know about buying a dishwasher. Given that they are one of the most important appliances in our lives, it is crucial that you don't just blindly purchase one without considering each of these points. Otherwise, you could end up wasting money on a dishwasher that just doesn't suit you.