Chill with a Mitsubishi, NZ's best refrigerator brand
Of the many appliances in modern homes, refrigerators are the true workhorses. They're always switched on, their doors are opened and shut numerous times each day, and they're responsible for maintaining the freshness and safety of the food we eat.
Because of a fridge's essential role, choosing the right model to meet your kitchen and lifestyle is paramount. Not only does a fridge have to be aesthetically pleasing, it has to be 100% functional and reliable over years of daily use.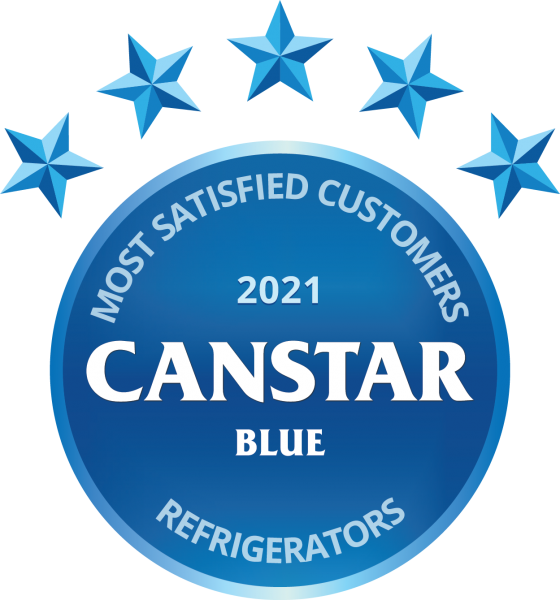 So as part of our mission to inform consumers of the best NZ has to offer, Canstar Blue canvassed the opinions of 633 New Zealanders who had bought a new refrigerator during the past three years, across a range of categories, to measure and track their satisfaction.
To decide which brand of refrigerator offers the best level of customer satisfaction, each was rated across the following categories:
Overall Satisfaction
Features
Food freshness
Internal layout
Quality of fittings and fixtures
Reliability
Style/external design
Value for money
Coming out on top is Mitsubishi. Against strong competition, Mitsubishi is the only fridge brand to earn our prestigious 5-Star award for Overall Satisfaction. It's a result based on nearly a clean-sweep of top scores. For in each category Mitsubishi earns 5 Stars for customer satisfaction, except for Internal Layout, for which it earns a cool 4-Stars.

Behind our winner, LG, Fisher & Paykel and Samsung all score strongly for Overall Customer Satisfaction, with 4 Stars apiece. Each also scores strongly across all categories. Although the Kiwi consumers in our survey did mark down Fisher & Paykel for Value for Money.
What Kiwis Want From their Fridges
Value for Money is a key factor in all of Canstar Blue's Customer Satisfaction ratings. And in this year's refrigerator awards, again, it's the main driver of customer satisfaction. However, it doesn't place that much higher than Quality and Reliability. Given the amount of use our fridges withstand – and how long they need to last – it's no surprise that quality is a key concern.
What does stand out is that even though 20% of those in our survey bought a fridge with an ice dispenser, and 14% bought one with a water dispenser, only 11% rate a fridge's features highly. Overall, the main drivers of satisfaction:
| | |
| --- | --- |
| Drivers of satisfaction | % |
| Value for Money | 18% |
| Quality of Fittings and Fixtures | 15% |
| Reliability | 15% |
| Food Freshness | 14% |
| Internal Layout | 14% |
| Style/External Design | 12% |
| Features | 11% |
Cold comforts: how we chill at home
Our latest research reveals that we Kiwis are a switched-on bunch when it comes to fridges and food wastage. Most of us (59%) try to ensure all our fresh food is used, so there's minimal wastage. And that number rises to 83% with frozen food.

And we're pretty hygienic, too, as fridge cleaning rates are very high. While just 7% admit to cleaning their fridge less than twice a year, 57% clean between once and four times a month.
In this year's survey, few people, just 12%, say they have a noisy fridge. But if yours is currently buzzing and driving you mad, it's a sure sign that it's getting on in years and needs to spend its final days out of kitchen: 22% have an old fridge humming away in the garage! So, if you're looking for a replacement, then let Canstar Blue's latest research and awards guide you to the best refrigerator brand, Mitsubishi, and its range of models that enjoy real 5-Star cool!