More and more household appliances are now being released with in-built connectivity and wireless capabilities, and, from the living room to the laundry, when it comes time to upgrading or purchasing a new appliance, chances are you'll be presented with a number of options sporting "smart" features.
These smart appliances fall under the banner of the ever-evolving Internet of Things (IoT), comprising a network of connected devices that spreads far and wide, and which is delivering users an increasing range of functions and services.
Information technology research and advisory company Gartner provides the following overview of the IoT: "The Internet of Things (IoT) is the network of physical objects that contain embedded technology to communicate and sense or interact with their internal states or the external environment."
In the household context, IoT appliances may connect directly with the internet, offering a specific range of services, such as smart TVs, or link up with a smart device, such as a smartphone or laptop, via which users can remotely operate or monitor the appliance. As the IoT continues to grow, household appliances are fast becoming components of greater household wireless ecosystems, and the operation of these ecosystems as a whole is becoming an increasingly important consideration.
So, what should consumers keep in mind when it comes to seeking out a smart appliance?
The evolution of your home wireless ecosystem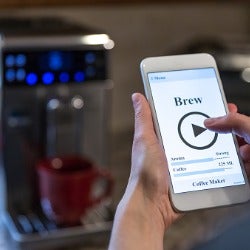 It is likely that your wireless ecosystem of connected devices and appliances has been growing steadily in the last few years – while laptops, smartphones and tablets are now typically found in households in their numbers, connectivity has also become a notable feature in an assortment of appliances.
Last year, Gartner forecast that the number of connected things in use worldwide would total 8.4 billion in 2017, growing to 11.2 billion this year and reaching 20.4 billion by 2020, highlighting both the IoT's steep expected growth and its all-encompassing potential.
It may well be that you are not consciously building a connected ecosystem of devices and appliances, but that rather this ecosystem is emerging by default, by the sheer weight of number of accumulated connected devices.
From smart televisions and speakers to smart refrigerators and washing machines, connectivity has become a key selling point, and when making a new purchase it is worthwhile considering how these devices will collectively be managed as part of a broader household wireless ecosystem.
Among the factors that householders should keep in mind are:
Your internet plan – do you have enough data to cope with the cumulative online requirements of multiple devices and is your broadband fast enough? (Video streaming, in particular, is a heavy consumer of data.)
The demands being made upon your router – is your router equipped to deal with the demands of multiple devices? The importance of the router should not be underestimated – if it is not equipped with the latest wireless standards, device performance may be inhibited, regardless of the speed of your internet connection.
Wireless connectivity – what sort of wireless range will you require? Are your appliances spread far and wide? If your router is not up to the task, it may be time to upgrade, or a Wi-Fi range extender may do the job required.
Compatibility – what sort of smart device compatibility do different appliances offer? Will you be able to operate your appliance via an Android or iOS smart device, or via a Windows desktop or laptop?
Interface and interaction – it may be that as your devices and appliances accumulate you will be employing a variety of platforms to remotely monitor and manage operation. Is it possible to combine operation of multiple devices under one platform?
In the living room: Digital entertainment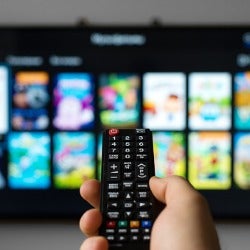 The manner in which we consume video and audio content has changed dramatically in recent years amid the move to the digital format, providing consumers anywhere and anytime online content access.
Highlighting the growth of video streaming, Roy Morgan Research had previously found that by the end of 2016 an estimated 1,066,000 New Zealanders aged 14-plus subscribed to Netflix, up from 684,000 year-on-year, while the number of New Zealanders with Lightbox stood at 630,000, up from 285,000.
Meanwhile, music streaming services, such as Spotify and Apple Music, have provided consumers more options as to how they access music. Wholesale figures released last year by Recorded Music NZ showed that streaming generated 50 per cent of the total music industry revenues in New Zealand in 2016.
In concert with the growth of video streaming, smart televisions, offering direct access to internet applications, such as Netflix and Lightbox, have become increasingly prevalent, while audio systems with wireless connectivity allow for consumers to stream music from a smart device.
Meanwhile, devices such as Google's video and audio Chromecast range help to effectively transform a television or speaker into a smart appliance, connecting via an HDMI or 3.5 mm stereo input, allowing for remote operation by a smart device, via which users can access online services.
These sorts of services generally consume a lot of data, and consumers should be aware of data and speed requirements before signing on. Of course, internet services providers are catering to increasingly heavy data usage, with unlimited home plans widely available.
You may also be interested in:
In the kitchen and laundry: Remote operation and monitoring
All sorts of connected appliances are arriving in the kitchen and laundry, from smart refrigerators and ovens to washing machines and clothes dryers, typically providing for remote monitoring and operation via a smart device. In turn, a whole new range of features are being built around connectivity, providing householders both greater control over appliance operation and additional usage options.
Smart ovens, for instance, may provide for a more automated cooking process, while a smart dishwasher may allow for remote monitoring and operation.
In the kitchen, Samsung states that its Family Hub refrigerator, decked out with a Wi-Fi-enabled touchscreen, allows for users to "manage your groceries, connect with your family and entertain like never before".
The Family Hub also allows for householders to do their grocery shopping online, with Samsung having partnered with supermarket retailer Countdown, providing for householders to place their order via the refrigerator.
In the laundry, LG provides Smart Diagnosis with a number of its washing machines, which, in conjunction with a smart device and the LG Smart ThinQ app, allows a machine to "'talk for itself' to find a solution to help save time and money on unnecessary call-outs".
Meanwhile, Wi-Fi smart plugs, available from a number of manufacturers, have the ability to bring smart features to a range of appliances, providing for wireless operation and delivering additional insight into energy usage.
Smart hubs: One interface to control different appliances
Bringing together a disparate collection of smart appliances and devices, and establishing encompassing home wireless ecosystems, is set to be a challenge for service providers going forward.
Smart hubs, designed to control various devices in a home network, allow for a range of monitoring and management options and commands, and may well be a worthwhile investment for households with an expanding collection of appliances.
For instance, smart speakers, such as Google Home, can connect with compatible devices, allowing for voice operation, and integrating with an ever-evolving range of services.
There are a number of smart hub options available – however, it is important to keep in mind compatibility issues, ensuring that your range of appliances will be able to interact with a hub, and to consider what sort of ongoing support will be provided as you add appliances to your network.