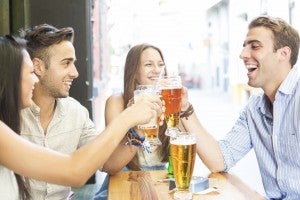 When it comes to alcohol, the drinking habits of New Zealanders are changing.
Figures from Statistics NZ show that as a proportion of the total volume of alcoholic beverage available for consumption, beer is on the decline, falling from 81.6% of available beverage in 1996 to 61.4% in 2013.
According to a 2013 Canstar Blue survey, this fall in demand for beer is coming from the fact that Kiwis are prioritising money and their savings over their favourite brew on a Friday night.
The survey found that nearly half of respondents had reduced their drinking, with 45% saying they did so to save money.
Canstar New Zealand General Manager Derek Bonnar said that this was probably due to Kiwis feeling the economic pinch.
"Reduced consumption has been a trend in New Zealand for some time and perhaps has become more pronounced following the global financial crisis," he said.
The Canstar Blue survey also highlighted that a large group of respondents had started choosing cheaper beers over their favourite brand, with nearly 40% saying they "buy whatever is on special".
That said, recent research by ANZ has estimated that demand for New Zealand craft beer is expected to triple over the next decade.
"New Zealand is well positioned to be a superpower of small brewers," said John Bennett, ANZ General Manager Central Region for Commercial & Agri.
"Asia's fast-growing middle classes are just starting to develop a taste for craft beer. The potential for exporters is enormous, up to 300 per cent in the next decade, but New Zealand brewers and hop growers will need to significantly expand production if they're to take advantage of the opportunity."
New Zealand regularly features in the world's top 20 beer consumption by capita tables, and with craft brew names such as Ziggy's Carrot Cake, Dark Arts, The Czar, Yakima Monster and Pot Kettle Black, it's probably no wonder.
Cheers.