For the second year in a row, the winner of Canstar Blue's award for NZ's best supermarket is PAK'nSAVE.
Where would we be without supermarkets? The convenience of having every food item imaginable (just about) within our reach is something we often take for granted.
The first supermarkets in NZ appeared in the 1920s under the Four Square brand. And how times have changed – up until the 1950s, store staff would collect the food items on a shopper's list. Today, it's about scooting down bustling aisles, filling our trolleys and then hustling through the check-outs, often doing the scanning ourselves.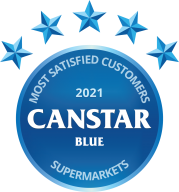 There are now plenty of supermarket brands across the country, so who to choose if there's a couple of brands on your block? As part of our mission to help consumers make the right choice, Canstar surveyed Kiwi supermarket customers to rate their experiences. Overall the following supermarkets: PAK'nSAVE, Countdown, Four Square, FreshChoice, New World and SuperValue were compared on:
Overall Satisfaction

Customer Service

Deals & Specials

Food freshness 

Store Layout & Presentation

Value for Money

Variety of Products
Coming out on top for the second year in a row, winning Canstar Blue's award for Most Satisfied Customers | Supermarkets, is PAK'nSAVE. The home of Stickman is the only supermarket in our survey to receive an Overall Satisfaction rating of 5 Stars. It earns additional 5-Star ratings for Deals & Specials, and Value for Money. Also scoring well, New World and Countdown each achieve a 4-Star rating for overall satisfaction, thanks to strong showings across all categories.


What makes a great supermarket?
According to Kiwis, when it comes to supermarket satisfaction, the most important factors are the layout of a store and the variety of products available (both coming in at 18%). Understandable, if a shopping experience can be made better by aesthetically pleasing displays and a layout that isn't a maze, we'll take it. Value for money follows at 17%.
Kiwis are cost conscious
Of those surveyed, 40% say the rising cost of staple food items means they are cutting back. Also, 64% say they choose money-saving options. Who can resist a bargain on the shelves? It makes far more sense to go for a deal. A further 19% are letting environmental issues guide their purchases.
A chatty bunch
Just 15% of those in Canstar Blue's survey say they try to dodge people they know in the aisles, meaning 75% of Kiwis are happy to chat to their neighbours, colleagues, mates or acquaintances if they cross trolley paths. What can we say, New Zealanders are a social bunch (or aisles are far too narrow for any subtle dodging!)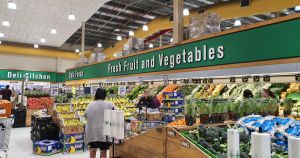 How to save money on groceries
Determine your budget and stick to your target. This is a logical starting point for households looking to moderate grocery spending. Setting (and sticking to) a realistic weekly budget allows for the portioning and curtailing of spending as required, effectively encouraging smart shopping decisions.
Staying informed & going online for grocery discount details. Keeping up to speed with store promotions is easy in the online age.  Retailers both large and small use a range of digital platforms to keep consumers informed about discounts and other promotional activities.
Loyalty programs. Another way in which savings can be achieved is by signing up for retailer loyalty programs, which provide rewards for money spent in-store and member-only discounts.
Shopping habits. Consumers looking to cut down the cost of their weekly shopping bill should consider a range of factors related to their shopping habits, many of which at first glance may appear quite simple. For example, how often they visit a supermarket. Getting the weekly shopping done in one go is preferable. This is because it cuts down the potential for additional, non-essential spending, and also saves on other associated costs, such as transport to and from the supermarket.
Shelf-satisfaction at PAK'nSAVE
It's been 36 years since PAK'nSAVE opened its first store, in Kaitaia. Since then, the big yellow supermarkets have become landmark fixtures in our towns and cities, and the brand has become as iconically Kiwi as many of the brands stocked on its shelves. Thanks to its no-frills approach, great value for money and helpful staff, it really does put the super in supermarket, as proven by its 2021 Canstar Blue's Most Satisfied Customers Award. To find out the full results of our survey, just click on the big button below.
Compare Supermarkets for free with Canstar!
Enjoy reading this article?
You can like us on Facebook and get social, or sign up to receive more news like this straight to your inbox.
By subscribing you agree to the Canstar Privacy Policy