What makes a sunscreen outshine its competitors? Kiwis' top sunscreen choice has been revealed as Neutrogena in Canstar Blue's latest 2020 survey, just in time for summer!
It's drilled into us the moment we're old enough to hear it: slip, slop, slap and wrap. Be sun-smart – New Zealand summers are no joke. Come December the sun's rays are blazing down, and a snooze in the heat can very quickly turn sore if you haven't applied those rules above.
New Zealand, alongside our neighbour, Australia, has one of the highest rates of skin cancer in the world. Around 500 New Zealanders die of skin cancer every year. And the cause of over 90% of skin cancer? Too much exposure to ultraviolet (UV) radiation from the sun. 
Thankfully, there's an easy preventative measure, sunscreen! As part of our mission to inform consumers of the best NZ has to offer, Canstar Blue canvassed the opinions of 1486 New Zealanders who had purchased and used sunscreen in the past 12 months, to find the country's top brand.
To decide which sunscreen offers the best level of customer satisfaction, each was rated across the following categories:
Ease of Absorption

Effectiveness

Packaging/Ease of Dispensing

Smell/Scent

Texture and Consistency

Value for Money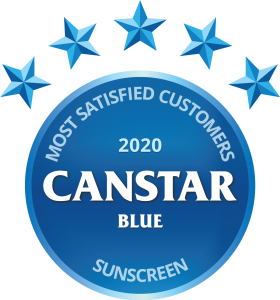 Coming out on top is Neutrogena, the US skincare giant put its competition in the shade, taking out our research's only 5-Star rating for Overall Satisfaction. It did so on the back of an impressive tally of 5-Star ratings in all of the above categories, except Value for Money, for which it earned 4 Stars. The result is five for five for Neutrogena, which has won each of our past five sunscreen awards – a truly fantastic achievement.
Both Nivea and Cancer Society also rate highly in this year's award, both scoring a 4-Star rating for Overall Satisfaction. Nivea also excels with the only 5-Star rating for Value for Money.

Choosing a sunscreen: what should I consider?
SPF
Make sure your sunscreen has a sun protection factor (SPF) 30 or higher. The number shows the level of protection a suntan lotion provides from harmful ultra-violet (UV) light, and how long you can spend in the sun without getting burned. For example, SPF 30 allows you to remain in the sun 30 times longer than if you weren't using sunscreen.
In New Zealand, a broad-spectrum sunscreen of at least SPF 30 is recommended, as it will protect you against UVA and UVB rays. While both types of radiation will damage your skin, in the past, the dangers of UVA were less well known. This is because the focus was on UVB radiation, which causes sunburn, and not UVA, which is responsible for tanning and ageing your skin.
However, while higher SPF numbers do mean more protection, no sunscreens protect you completely. SPF 50 sunscreens, for example, protect you up to about 98%.
Know that water resistant doesn't mean waterproof
No sunscreens are completely waterproof. Have a look at the label and see how long you can be in the water before it's not as effective. Make sure to reapply sunscreen more often if you are swimming or sweating. Sunscreen usually rubs off when you towel yourself dry. 
According to SunSmart, most people apply their sunscreen at about one third the thickness used for testing. And, in reality, most people fail to apply it to all exposed areas of skin. Only 9% of participants in our sunscreen survey say they reapply sunscreen after swimming and 60% say they always forget to reapply. It could be the difference between sleeping easy at night and a nasty burn.
What's the best way to use sunscreen?
Apply it liberally to all sun-exposed areas so that it forms a film when initially applied. Most people don't use enough. So don't be shy with it!

It takes 20 to 30 minutes for sunscreen to be absorbed by the skin, and it can easily be rubbed off, so apply it at least half an hour before going out in the sun, if possible.

Reapply every hour

Reapply immediately after swimming or excessive sweating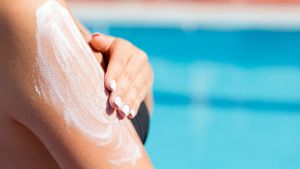 What are New Zealanders must-haves in a sunscreen?
It comes as no surprise that Effectiveness is the most important consideration for buying sunscreen for those in our survey (29%), keeping in mind that no one wants to apply sunscreen liberally and come home burned. Value for Money (21%) and Texture and Consistency of the lotion (19%) follow. No one likes to feel greasy!
Kiwis have some risky sun habits
Kiwis like a tan, 71% say they think it makes them look better. But unfortunately, of those surveyed, 42% say they often go out in the sun without wearing sunscreen. Yet 44% say they wish they'd been better protected from the sun when they were younger. Here are some more details: 
To check out our full research on sunscreens, just hit the big red link button below, and get slip-slop-slapping and wrapping!
Compare sunscreens for free with Canstar!
Enjoy reading this article?
You can like us on Facebook and get social, or sign up to receive more news like this straight to your inbox.
By subscribing you agree to the Canstar Privacy Policy