Have a home project to do? At Canstar Blue we've awarded our Most Satisfied Customers Awards for Home Improvement Stores and DIY Tools 2020.
Kiwis love the challenge of a good DIY project, and the all-important visit to a local home improvement store. Whether we're re-painting a room, building a deck or remodelling a bathroom, as one very well known advertising campaign has long told us, DIY is in our DNA.
The DIY market has always been popular in New Zealand, increasingly so in recent years, as we've become confident in tackling bigger jobs ourselves, instead of paying someone else to do it. In fact, it often seems a weekend isn't a weekend without a visit to a local home improvement store!
And understandably, we need the best tools, stores and advice to get it done! As part of our mission to inform consumers of the best NZ has to offer, Canstar Blue canvassed the opinions of New Zealanders who had made a purchase from a home improvement store in the past 12 months, and those who had purchased a new DIY tool in the past two years. We compared providers across a range of categories, to measure and track their satisfaction.

Mitre 10 winner of Most Satisfied Customers | Home Improvement Stores
To decide which home improvement store offers the best level of customer satisfaction, each was rated across the following categories:
Range of Brands

Range of Products

Service and Advice

Value for Money
Hitting top spot in our ratings for the second straight year is Mitre 10. The 100% NZ owned and operated brand earned its back-to-back win by achieving the only 5 Star Overall Satisfaction rating in our survey. In addition, it earned further 5 Star ratings in all categories, apart from Value for Money, for which it earned 4 Stars.
Winning a 4 Star Overall Satisfaction rating, Bunnings also rates highly, with 5 Stars for both Value for Money and Range of Products.

Makita winner of Most Satisfied Customers | DIY Tools
To decide which DIY tool brand offers the best level of customer satisfaction, each was rated across the following categories:
Ease of Use

Quality/Durability

Reliability & Performance

Value for Money
Coming out on top is Makita. The power tool company is the only brand in our survey to earn our top 5 Star award for Overall Satisfaction. The reliability of its products is further enforced by its 5 Star scores for Reliability & Performance and Quality/Durability.
Also highly commended in our ranking is the Black & Decker brand. It earned three 5 Star ratings, for Reliability & Performance, Value for Money and Ease of Use.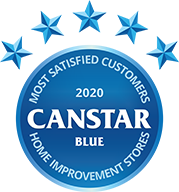 What DIYers Want
DIY can be tricky at the best of times, so it makes sense that Kiwis are looking for a bit of sound advice when they visit a DIY store in person. Our survey found 79% of respondents agree most store staff are knowledgeable about DIY. Overall in our survey, Service and Advice rates a lot higher than Value for Money when defining the main drivers of customer satisfaction (at 41% and 29%).
As for tools, when it comes to what drives customers' satisfaction, quality wins the day. Of our respondents, 43% highlight Reliability & Performance as the biggest driver of their satisfaction, followed by 30% who cite Quality/Durability.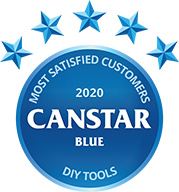 New Zealanders won't give up on a DIY job
Once Kiwis get the idea to DIY something, they won't give up. Our research found just 3% of respondents have had to call in the professionals to finish a job they've started.
A bit of help is sometimes necessary, though, with 40% saying they watch online how-to videos for guidance. But we're a nation of multi-taskers! Only 26% of those in our survey confess to always finishing one DIY job before starting another.
Compare Home Improvement Stores for free with Canstar!
We share our toys
Of our survey's respondents, 44% say they are happy to lend their tools to friends and family. A further 38% claim they take pride in their collection of tools. But it looks like we often let them get a little dusty… 28% say they definitely have tools in the garage they've only used only a couple of times and are now just collecting dust.
Compare DIY Tools for free with Canstar!
Whether you're due for a DIY store visit or are in the market for a new DIY tool, Canstar's research has got you covered.
Enjoy reading this article?
You can like us on Facebook and get social, or sign up to receive more news like this straight to your inbox.
By subscribing you agree to the Canstar Privacy Policy