On the lookout for a flooring retailer? Canstar Blue's 2021 flooring award rates major outlets across the country so you can discover Kiwis' top pick.
Has the time come to finally update that gorgeous '70s linoleum in the kitchen? Like windows and a front door, flooring's a universal and essential part of any home. And whether you're after smooth wooden floorboards, tough tiles, or a sustainably made and cuddly carpet, Canstar Blue has you covered with our comprehensive floorings ratings.
Some experts believe flooring is one of the single biggest factors when it comes to your return on investment (the money you see after selling your home). Flooring instantly influences a potential buyer when they walk through the door. Their eyes are drawn to what lines the bedroom, hallway, kitchen and, yes, even patio.

There are plenty of flooring retailers across the country, so as part of our mission to inform consumers of the best NZ has to offer, Canstar Blue canvassed the opinions of Kiwis to decide which top flooring retailers offer the best levels of customer satisfaction. Each was rated across the following categories:
Overall Satisfaction
Customer Service
Durability of Flooring
Ease of Installation of Flooring
Range of Products
Styles Available
Value for Money
Flooring Xtra easily takes out the top spot as Kiwis' favourite retailer, pulling in an impressive 5 Stars for every category, other than Value for money, for which it scores 4 Stars. Mitre 10 impresses with a 5-Star rating for Value for Money, and Bunnings with 5 Stars for Customer Service.
What New Zealanders look for in a flooring retailer
While paint for walls and ceilings is relatively cheap, flooring comes with a hefty price tag. It's a big investment, one that endures a lot of wear and tear. Reflecting this, Value for Money and Durability are two of the most important factors for flooring customers.
However, ranking slightly above Durability, Range of Products is also a big factor. When you walk into a flooring store, you want to be presented with a wide range of choices.
This is something that you can be assured of with our winner, Flooring Xtra, which offers a huge range of flooring choices and accessories.
What flooring tells us about Kiwis
From Canstar Blue's survey, we can tell Kiwis are a polite bunch: 60% say they take off their shoes before they enter someone's house. It could be because we're a nation of carpet lovers. Just 16% say they prefer hardwood flooring to carpet. This makes particular sense in bedrooms, where 78% agree carpet is the best option for warmth and comfort. No-one likes stepping out onto cold floors on winter mornings!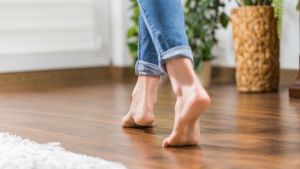 Flooring doesn't go unnoticed
Of those surveyed, nearly a third (29%) say flooring is the most important feature in a room. And Kiwis are happy to invest in quality flooring, only 11% say they prefer cheap and cheerful flooring to expensive flooring. Eco-friendly flooring is an option that's gaining popularity, too, 21% prefer an option easier on the environment.
What kinds of flooring are there?
Soft flooring includes things like carpet and natural fibre flooring.
Carpet will keep your home cooler in summer and warmer in winter. It's quiet to walk on, compared to wood floors, and can eliminate echo. It's relatively easy to maintain. However, it's not as easy to keep clean as hard floors, and stains can ruin it (as anyone who has spilled red wine on carpet will know)
Natural fibres, like jute or sisal (made from leaves of agave plants), are rougher than carpet but still are soft, stain-resistant and durable. They're good for a basic soft cover to walk on, but aren't the best for high-traffic areas or near wet areas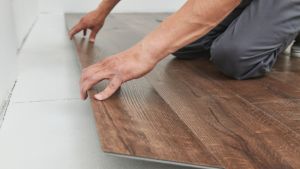 Hardwood flooring includes things like timber, tiles, polished concrete and vinyl.
Timber and timber-laminate flooring is highly durable and generally will be resistant to spills and stains. It's easy to look after, good for people with allergies, and it won't take on the smell of your pets or attract their fur, like carpets can. Scratching can be a problem, however, which can require sanding and refinishing. And direct sun can fade exposed areas
Tiles are hard-wearing, simple to care for, moisture-resistant, if they're sealed well, and cool in summer. They are hard on your feet, though, and, unless heated, are always cold
Polished concrete is modern and easy to clean. However, like tiles, it's a hard surface that can be harsh and unwelcoming, plus chilly in winter
Vinyl flooring is versatile, can look stylish, and is easy to maintain. It's pretty soft underfoot and shouldn't fade. It's a more affordable option, and certain options are water resistant, but scratching and indentations are not easily remedied
With any flooring, think about where it is going and how it will be used. Start by comparing your options of retailers below for free with Canstar!
Enjoy reading this article?
You can like us on Facebook and get social, or sign up to receive more news like this straight to your inbox.
By subscribing you agree to the Canstar Privacy Policy