Hunting for new curtains, fabrics or furnishings? Canstar Blue's 2021 Home Furnishings award rates major home furnishing outlets across the country so you can discover NZ's top pick.
Throws, side tables, rugs, couches, tables and chairs – they're all furnishings that can change the look and feel of a home dramatically. It's simple to elevate any room with on-trend home décor, whether your budget is sky high or basic.

Spending on furniture surged last year, post-New Zealand's first Covid lockdown. The value of card spending on furniture, electrical, and hardware goods rose to $674 million, $93 million (16%) higher than during the same period the previous year. It's likely remaining in our homes all day, week after week, gave us the time to start pondering what we could re-vamp in our houses. We spotted flaws in our furniture, accent décor choices from years past, and heard their pleas for a makeover. 

With plenty of home furnishing stores out there, where to shop? As part of our mission to inform consumers of the best NZ has to offer, Canstar Blue canvassed the opinions of New Zealanders to decide which home furnishing store offers the best level of customer satisfaction. Each was rated across the following categories:
Overall Satisfaction

Value for Money

Customer Service

Range of Products on Offer

Layout of Store/Website

Product Availability

Quality of Installed Product

Guthrie Bowron takes top spot, with 5-Star ratings for Overall Satisfaction, Customer Service, Layout of Store/Website and Quality of Installed Product. Spotlight also pulls some impressive ratings, with 5-Star scores for Product Availability, Quality of Installed Product and the all-import category Value for Money.
What Kiwis are looking for
When it comes to what Kiwis are looking for in a home furnishings store, Value for Money is the most important consideration (22%). Customer Service (20%) follows, understandably, as the world of bedding, fabrics and furniture can often be a little intimidating, so a helping hand is appreciated! Range of Products on Offer and Layout of Store/Website come in third, both on 17%, reflecting the importance of a brand's online presence.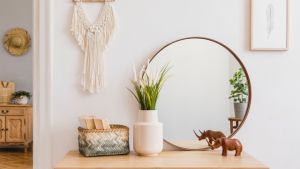 How we view furnishings
Of those surveyed by Canstar Blue, 23.5% say they regularly update their home furnishings to keep them fashionable. With endless interior ideas floating on Pinterest, Instagram and Facebook, it's not surprising 26% say they get inspired by social media.
However, furry friends and kids may put a stop to some dreamy or extravagant home decor purchases: 21.7% say their choice of home furnishings is influenced by their children/pets. Understandable, no one wants paw prints or juice stains on a new $3000 velvet sofa!
Planning a room? What to think about
Consider this simple set of planning tips to help: 
1. Function: decide how you want to use the space
Before you start planning your new room, it's important to do some groundwork. Think about how you want to use the space, including who will use it and what they'll use it for.
2. Form: think about how you want it to look and feel

Does it need to fit into the rest of the house's decor, or is it a stand-alone space that could have its own style? Think about how you want the space to feel, too. Are you up for a more relaxed atmosphere, or do you want a sophisticated edge, or maybe a soft, romantic ambiance?
3. Resources: figure out what you have to work with 
How much money do you have to spend on the room? This will have a major impact on what you can do, such as the quality or amount of furniture and decorating items you can afford to buy. There are ways you may be able to economise, however. Can you reuse existing furniture, or remake it, such as by re-covering couches or cushions? Of those in Canstar Blue's survey, 16.8% say they patch up or cover worn home furnishings rather than buy new ones.
4. Plan: put it all onto paper
Have a look at the essentials of the room and draw up a plan. Start by adding the room items that cannot be moved. For example, if a TV in a living room has to be in a particular spot, for power points or cable connections. Then slowly build up the rest of the space.
5. Buy: source what you need
When it comes to buying interior/furnishing items, shop around. In addition to a wide range of online-only retailers, there are also a plethora of furniture stores you can visit. And they usually have their living room furniture and decor items set up to show customers what they could look like in a home. Most also have websites where you can check out their range before deciding if you want to make the trip to head in to the physical store. 
Whether you've moved in to a new home or just want to spruce up your existing home, check out our full ratings of home furnishing stores by hitting the button below!
Enjoy reading this article?
You can like us on Facebook and get social, or sign up to receive more news like this straight to your inbox.
By subscribing you agree to the Canstar Privacy Policy