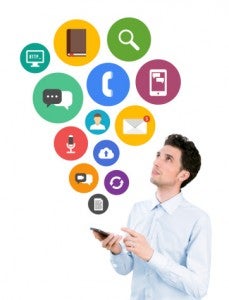 Apps are an essential part of the smartphone experience, and with well over a million apps in both the Google Play Store and Apple's App Store, there's no shortage of brilliant or useful programs to make our lives better. We've taken a poll of the Canstar Blue office to uncover some of the team's favourite apps. Here's what made the shortlist…
1Password
1Password is a useful utility that allows you to generate random, strong passwords for as many services as you desire. You log into 1Password using a single master password, and from there you can create passwords for services like Facebook, email, bank accounts and much more, as well as setting 1Password to automatically log in to certain sites. 1Password is heavily encrypted and only you know what data you have in your account; you can also create different 'vaults' for your family, business or other groups of people, and share encryption keys with those involved.
1Password is free to download and is available across almost all devices: iOS, Android, Windows and Mac.
MyFitnessPal
MyFitnessPal is a comprehensive exercise and diet tracker that makes managing your fitness journey easier. The app has a large database of food, drink and exercises that allows you to estimate the amount of energy you're consuming (and burning off!) every day. You can input your measurements such as height, weight, strength totals and run times in order to set diet and exercise targets – all of which the app facilitates with graphs and weekly reports. It also has the ability to connect with various activity trackers and their apps for even more detailed information.
MyFitnessPal is completely free and available on iOS, Android, Windows Phone and BlackBerry, as well as online.
Pandora
Pandora is also a music streaming service like Spotify; unlike Spotify, Pandora is completely free, and allows you to create up to a hundred unique music 'stations' based on all sorts of different characteristics. You can create stations based on genre, song tempo, types of instrument, lyrics, you name it; furthermore, Pandora has nearly a century's worth of music both popular and obscure, so you're bound to make some new discoveries.
Pandora is available on iOS, Android, Windows Phone, Kindle and BlackBerry.
Pinterest
Pinterest is visual way of discovering, collecting and sharing inspiration for things that interest you. It lets you search for ideas in relation to foods, crafts, clothes, fitness tips and many more. You can 'pin' different pictures to your personal board, and create boards that can be focused on a single topic; you can then share these boards with other people, which can be anyone from a few friends to the entire world, and view boards that others have made.
Pinterest is free to download and available on iOS and Android.
Pushbullet
The Pushbullet app connects your various devices so that you can push text messages, emails, and other notifications from your smartphone (for example) to your desktop at work. That way you can answer texts from your computer and see calendar reminders.
Runtastic
According to one of our fitness-focussed staff members, Runtastic is it. Along with its sister app, Runtastic road bike, it's free, easy to use and tells you all you need to know about your training sessions without lots of unnecessary bells and whistles! You can upgradfe to a "bells and whistles" package for a cost.
Shazam
Shazam is the music recognition service that started it all. You simply open the app, tap the virtual button and your phone's microphone will record the song and tell you what it is. Shazam needs an internet connection to access its database, but if you're offline the app simply stores the tag and automatically uploads it when you connect. Shazam now has integration with Spotify and Rdio to let you listen to the track you just found, as well as inbuilt lyrics so you can sing along to your new favourite jam.
Shazam is free to download and is available on iOS, Android and Windows phone, as well as on Windows and Mac computers.
Spotify
The original music streaming service, and arguably still the best, Spotify lets you stream millions of songs online, download songs to the app for offline listening and create and share playlists with others. You can also use Spotify radio, which creates personalised music stations based on a certain genre and what you like or dislike.
Spotify comes in two flavours: Free, which is supported by ads; or Premium, which costs $11.99 per month and offers ad-free streaming, the ability to listen offline, and Spotify Connect which lets you stream to your speakers or TV. Premium comes with a 30-day free trial.
Spotify is available on iOS, Android, Windows Phone and online as a web player.
Viber
Viber is an immensely popular service that allows you to make calls and send messages over the internet. You simply use your phone number to set it up and it imports all of your contacts automatically – there's no need to set up an account. Because it makes calls and sends texts online rather than using standard credit, you can use a Wi-Fi connection to make your calls completely free – this makes it an ideal service for talking to friends or family who are overseas, as you avoid expensive roaming charges.
Viber is available on all current mobile platforms: iOS, Android, Windows Phone, BlackBerry, and even as a desktop app for your PC.
A couple of other staff suggestions were the bagpipe tuner app – because untuned bagpipes don't sound too good – and the Agoda app – because at least one staff member likes to dream… Truly, there's something for everyone.