We Kiwis sure do love our television, spending nearly 24 hours in front of the TV screen each week. New Zealanders also spend more than five hours and 44 mins each week watching video on their devices, according to Think TV's review of the 2017 year. But watching videos on a small-screen device, such as a smartphone or tablet, can be neck-craning and a little hard on the eyes. It can make it hard to see details and to get enveloped in the story, when compared with watching the drama on a television set.
While virtually every home in New Zealand has an HD-capable TV set, more than two in three homes do not have an internet-connected smart TV. So how do you connect an ordinary, "dumb" television set to the internet? And how do you stream all the good programmes on Netflix or the best shows on Lightbox if you do not have a smart TV? Writer Denise Piper takes a look at some of the options.
Chromecast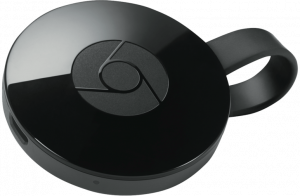 One of the cheapest and easiest ways to connect your TV to the internet is to use Google's Chromecast. Chromecast is a small device that plus into your TV and turns your tablet or mobile phone into a type of smart remote for your TV – allowing you to stream TV shows, movies, games and more.
Costing from as little as $53, a Chromecast is cheap to buy and relatively easy to set-up. The device plugs into your TV's HDMI slot and needs a USB power source. You will need to download the Chromecast app onto your device, but it works on both IOS and Android devices, as well as Mac and Windows laptops. Both the device and the Chromecast will need to connect to your wireless router so they can talk to each other.
Once set-up, Chromecast can either mirror your device onto the TV screen, or it can cast onto the big screen with a tap of the "Cast" button while using apps like Netflix and YouTube.
Chromecast Pros:
It is cheap to buy.
Set-up is easy and it works with iPhone, iPad, Android phone and tablet, Mac and Windows laptops and Chromebook.
Set-up to cast from a number of apps and streaming services including Netflix, LightBox, Neon TV, YouTube, Google Play Movies and Google Play Music.
Use is not restricted: your device can be mirrored on the TV screen, showing all websites and services on the big screen.
Chromecast Cons:
You need to have a supported device and wireless internet.
The speed of your home wi-fi can affect performance, due to the fact the app downloads content on your device then sends it to your television through your wireless router. If you get less than 10MBs, the stream can stop and start, and some apps are worse than others.
Apple TV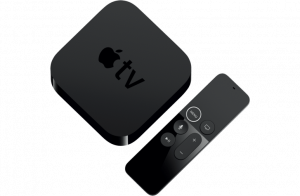 Apple TV is a small box that connects to your TV, allowing you to watch programmes and films, play games and connect with the App Store. It comes with its own remote, which can also be used as a gaming controller.
In New Zealand, a standard Apple TV box costs $249. You can now also get the next-generation, 4K Apple TV for $299 to $339. This means pictures will be displayed in the high-dynamic range (HDR) and in high resolution – as long as you have a 4K HDR television.
Apple TV teams up with apps including ThreeNow, TVNZ, Netflix and iTunes so it is able to play your favourite programmes and films.
You do not need to have an Apple device to operate Apple TV but, if you do, you can easily connect your iPhone or iPad into a TV remote, automatically install apps between devices and watch photos and videos from your iCloud photo library on the big screen.
Apple TV Pros:
You do not need a device, so is a good option for people without a smart phone, tablet or with not enough memory space to install new apps.
Comes with options for wired internet if you do not have a wireless router.
Runs more smoothly than Chromecast on slower internet speeds, as it does not need to connect to a device as well.
Offers good connectivity with iOS devices.
Apple TV Cons:
Set-up cost is more expensive than Chromecast.
Streaming is restricted to its selected apps – so the likes of Lightbox and Neon TV are not available. Apple says later this year, more content from pay-TV providers will be available in New Zealand.
Does not connect with Android and Windows devices.
Vodafone TV
Vodafone TV is an option for Vodafone broadband customers. Like Apple TV, it includes a box which plugs into your TV and modem, plus its own remote. The end result effectively mixes SKY TV with Freeview and on-demand apps like Netflix and YouTube. However, you do not need a SKY satellite dish nor a PC.
Customers who sign up for Vodafone's Ultimate Home Broadband package (unlimited data) on Fibre/FibreX or VDSL, will get the basic Vodafone TV intro package for free. If you want more SKY channels, such as entertainment or sport, extra packages cost up to $55 a month more.
Vodafone TV is touted as letting you pause, rewind and record programmes but the reality is these functions are quite limited depending on which channel or programme you are watching. Also limited is the ability to watch programmes on your mobile phone, with a lot of channels requiring you to be connected to your home wi-fi for this function to work.
Vodafone TV Pros:
The basic package is free for Vodafone's Ultimate Home Broadband customers.
If you have or want SKY TV, this could be a cheaper option and you do not need a satellite dish.
The set-top box means you do not need a device, so is a good option for people without a smart phone, tablet or with not enough memory space to install new apps.
Offers high definition and a place to store all apps together for ease of use.
Vodafone TV Cons:
You have to be a Vodafone broadband customer to get Vodafone TV.
Pause, record and rewind functions are quite limited, and not as intuitive to use as the likes of MY SKY, where you can record the whole series of your favourite programme.
The Vodafone TV box connects to your modem with an ethernet cable, rather than wireless. This means your modem has to be close to your TV or you need to use a wi-fi extender.
The ability to switch from your television set to your mobile phone is very limited, with most channels requiring your mobile to be connected to your home wi-fi.
When you fast-forward or rewind the picture disappears and you're presented with a timer on screen, making it difficult to fast-forward through ads.
Some reviews say Vodafone TV is difficult to use, with apps crashing, programmes not starting where you left off and the Vodafone TV app showing content that is not available.
Hints for connecting your old television set:
Pick the device that best suits you and your individual situation, considering your technical ability and how easy the devices are to use.
Your wi-fi router will need to be close-by to your TV set – about three to four metres away – or you might need a wi-fi extender.
You will need to have a broadband speed of at least 4MBs. If you are in a rural area and do not get broadband yet, fixed wireless – which uses cellphone towers – could be an option or, at least, fixed wireless could be an option soon.
If your television set is not high-definition, wide-screen and does not have an HDMI port, it is probably time for an upgrade. While the above options allow non-smart TVs to get connected, smart TVs integrate Freeview, on-demand streaming services and internet access all in one.