Tauranga Airport has soared above the competition to take out Canstar Blue's Most Satisfied Customers Award – Domestic Airports 2020.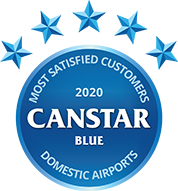 Kiwis love to travel, both home and abroad: according to the NZ Airports Association 27 million passengers use our airports to travel across New Zealand every year. On these flights, airports play a vital role, not just facilitating take-offs and landings but adding to the ease and comfort of each traveller's journey.
Due to local changes in the aviation industry – Jetstar's withdrawal from regional routes and increased cooperation between Air New Zealand and Qantas – the level of service and value for money delivered by our domestic airports has never been more important. Over the last three months of 2019, domestic air fares rose by 8.5%, costing each passenger, on average, an extra $14 per flight.
To discover which airports deliver on service and value, Canstar Blue asked 1681 Kiwis who had used an NZ domestic airport over the past year to reveal their thoughts.
Domestic airports: 5 star appeal
For Canstar's research, the domestic airports at Auckland, Christchurch, Dunedin, Hamilton, Hawke's Bay, Invercargill, Nelson, New Plymouth, Palmerston North, Queenstown, Tauranga and Wellington were compared on communication, ease of check-in, facilities, satisfaction, parking facilities and waiting areas. And, overall, Tauranga Airport was a high flyer!
Winning top domestic airport in New Zealand and 5 stars for overall satisfaction, Tauranga Airport also received 5 stars for waiting areas and communication, and received 4 stars for facilities, parking and ease of check-in.
Also scoring highly across the board was Nelson, which scored 5 stars for communication and ease of check-in, and four stars in all other categories.
Tauranga and Nelson airports have both opened new multi-million dollar terminals over the past year, and their great scores prove they've been a big hit with travellers.
Domestic airports: travel costs
Despite recent price increases, over the past 20 years the cost of domestic flights in NZ has dropped. However, they are still expensive when compared to those offered by low-cost carriers in other countries.
Reflecting this, in Canstar's survey, 44% of respondents said their main consideration when booking flights was cost. In addition, while 81% had taken steps to avoid baggage charges, 13% had gone the extra step of throwing away items to keep under the weight limit.
Costs incurred while waiting for flights were also a concern for travellers. Of those respondents who didn't use domestic airport restaurants, 61% said their decision was based on cost. And of those who had used an airport food outlet (56%), only 26% thought they were fairly priced.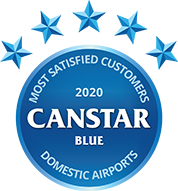 Domestic airports: satisfaction – it's all in the details
When it comes to the airport facilities that play the biggest role in making flights hassle-free and enjoyable, the ease of the check-in process, surprisingly, was only cited by 17% of respondents. Waiting areas (25%) and general airport facilities (23%) were the biggest drivers of satisfaction, with clear communication (19%) and parking facilities (17%) close behind. Reflecting our reliance on mobile phones, 35% of respondents also felt airports should provide more charging points for electronic devices.
Thanks to our country's unique geography and the divide and distances between the North and South Islands, domestic air travel is always going to play a big part in our lives – from work to family and leisure. So to ensure you always fly the happy skies, before you plan your next trip, check out Canstar's Domestic Airport Ratings. Just hit the button below!