If you're planning a holiday or taking a road trip and need a hire car, head to GO Rentals and you'll really be going places.
Most Kiwi households own a car, but there are still times when a hire car comes in handy. If you jet off on holiday to somewhere like Queenstown, you'll need a set of wheels to explore all the fantastic scenery.
Even for a short business trip, or long weekend away, having a car at your disposal is still a lot easier than travelling everywhere by taxi, Uber or Ola.
When it comes to organising a hire car, booking online has never been easier – it's just a few clicks away. The difficult part is sifting through the wide range of vehicles and rates offered by the different hire companies.
That's where Canstar comes in. As part of our mission to help guide NZ consumers choose the best car hire company, Canstar Blue canvassed the opinions of 898 people who had hired a rental car in the past year, across a range of categories to measure and track their satisfaction.
And from 12 different companies used by our respondents – Ace Rental Cars, Apex, Avis, Budget, Europcar, Ezi Car Rental, Go Rentals, Hertz, Jucy, Omega, RaD Car Hire, Thrifty – one car hire firm hit top gear.


Thanks to overwhelming positive feedback from its customers, GO Rentals is this year's winner of Canstar Blue's Most Satisfied Customers award for Hire Cars.
When judged on:
Overall Satisfaction
Availability of Vehicle Booked
Booking Process
Customer Service
Transparency of Cost and Fees
Value for Money
GO Rentals achieved a clean sweep, earning 5-Star ratings across all categories.
On receiving news of winning the award, James Dalglish, GO Rentals Managing Director, said: "We are immensely proud to be accepting another Canstar Blue award, particularly in these difficult times, because it recognises the hard work and dedication from all of our amazing people right across the country.
"This award genuinely demonstrates the commitment we have made to delivering a truly world-class customer experience in the rental vehicle industry."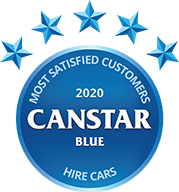 Safety Behind the Wheel
As part of our survey, we took the opportunity to quiz Kiwis further and find out more about their car-hire habits and road safety.
And it seems few Kiwis are worried about the safety aspects of hire cars: only 37% stop to consider the safety rating of the car they're hiring, and less than half (46%) pay extra for full insurance. This means most people are happy to chance saving a few extra dollars against peace of mind and no excess when they get behind the wheel of a hire car.
Our survey also highlights New Zealanders' ongoing concerns about overseas drivers, with 55% of respondents saying a "minimum standards test" should be in place to help prevent accidents.
A third feel overseas drivers are unprepared for New Zealand driving conditions. Notably, however, these numbers are down from last year's survey, when 61% supported the idea of a minimum standards test.
However, it is notable that 43% of respondents feel reckless New Zealand drivers are more of a concern than tourists!


GO Rentals – a Driving Force!
If you are planning a holiday or road trip and need to hire a set of wheels, thanks to Canstar's ratings you can be assured that if you book a car from GO Rentals, you'll get great value for money and customer service.
They are both qualities that GO Rentals prides itself upon and have been central to the company's expansion. From a small family business founded in 1997, the firm has grown to team of over 200 based around the country, in Auckland, Dunedin, Christchurch, Queenstown and Wellington.
So whatever your vehicle needs, from a compact small car to a 4WD, people carrier or minivan, let Canstar's research steer you to the best in car hire, the team at GO Rentals! For more information on the car hire companies rated in our survey, click on the button below.
Compare Car Hire Companies for free with Canstar!
Enjoy reading this article?
You can like us on Facebook and get social, or sign up to receive more news like this straight to your inbox.
By subscribing you agree to the Canstar Privacy Policy