New Car Ratings & Reviews
Whether you're in the market for a sedan or a hatchback, you can narrow down the field by comparing new car brands with our customer satisfaction ratings.
Compare car brands with our latest ratings.
Suzuki speeds off with our Most Satisfied Customers award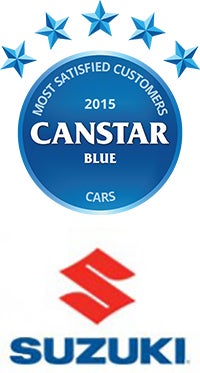 A new car is one of the biggest purchases you'll make (short of buying a home). There are so many reasons to buy a brand new vehicle: perhaps you're fed up with your old 'bomb' and are interested in upgrading to a more reliable model, or you just had kids and safety is now your #1 priority. Or, maybe, you're just after something exciting – a performance powerhouse.
Another huge factor is running costs – after all, a large portion of what you ultimately pay on a car occurs after you pay for it. In our recent survey results, more than 70% of New Zealanders told us that fuel economy is a significant factor in swaying their purchasing decision.
New cars are often packed with the latest and greatest technological advances, and with 42% of New Zealanders changing their vehicle every two to five years, new cars constantly have to be improving to stay competitive. In a market packed with options, how do you know which car manufacturer offers the best overall deal?
We tracked the opinions of hundreds of New Zealanders on how their new car shaped up in terms of value, performance, service and more. In a comparison of nine major manufacturers, we found that Suzuki was our highest rated brand overall, with the company securing our Most Satisfied Customers Award – Cars, 2015, their second award-win in this category.
Suzuki managed to come out on top in four of our five rated criteria in a very impressive display. The other brands rated in our survey were Holden, Ford, Kia, Honda, Nissan, Mazda, Mitsubishi and Toyota; with the first five scoring impressive four-star results for overall satisfaction and the latter three achieving three stars. How did each brand fare in our comparison? Check out the full breakdown below.
Value for money
Even the most basic new car is a relatively expensive purchase – with over a third of the people we surveyed having needed to borrow money to buy their car. The good news is that while buying a vehicle can involve plenty of negotiation, meaning these costs can usually be brought down – some companies simply offer you a much better deal in the first place. With five stars for value for money, it was overall winner Suzuki which topped the value stakes, followed by four-star ratings for all but two of our surveyed companies – Mazda and Toyota narrowly missed out and scored three stars each.
Point of sale service
From the moment you first walk into that bright, air-conditioned dealership to the moment you drive out in your shiny new ride, the service you receive can make or break your decision to purchase –not to mention how much you spend. Furthermore, a good salesman can provide you with a lot more information about a car than you can glean from brochures and websites, as well as taking you for a test drive where you can form your own opinion.
Kia secured a five-star rating for customer experience. Next up were Suzuki, Honda, Ford and Mitsubishi with four stars, whilst three-star ratings were achieved by Toyota, Mazda, Nissan and Holden.
After-sales service
In contrast to what happens at the dealership, after-sales service concerns what happens afterwards: scheduled maintenance, repairs, information queries and more. Providing good service to existing customers requires consistent dedication and a lot of resources, yet it's also vital to preserve manufacturer's reputation.
It seems Suzuki's reputation is only getting better, having secured five stars once again in this important area. Honda scored four stars for its service – and the remaining brands all achieved three stars.
Reliability
Accounting for over a fifth of our overall satisfaction score, new car reliability is a huge concern for just about every buyer. Happily, most major companies have achieved very high standards for reliability in recent years – confirmed by our survey, as 40% of New Zealanders kept their car for more than five years. This suggests that modern cars really are long-term purchases.
In the all-important reliability stakes, it was Suzuki which topped the charts with five stars. Other rated brands also scored highly, with Holden, Ford, Kia and Honda each securing four stars for reliability satisfaction; Nissan, Mazda, Mitsubishi and Toyota each received three.
Performance
Performance accounted for a whopping 42% of overall satisfaction, suggesting plenty of people view cars as more than just a form of transport. In terms of overall performance, Suzuki once again outperformed the competition with a five-star rating, whilst four-star results were recorded by all but two of our remaining brands – Kia and Mitsubishi.
–
How we rated new cars
Canstar Blue commissions Colmar Brunton using the SSI panel to regularly survey 2,500 New Zealand consumers across a range of categories to measure and track customer satisfaction. The outcomes reported are the results from customers within the survey group who have bought a brand new car from a dealership in the last 3 years – in this case, 624 drivers.
Brands must have received at least 30 responses to be included. Results are comparative and it should be noted that brands receiving three stars have still achieved a satisfaction measure of at least six out of 10. Not all brands available in the market were compared in this survey.
Past Ratings
Cars (2014)
Cars (2013)
Cars (2012)