Years ago projectors were a staple of the home cinema set-up. But as time has gone on, and super-sized ultra-high definition 4K, or even 8K smart TVs have arrived to market, projectors have been somewhat forgotten. After all, they never really did offer the sharpest picture, or most practical set-up… But projectors have changed a lot since then. So could a home projector be right for you in 2022?
Projectors can create an immersive home theatre experience, transforming a room in your home into an at-the-ready mini cinema. With the right set-up, you benefit from customisable screen sizes, with the potential for massive wall-to-wall screens, all in crisp HD. And all courtesy of a compact unit that allows for easy storage when not in use, and avoids making a TV the focal point of your living room.
However, there are a number of factors you'll need to keep in mind to ensure optimum viewing conditions. Additionally, you'll need to weigh up the pros and cons of both a projector, and a more traditional TV.
Below, we take a look at how projectors work and the benefits they provide. Plus, how to weigh up whether a projector is the right choice for your household, and some key terms and features to be aware of. In addition, we run through a number of models currently available at a range of price points.
How do projectors work?
As the name implies, a projector is a device that projects an image onto a dedicated screen or surface. As mentioned above, projectors are by no means new technology, but modern models integrate significant advancements, allowing you to play videos and other media from a range of sources, and distances, in potentially up to 4K resolution.
In fact, projectors have come a long way in the digital age, and there is a range of different imaging technologies now being harnessed by manufacturers to produce increasingly detailed, high-quality video playback.
Projector technology types include: LCD (liquid crystal display), DLP (digital light processing) and LCoS (liquid crystal on silicon) models. LCD and DLP are the most commonly used technologies, with LCoS a hybrid of the two.
LCD projectors tend to be the cheaper option, however, different models are available at all price points. This means that if you're in the market for a projector, you'll have a range of options to weigh up, incorporating different technology types, from budget through to premium models.
Projector benefits
If you're considering purchasing a projector, going large with the screen size will no doubt be a key attraction. In fact, being able to create a cinema-type experience at home will probably be the starting point for many consumers.
If you're primarily motivated by screen size, projectors can be a significantly more cost-effective option than TVs, while there are a number of other benefits worthwhile weighing up.
Projector benefits include:
Big screen

– many projector screen sizes measure in at 100 inches and over. In fact, you could opt for 200-300 inches, depending on your requirements. By comparison, TVs in this size category are often prohibitively expensive, and then there are the logistics involved with installing a TV of this size in your home.
Customisable screen size

– in addition to big-screen capabilities, projectors also allow for customisable screen sizes. This means that you can set up your projector to screen at the size of your choosing, be it 20 inches or 200 inches (depending on its range).
Compact unit size

– the compact size of projectors means that they won't take up too much space in your home. They also allow for easy storage, which will be helpful if you intend on packing your projector away when it is not in use.
Portability

– compact unit sizes will also come in handy if you need to move your projector around. For instance, you might want to set it up in a different room in your house or take it to a friend's house for a movie night.
Versatility

– as with TVs, you can use projectors for a range of different activities. It's simply a matter of ensuring you have compatible inputs (such as an HDMI port), from viewing live TV, to

streaming

and gaming.
Naturally, you'll be comparing projectors to TVs, and projectors have a clear advantage when it comes to screen size. However, as we'll look at in the following section, there are a number of additional factors you'll need to take into account when weighing up projector suitability.
Is a projector the right choice for your household?
Before assessing different projector options, you need to weigh up whether a projector is the right choice for your household. Compared to TVs, there are a number of additional factors you should take into account prior to making a projector purchase.
Essentially, you need to determine if your designated room/household area has all the attributes required to deliver a decent projector experience (and if not, what changes you potentially need to make).
Factors to take into account include:
Light

– ideally, you want a darker room, which helps deliver better projector image quality. This means you need to assess the degree of natural and ambient lighting in a room and, in the case of natural light, your ability to control it. For instance, it may be that you need to install blackout curtains to prevent the intrusion of natural lighting.
Distance

– a projector's throw distance is the distance between the projector and the screen image. You need to ensure you have the space required to accommodate the throw distance for the screen size you require. For example, ultra-short throw projectors can be placed more or less directly below the wall, on a cabinet like you would a TV. Other projectors may need to be mounted to the roof closer to the back of the room. It is worthwhile using an online throw distance calculator and consulting with home theatre experts about your requirements.
Screen

– you can project onto a blank wall or sheet, however, a dedicated screen will provide a superior viewing experience. With this in mind, you need to weigh up screen sizes, types, costs and installation requirements. For example, you need to consider if you require a fixed or portable screen.
Viewing distance

– as with a regular TV purchase, you need to weigh up the dimensions of your room when determining viewing distance suitability (the distance you sit from the screen). There are many online calculators that allow you to work out the ideal viewing distance.
Other factors

– of course, you also need to consider any other factors unique to your home theatre set-up, including how the projector will integrate with your audio equipment and other devices (such as a media streamer or gaming console).
In most cases, it will be convenient to have a dedicated home theatre room. This way you have proper control over the variables. However, it is certainly possible to get a projector up and running in any designated room within your household, such as your living room, and making any modifications as required.
Buying a projector: Features to keep in mind
As we look at below, projectors are available at a range of price points, incorporating a wide range of features.
Some key features to keep an eye out for include:
Resolution

– as with regular TVs, the resolution offered by projectors impacts video quality. Models offering up to 4K resolution are available.
Projection system

– as advised above, LCD and DLP are the most commonly used technology types. It is worthwhile weighing up the technology harnessed by specific models and consulting with home theatre experts.
Lumens

– are a measurement of a projector's brightness (often ANSI lumens are used as the measure), with more lumens providing brighter image quality. If you're looking to set up your projector in a room in which ambient and/or natural light is a factor, you should consider higher lumen models.
Screen size

– as advised above, projectors not only provide comparatively large screens, but the size can also be adjusted according to your requirements. Look for both the minimum and maximum screen sizes a model provides.
Throw ratio

– is the distance from the projector's lens to the screen, determining the size of the image projected (calculated as throw distance/image width). Ultra-short-throw projectors are capable of delivering large screens from a comparatively short distance, driving down the throw ratio.
Lamp type/life

– this is the light source for the projector, with manufacturers typically measuring its life span in hours. 
Connectivity

– what connectivity types do you require? Will you physically connect devices, or connect via wi-fi or Bluetooth?
Projectors
The following is a selection of projectors currently available at a range of price points. Of course, this is by no means a complete list. It is always worthwhile shopping around, comparing the pros and cons of different models, and consulting with home theatre experts.
BenQ GV1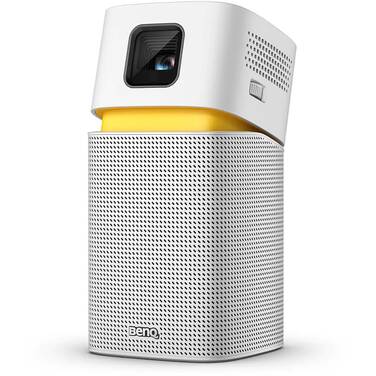 BenQ's GV1 mini portable video projector comes with wi-fi connectivity and an in-built Bluetooth speaker. Adding to its portability factor, it also allows you to go completely wireless, with three hours of battery life paving the way for cable-free entertainment.
The GV1 features a 15 degree tilting hinge, enabling adjustment of the projected image's height, with the auto keystone feature keeping the picture perfectly squared. It runs a built-in Android operating system, providing direct app access, and comes with a remote.
Display

– WVGA (854 x 480) resolution
Screen size

– up to 100 inches
Lamp type/life

– LED/normal: 20,000 hours, ECO: 30,000 hours
Connectivity

– 1 x USB-C (comes with an HDMI to USB-C adaptor); Wi-Fi; Bluetooth 4.0.
Dimensions

– 80 x 155 x 80 mm; 0.7 kg
Pricing: the  GV1 can be found online priced at around $600*
Epson EH-TW5700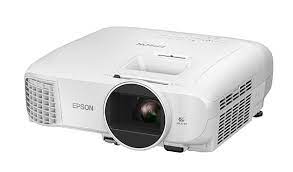 The Epson EH-TW5700 full-HD home theatre projector comes with Chromecast built-in and a smart media player, providing access to thousands of apps. In addition, it comes with a remote equipped with voice control.
Epson states its 3-chip LCD technology delivers "amazing colour, incredible detail and solid reliability", paving the way for vibrant and realistic images and video.
Display

– full-HD (1920 x 1080) resolution
Image

– colour light output: 2700 lumens; white light output: 2700 lumens
Screen size

– 34-332 inches
Projection distance

– 80-inch screen (2.17-2.61m)
Throw ratio

– 1.22 (zoom: wide), 1.47 (zoom: tele)
Speaker

– built-in 10W speakers
Lamp type/life

– 200W UHE/4500 hours, 7500 hours (ECO)
Connectivity

– 1 x HDMI; 1 x USB-B; audio out: stereo mini; wireless connectivity (via the smart media player)
Dimensions

– 315 x 309 x 122mm; 3.6kg
Pricing: the EH-TW5700 can be found online priced at around $2000*
Samsung Premiere Projector LSP7T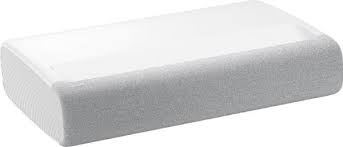 Samsung's Premiere Projector LSP7T harnesses a laser light source to provide up to 4K resolution, with Samsung stating it delivers "precise colour accuracy, a super wide colour gamut, and exceptional brightness".
The LSP7T's ultra-short-throw capabilities mean it can sit just 41.5cm away from a wall/screen to provide a screen area up to 120 inches. It runs the Tizen operating system, providing app access, and comes with a remote, with the Bixby and Alexa assistants enabling voice control.
Display

– 4K (3840 x 2160) resolution
Projection system

– DLP display type
Screen size

– 90-120 inches
Projection distance

– 303mm for 100 inches
Speaker

– 30W of 2.2 channel audio built-in
Lamp type/life

– single laser/20,000 hours
Connectivity

– 3 x HDMI; 1 x USB; 1 x Ethernet (LAN); and 1 x digital audio out (optical); wi-fi 5; Bluetooth 4.2.
Dimensions

– 532 x 132.7 x 342mm; 9.1kg
Pricing: the Premiere Projector LSP7T can be found online priced at around $5500*
*Further information on pricing can be found at individual retailer websites. This should be used as a starter guide and not considered an actual quote.
Compare broadband providers with Canstar Blue
You can have the best home cinema set-up in the business, but if your broadband isn't up to the job, it won't be of much use. 4K streaming or gaming on your projector requires fast and reliable broadband.
If you're in the market for a new broadband plan, read our guide on how to choose a broadband plan, which also includes a list of available fibre plans. Or, click the button below to view the latest results of our Most Satisfied Customers award, which rates broadband providers across a range of categories such as Customer Service and Value for Money.
Compare broadband providers with Canstar Blue
---
About the author of this page

This report was written by Canstar author Martin Kovacs. Martin is a freelance writer with experience covering the business, consumer technology and utilities sectors. Martin has written about a wide range of topics across both print and digital publications, including the manner in which industry continues to adapt and evolve amid the rollout of new technologies
---
Enjoy reading this article?
You can like us on Facebook and get social, or sign up to receive more news like this straight to your inbox.
By subscribing you agree to the Canstar Privacy Policy