PB Tech has been awarded Canstar Blue's Most Satisfied Customers Award – Electronic Retailers.
Maybe you've saved for weeks for a new phone; you've decided to upgrade your TV, or you're about to splurge on some speakers you've been eyeing. But there's a lot to consider before you part with your hard-earned cash for an electronic product.
Kiwis love their gadgets, and with a vast array of electronic goods on the market, we like to know where we're going to get great service, and hopefully a bargain. Canstar recently surveyed New Zealanders who had purchased a product from an electronics retailer in the last 12 months and compared the retailers against the following categories: customer service, layout of store, range, relative price, value for money and overall satisfaction.  
Winning Canstar Blue's award for Most Satisfied Customers | Electronics Retailers, was PB Tech, which earned Five Stars for Overall Satisfaction, Value for Money, Range of Products on Offer, and Price Compared to Other Retailers, and Four Stars for Customer Service.
The only other Five Star winner was Harvey Norman, for Customer Service and Layout of Store, winning Four Stars across all other categories. JB Hi-Fi also scored strongly with Four Stars for everything but Layout of Store, for which it was awarded Three Stars.

Kiwis appreciate good service
Electronics can be confusing at the best of times, so it's no surprise Kiwis value the opinions and help staff can offer at electronic retailers. Of Canstar's respondents, 40% said that they respect and follow the advice of sales staff. Customer service also came out on top as the main driver of satisfaction, at 32%, value for money following closely behind, at 31%.
Shoppers do their research
New Zealanders aren't ones to stroll into an electronics store with no purpose in mind. Most of us research exactly what we're looking for before we head out to buy it: 63%, to be exact, said they research their electronic purchases thoroughly before making the decision to buy. This figure was noticeably higher for Southlanders at 84%, ahead of Aucklanders at 66%. 
We like a bargain 
The consensus for those who responded to our survey was that if you're going to part with money, you might as well get a bargain: overall 54% said they wait for a sale before buying electronics. And which regions loves a bargain the most? Sixty per cent of respondents from Otago and Gisborne said they hang out for the sales, and 63% of those from Manawatu-Whanganui.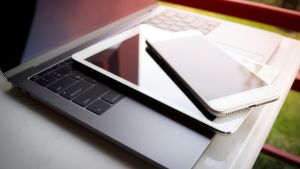 Kiwis are brand loyal
Once we've found a brand we like, our survey shows Kiwis tend to stick with it. Of our respondents, 59% said they are loyal to brands they trust; 59% are also happy to pay more for a better-quality item than just the cheapest model.
Read our full survey results of electronic retailers and compare them for free by hitting the button below:
Enjoy reading this article?
Sign up to receive more news like this straight to your inbox.
By subscribing you agree to the Canstar Privacy Policy